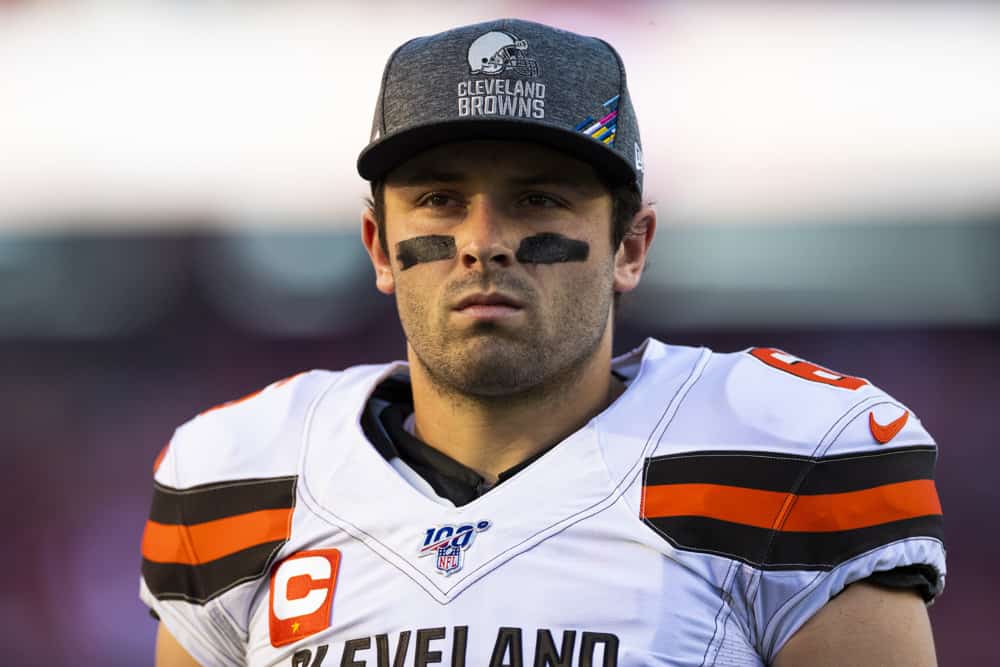 Cleveland Browns quarterback Baker Mayfield knows the impact the 2020 season will have on his NFL career.
Mayfield, 25, spoke with reporters Wednesday on a Zoom call.
"There's no doubt year three is always a big year in these contracts and timing-wise, everybody knows that, but I'm not gonna put any added pressure on myself," Mayfield said. "There's no need for that because if I win, good things will happen.

"Good things will happen for our team and the guys around me. That's the most important part. If I play better — that's why quarterback is one of those positions that's the hardest in sports. If I play better, our team's going to do better. So I put that pressure on myself. So it doesn't matter what year it is, I have to play better each year."
Even though Kevin Stefanski will be Mayfield's fourth head coach since entering the league, the third-year quarterback said he's not using it as an excuse headed into the 2020 season.
Mayfield is coming off of a shaky 2019 season, in which the Browns finished with a 6-10 record.
A reporter asked why Mayfield thinks 2020 be better compared to last year.
"I have a different approach to this year," Mayfield said. "Everyone that has been interviewed [from] our team has kind of hit the nail on the head over and over about, 'it's time to work. It's time to do our thing instead of talking about it.'"
Last offseason, the insurance agency Progressive featured Mayfield in several commercials.
The Heisman Trophy winner had a war of words with San Francisco 49ers cornerback Richard Sherman, wide receiver Antonio Brown, and ESPN analyst and former NFL coach Rex Ryan.
Throughout his NFL career, Mayfield has also responded to criticism from Fox Sports Radio host Colin Cowherd.
Mayfield also told GQ last August it "blows my mind" that the New York Giants drafted Daniel Jones with the sixth overall pick of the 2019 NFL Draft, given Jones' college record was a 17–19.
The Giants finished last season with a 4-12 record, only two games worse than the Browns.
Part of the Browns' hype headed into the 2019 season was because oddsmakers considered the team as the preseason favorite to win the AFC North.
On Wednesday, Mayfield said he's worked this offseason to let his on-field play do the talking.
"Right now, it's moving in silence, which is fine with me," Mayfield said. "That's how I used to do it before getting on a bigger stage. Get back to the fundamentals to where I can accomplish the goals when the season comes around."
Earlier this month, Mayfield hosted some teammates for workouts at his home in Austin, Texas.
"I think that was a big thing for [Austin] Hooper to be down here and be around some of the guys because a lot of them were here last year, but it was good for everybody to be around speaking the same terminology," Mayfield said.
Wide receivers Odell Beckham Jr. and Jarvis Landry did not make the trip as both players are still recovering from offseason surgeries.
Despite not having a traditional offseason to learn Stefanski's system, the Browns made major upgrades with the signings of Hooper and right tackle Jack Conklin.
In April, the Browns also drafted Alabama's Jedrick Wills, who is expected to start at left tackle.
Mayfield is eligible for a contract extension after this season.
As the first overall pick of the 2018 NFL Draft, Mayfield is signed through 2021.
The Browns have a team option for the 2022 season.
Next offseason, the Browns front office will decide whether Mayfield is worth a hefty one-year pay raise or let him hit free agency.