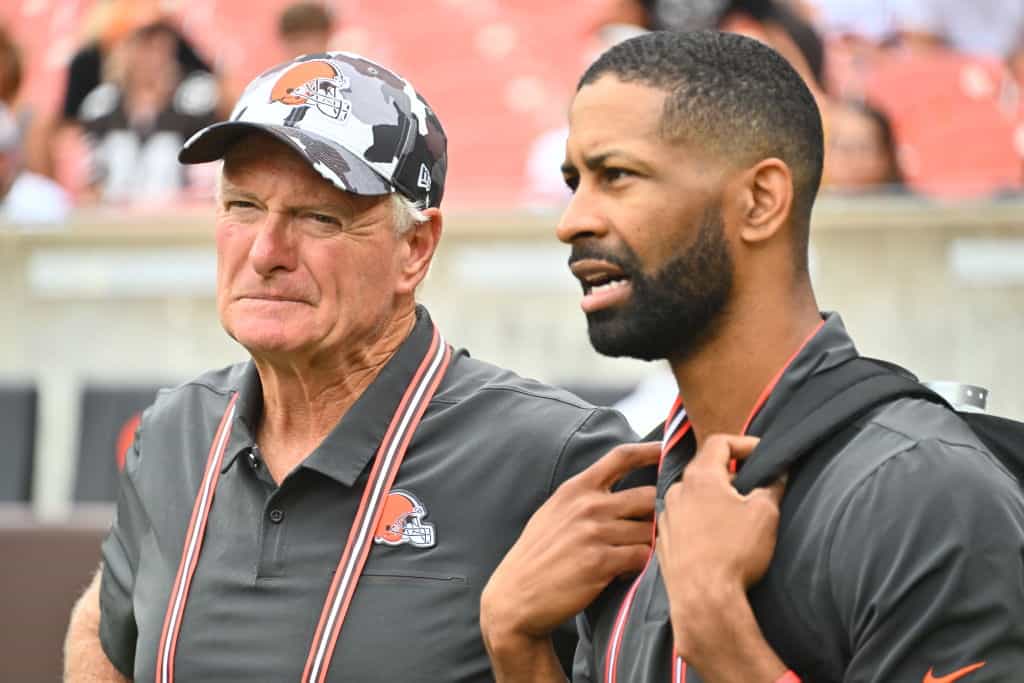 Pundits, analysts, and prognosticators are all over the place when it comes to the 2023 Cleveland Browns.
Much of that centers around uncertainty over quarterback Deshaun Watson's performance.
Head coach Kevin Stefanski's name has also been bandied about as his "new" offense prepares to debut.
But another Browns insider made his win-loss record prediction this week on ESPN Cleveland:
We have @TonyGrossi's record prediction for the Browns season: 9-8

What is your record prediction for the Browns this season? pic.twitter.com/bFZs2JJjqw

— ESPN Cleveland (@ESPNCleveland) September 6, 2023
Tony Grossi thinks the Browns will have a winning record, but just barely.
His prediction of a 9-8 record prompted host Tony Rizzo to grab a schedule in search of eight potential losses.
Grossi defended his stance by saying a 3-3 split among division rivals is the best fans can hope for.
And he thinks 6-5 against the rest of the schedule is the most likely outcome.
Las Vegas oddsmakers agree with Grossi's mediocre record, although with a twist.
Early betting lines have the Browns getting swept by the Bengals and going 7-4 in non-division games.
That prediction can be wrecked with a season-opening takedown of Cincinnati.
Overall, Vegas has the Browns favored by more than three points only four times.
fans better bring the energy this weekend!@deshaunwatson | #DawgPound pic.twitter.com/e2wdxRlf9x

— Cleveland Browns (@Browns) September 6, 2023
And there are eight games with a 1 or 1.5-point spread, including every Ravens and Steelers matchup.
It looks like they are hedging their bets until they see a little more out of Watson and Cleveland.
One thing that seems like a sure bet is that there are no sure bets in the NFL.
And Browns fans can't wait to see how the 2023 season turns out.