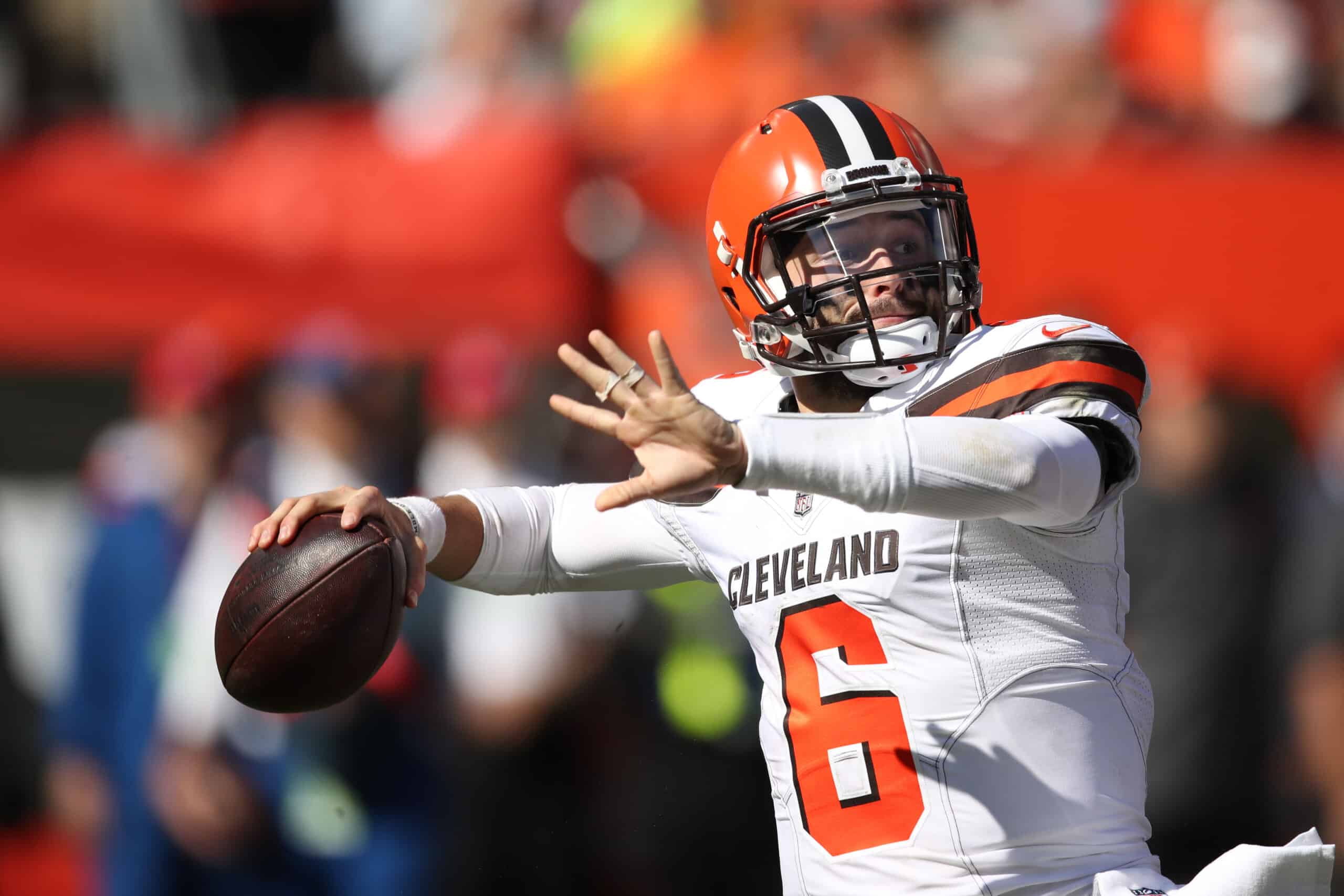 And so it begins.
Days after a disappointing performance as the starting quarterback for the Cleveland Browns, Baker Mayfield's potential future plans are hitting the airwaves.
What we do know for fact is that Mayfield will get the necessary shoulder surgery this week to allow him time to recover by the late spring OTAs.
Case Keenum will be the Browns starting quarterback in the season finale against Cincinnati on Sunday.
That does not stop the speculation that will probably be a major offseason discussion point as to whether Mayfield will return to the Browns in 2022.
Mayfield's fifth-year option has been exercised so he could very easily be the Browns quarterback next season.
If he is not, ESPN's Tony Kornheiser has listed four teams that should have interest in Mayfield.
"I think he'd be better off someplace else than Cleveland."

Tony thinks Baker Mayfield may benefit from a scenery change, and suggests teams like the Giants, Washington, the Panthers and Texans might want to take a look at bringing him in. pic.twitter.com/W6T9Bk1HOJ

— PTI (@PTI) January 4, 2022
Here are Kornheiser's four teams; 3 are NFC teams and 1 is an AFC team.
1. Carolina Panthers
The Panthers are definitely a team in flux at the quarterback position.
They took a chance on Mayfield's fellow 2018 draft mate, Sam Darnold, who has not been wildly successful.
Sam Darnold doing Sam Darnold things pic.twitter.com/hLKaCUNZaw

— PointsBet Sportsbook (@PointsBetUSA) January 3, 2022
The Panthers then brought back fan-favorite Cam Newton, but that experiment has not worked out either.
Would the Panthers want to take a chance on another slumping quarterback who may or may not thrive with a change in scenery?
2. Washington Football Team
WFT started the season with veteran Ryan Fitzpatrick.
He was injured in Week 1 so the team has leaned on Taylor Heinicke for the majority of the season.
It is true that WFT needs to make a decision and commit long-term to a quarterback.
Is Heinicke their man going forward, or do they want to go in a different direction?
A positive spin on the QB outlook:

The coaching staff has generated respectable production from Taylor Heinicke (3052 yards, 20TDs, 14 INT).

Who, by all accounts, was an unheralded talent (UDFA) with limitations.

Ideally, they could produce more with a more natural passer. pic.twitter.com/869jHA8FqC

— George Carmi (@Gcarmi21) December 30, 2021
3. New York Giants
In case some of the Giants fan base forgot what Daniel Jones can do for the franchise; some of his throws and runs.

Before some of you try to run him out of town like some tried to do with Eli Manning, be careful what you wish for… pic.twitter.com/XyA9P4FgwO

— Doug Rush (@TheDougRush) January 4, 2022
Speaking of NFC East quarterbacks, the Giants took a chance on Daniel Jones.
For many reasons and some are beyond Jones' control, it is not working out.
The Giants have not been able to get any momentum on offense.
Mayfield would be joining a team with a less impressive offensive line than the Browns currently have, and he would be tasked with lifting an offense that even Saquon Barkley has struggled to perform well in.
4. Houston Texans
This would be the most geographically pleasing for Mayfield.
He was born in Austin, Texas.
Mayfield and his wife still live there.
He began his college career at Texas Tech.
In some ways, it would be a coming home party for him.
Now that's a great throw from Mills with a blitz bearing down. pic.twitter.com/Wk6NnUes4b

— Rivers McCown (@riversmccown) December 19, 2021
Rookie quarterback Davis Mills has performed adequately for the Texans and appears to be improving with more game-time experience.
Are the Texans willing to gamble on Mills as their long-term option, or do they want a more experienced player like Mayfield?
Conclusion
Kornheiser suspects the Browns will bring Mayfield back in 2022.
He also says that Mayfield has "shown flashes but he never burned."
Wherever Mayfield plays in 2022, the expectation will be that he is healthy and capable of producing in a manner similar or better than he did in 2020.