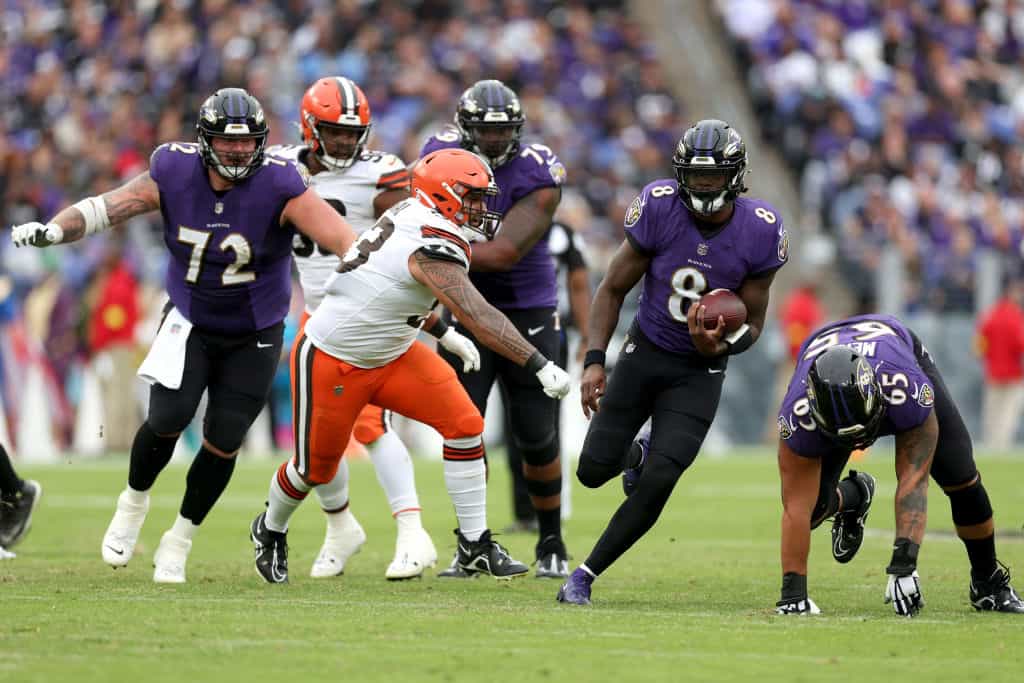 The Cleveland Browns defense hasn't given fans much to cheer about the past few seasons, except for Myles Garrett's numerous sacks.
Thankfully, that has changed as the defense is tops in the NFL this year.
So far, Cleveland has held two opponents to just six points total and has made believers out of the local and national media.
Division-rival Baltimore, and quarterback Lamar Jackson, come to town on Sunday and many talking heads believe the Browns defense will slow the Ravens offense significantly.
Lamar Jackson has scored more TDs against the Browns than any other team in his career. @TheRealTRizzo says that stops Sunday. pic.twitter.com/hpx03NeFA3

— ESPN Cleveland (@ESPNCleveland) September 29, 2023
During a recent show on ESPN Cleveland, Tony Rizzo discussed how well Jackson has played against the Browns.
"Lamar Jackson has scored 15 touchdowns against the Browns, more than any other team in the league," he said. "He has 11 passing and four rushing [touchdowns]. He has had more success getting in the end zone against the Browns than any other team."
However, feeling fully confident of Cleveland's ability to shut Jackson down, Rizzo added: "That stops Sunday."
Rizzo has every reason to be optimistic.
Against the Cincinnati Bengals in Week 1, the Browns held quarterback Joe Burrow and his massive contract to just 82 passing yards.
Bengals running back Joe Mixon had 56 rushing yards and Ja'Marr Chase was the leading receiver with 39 yards.
Then, in Week 3 against the Tennessee Titans, Garrett squashed Titans quarterback Ryan Tannehill 3.5 times while Tannehill passed for 104 yards.
Even more astounding, Cleveland's defense limited Derrick Henry to 20 yards rushing, his lowest output of the year.
Baltimore will have an even more daunting task this Sunday because the team recently ruled out five players, including former Browns receiver Odell Beckham Jr.
That only gives Garrett and company more opportunities to wreak havoc.