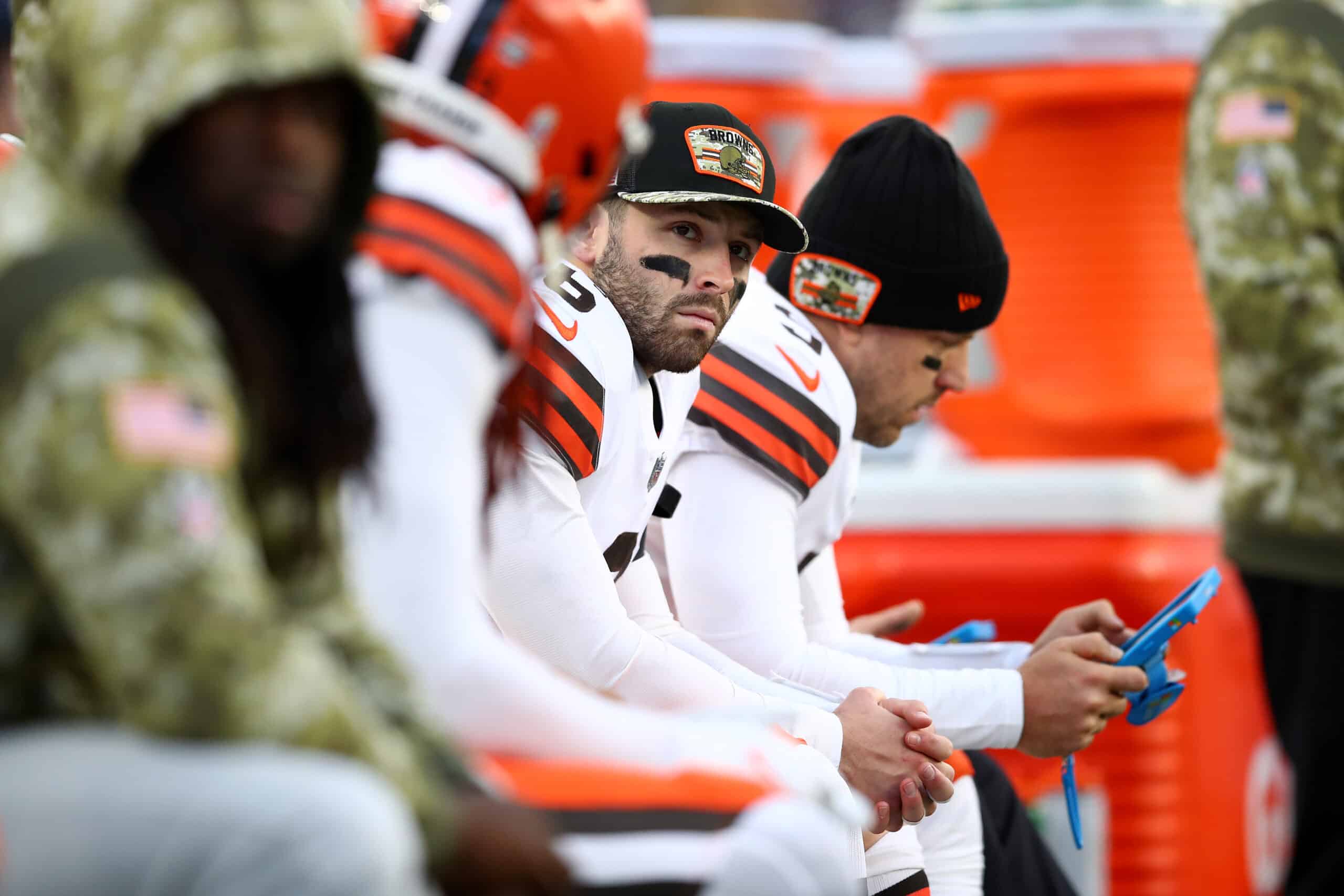 The Cleveland Browns were pummeled by the New England Patriots in Week 10.
Everyone played poorly, but as is the case in the NFL, the majority of the attention falls on the quarterback.
As good as Baker Mayfield played in Week 9 against the Bengals, he was equally as bad in Week 10.
Cleveland resident, lifelong Browns fan, and ESPN radio host Tony Rizzo had some interesting observations about the Browns fanbase who act as though they want Mayfield to be bad.
"Do you realize what happens if this kid isn't the right guy? @TheRealTRizzo via RBS on 850 ESPN Cleveland / The Land on Demand 🎙 pic.twitter.com/IXApjkEnMd

— ESPN Cleveland (@ESPNCleveland) November 15, 2021
Here are a few highlights from what could aptly be called Rizzo's rant.
1. Why Are Fans Rooting Against Their Team's Quarterback?
Rizzo is baffled by fans who seem to get satisfaction out of Mayfield's bad performances.
He talked about how they like to say, "I told you so."
Rizzo wonders how this is helpful to anyone.
In Rizzo's words, the Browns "will suck again" if Mayfield isn't the guy.
He said that it took the Browns 20 years to find a guy that could win 11 games.
Finding a new quarterback in NFL Draft is a difficult and time-consuming task.
2. How Hurt Is Mayfield?
Rizzo was bothered by the fact that Mayfield looked as though he could not effectively plant his foot to throw.
He thinks the foot injury that was barely mentioned last week is more significant.
Rizzo also talked about the shoulder and the knee.
He openly wondered if Mayfield can physically play and why the Browns are putting him out there each week.
3. He Won 11 Games Last Year.
Although I still think Tony is a moron, you can really tell he cares about the Browns from this. Baker haters aren't true Browns fans in the slightest and only making the situation worse. The best we've been in over 2 decades and this is how our fanbase acts? We don't deserve it https://t.co/Ep52FcTCvM

— Cory Pierce (@C_Pierce14) November 15, 2021
Rizzo points out that fans are turning against the same guy that won 11 games and a playoff game last year.
He says that Mayfield does need the corresponding pieces around him to make the system work.
Rizzo finds this entire season "sobering" but scolds people who take glee in Mayfield's failures.
He says they are not Browns fans.
4. Is Mayfield The Man?
The other thing that bothers Rizzo is his own uncertainty as to whether Mayfield is the man for the future of the franchise.
He initially was not a doubter.
Rizzo does not know the answer but is left wondering.
Conclusion
He's not wrong whatsoever. A true browns fan is like an unconditionally loving mother. No matter what they do you'll still love em.

— TPCLE #D4L (@Tyler_Patrick90) November 15, 2021
Mayfield has always been a polarizing figure.
Is it the curse of winning the Heisman and being the first overall pick?
It is hard to say.
For the foreseeable future, Mayfield is the quarterback of the Cleveland Browns.
True Browns fans should want the entire team including Mayfield to be at their very best to win games in the second half of the season.
In the offseason, the front office will have difficult decisions to make.
Mayfield has a fifth-year option to play next season with the Browns.
However, GM Andrew Berry is a smart guy so none of us can know what possibly is up his sleeve.
In the meantime, the Browns need to win as many football games as possible going down the stretch.
Though they are a disappointing 5-5, but they are still in the playoff hunt.
This season is not lost…yet.