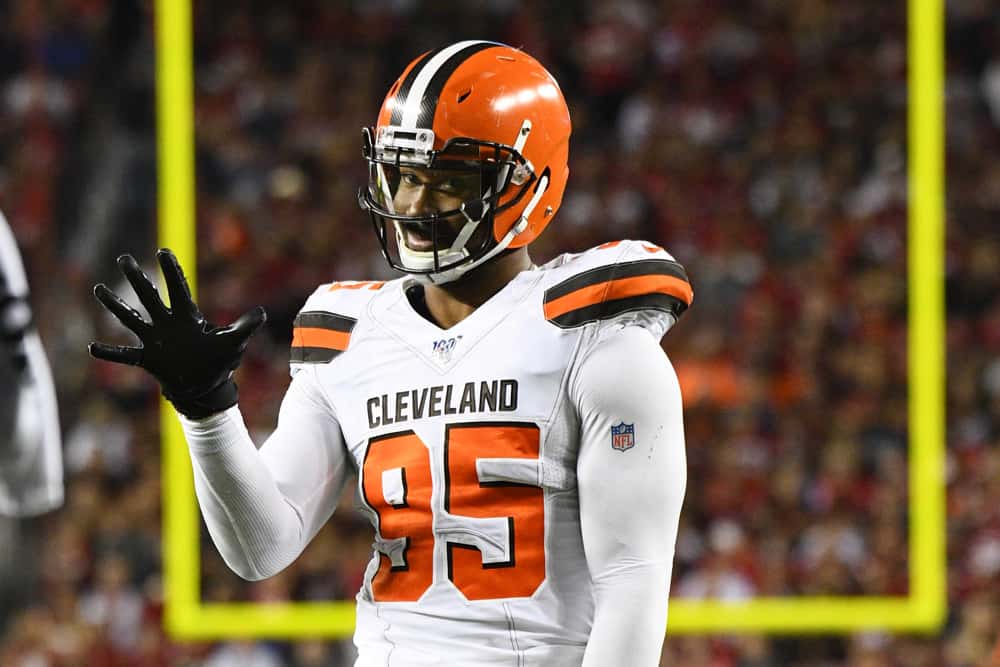 Cleveland Browns defensive end Myles Garrett is on a beach vacation.
Garrett is not like the rest of us who pack a beach bag of snacks, beverages, and a book for a lazy day at the beach.
He brings his weights for a legit workout beachfront.
It is hard to tell how much weight he is lifting, but we can safely assume it is a lot.
Needless to say, he is sporting excellent weightlifting form, and the straw hat on his head is blocking the sun and making him look extra stylish.
Imagine you're chilling on vacation and you look over and see @MylesLGarrett doing this 😯 #Browns pic.twitter.com/bFVzPXHY8I

— MoreForYouCleveland (@MoreForYou_CLE) April 3, 2021
Is It Any Wonder Garrett Is Super Fit?
Pretty much all that we have seen from Myles Garrett on social media this offseason is related to his exercise regimen.
Garrett obviously believes in variety because he has shown us basketball skills that make us wonder if he could have been an NBA star had he not chosen football.
Myles Garrett looks like a Monstar on the basketball court pic.twitter.com/1uxrPlsAmV

— Barstool Sports (@barstoolsports) February 25, 2021
His weight room work is on point as evidenced by the 58-inch vertical box jump he completed.
Who says "Man Was Not Meant To Fly" #64inches pic.twitter.com/2kVyygypEy

— Flash Garrett ⚡️ (@MylesLGarrett) March 2, 2021
Garrett admitted to struggling with the aftereffects of COVID-19 which he contracted in November.
Even when he returned to the field in December, he was getting breathing treatments.
Clearly, he has spent the offseason healing and getting himself back to 100%.
This is good news.
What's Left For Garrett To Do To Show Us How Fit He Is?
We think he needs to tackle (no pun intended) Derrick Henry's crazy hard push ups that we saw last week.
Myles Garrett is very strong so we think these push ups could be light work for him.
In any case, we look forward to video footage posted on social media of Garrett doing the Derrick Henry pushups.
No wonder Derrick Henry is able to stiff arm grown men to a different planet 😳 pic.twitter.com/jqTGAHWO6V

— Footballism™ (@FootbaIIism) March 27, 2021
Garrett And The Browns
Myles Garrett, 25, is firmly entrenched in the Cleveland Browns roster; his contract runs through the 2026 season.
He has dominated in his role as a defensive end and the leader of the defense.
The Browns, through free agency, have gotten him help by signing former Los Angeles Rams safety John Johnson III and cornerback Troy Hill.
Free agent defensive end Takk McKinley was also signed.
In the meantime, Myles Garrett is getting stronger this offseason so he can be even more dominant in 2021.