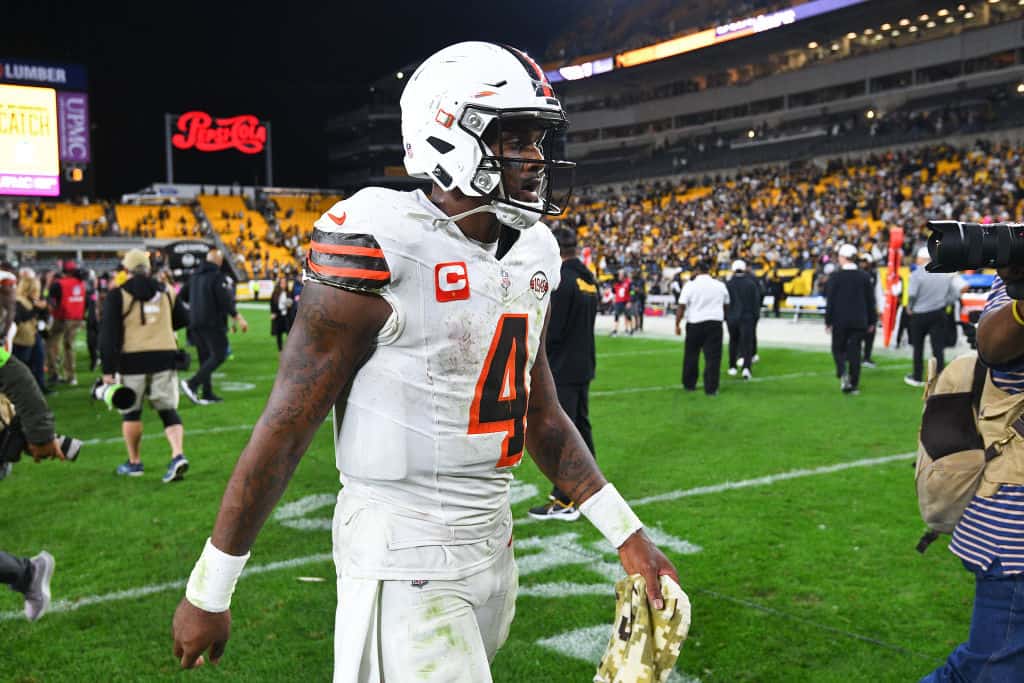 As Deshaun Watson's season goes, so goes the Cleveland Browns' season.
And so far, Watson's season isn't going very well.
But it's not just his pedestrian passing performance Watson has to worry about this morning.
League officials are undoubtedly watching a video shared by Ari Meirov from last night's game.
Looks like Deshaun Watson got away with putting his hands on an official. Usually a no-no. pic.twitter.com/EbEjDiyaxO

— Ari Meirov (@MySportsUpdate) September 19, 2023
In this segment, an angry Watson grabs an official and pushes him to the side.
Watson instigated the moment when he grabbed a handful of Kwon Alexander's facemask and pulled him down.
Alexander responded as any NFL player might, and Watson went right back at him.
But putting his hands on a referee will cost Watson some cash, possibly even a game.
NFL officials review questionable plays and personal fouls every Tuesday.
By the end of the day today, they will watch Watson's facemask and the subsequent push of an official.
And any argument that it was a "heat of the moment" thing is derailed minutes later.
That is when Watson drew a second facemask penalty, this one arguably as egregious as the first.
Deshaun Watson once again with the facemask and personal foul. #MNF pic.twitter.com/fhOgMSNm60

— The Comeback (@thecomeback) September 19, 2023
Facemask penalties are nothing new or some nuanced rule related to concussion efforts.
It is one of the oldest and clearest penalties in the book, something learned as a youth league player.
But Watson chose to close his fingers on a facemask twice and tossed an official to the side on top.
And now he has to hope the NFL doesn't give him a week off to think about it.