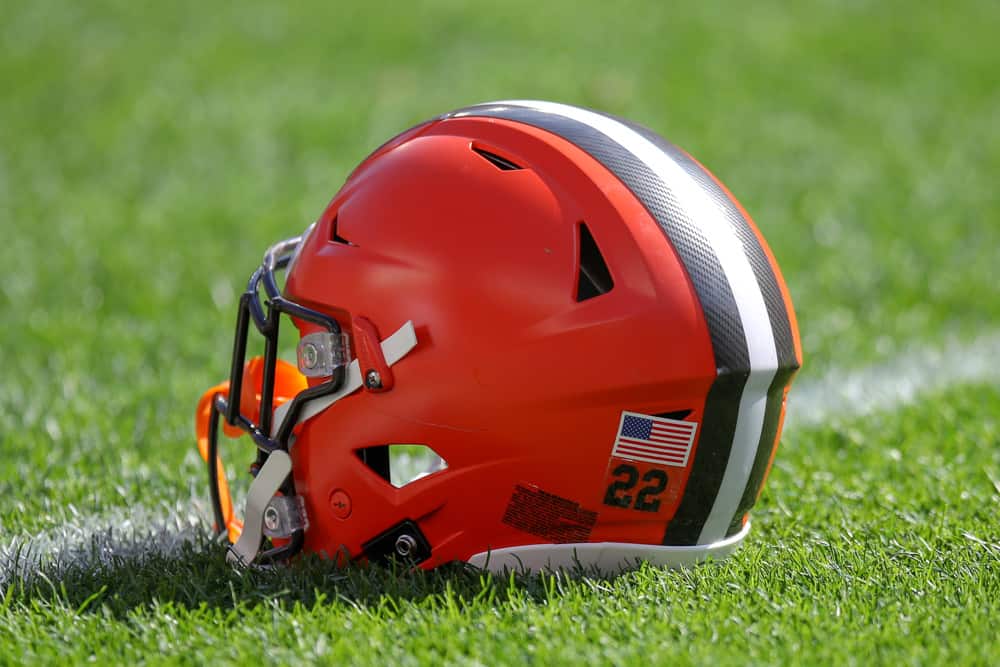 The Cleveland Browns will celebrate their 75th anniversary in 2021.
Back in January, Browns Executive Vice President Browns J.W. Johnson told 92.3 The Fan Cleveland that there would be an "alternate uniform this year" to commemorate the anniversary.
He also mentioned that there would be a throwback logo.
Browns Executive Vice President @JDubsIII joins us RIGHT NOW!!!

Listen Here:https://t.co/E22oC68t0k

— Baskin & Phelps (@CLETalkingHeads) January 29, 2021
Since then, mum's been the word on the jerseys, how often they would be worn or what they would look like.
Until today, when this picture dropped on Twitter.
Oh yeah, by the way, the #49ers and #Browns are getting throwbacks with drop shadows this year. @UniWatch @sportslogosnet @PhilHecken pic.twitter.com/3rtoFFKi9z

— Jase Greenberg (@JGreenberg11) March 7, 2021
What It Looks Like
The drop shadow or three-dimensional numbering is a new feature.
Also, the 1946 football logo on the front of the jersey is new.
LEAK: #Browns anniversary jerseys reportedly have been leaked pic.twitter.com/LMwib8b9ev

— Brad Stainbrook (@BrownsByBrad) March 7, 2021
Here's a pic of Jarvis Landry's leaked uniform #Browns pic.twitter.com/OYPhJqe2U4

— Brad Stainbrook (@BrownsByBrad) March 7, 2021
Is This The Real Deal?
No one knows if this is the genuine throwback jersey.
I suppose we will find out soon enough.
The 2020 Jerseys Were Well Received
It was just last April that the Browns revealed their updated jerseys.
Take: these uniforms are perfect. Shoutout to @REbie33, who made them. #Browns pic.twitter.com/1QE61BKSdD

— Hayden Grove (@H_Grove) April 1, 2020
The alleged throwback jersey does not deviate too far from the 2020 style which was well liked.
Anything is better than the 2015 jerseys; to begin with, no one liked Cleveland written on the front.
Browns fans, it's finally here. Cleveland releases its new uniforms for the 2015 NFL season. (via @Browns) pic.twitter.com/c2Wu4b3COj

— SportsCenter (@SportsCenter) April 15, 2015
Does It Matter?
The look of the uniforms really does not matter.
Cleveland's fanbase is loyal whether the uniforms are attractive or not and more importantly whether the Browns are winning or not.
Fans do not care as long as the Browns build on the successful 2020 season with an even better 2021 season.
All indications are that the Browns are on the rise for the first time in decades so those throwback jerseys will fly off the racks and be on fans' backs as soon as possible.
Many hope to wear their jerseys into a filled FirstEnergy Stadium in 2021 to watch the Browns with the full Dawg Pound in attendance.
Fans in the stands and a pandemic that is largely resolved would make for the best 2021 NFL and Cleveland Browns season ever.