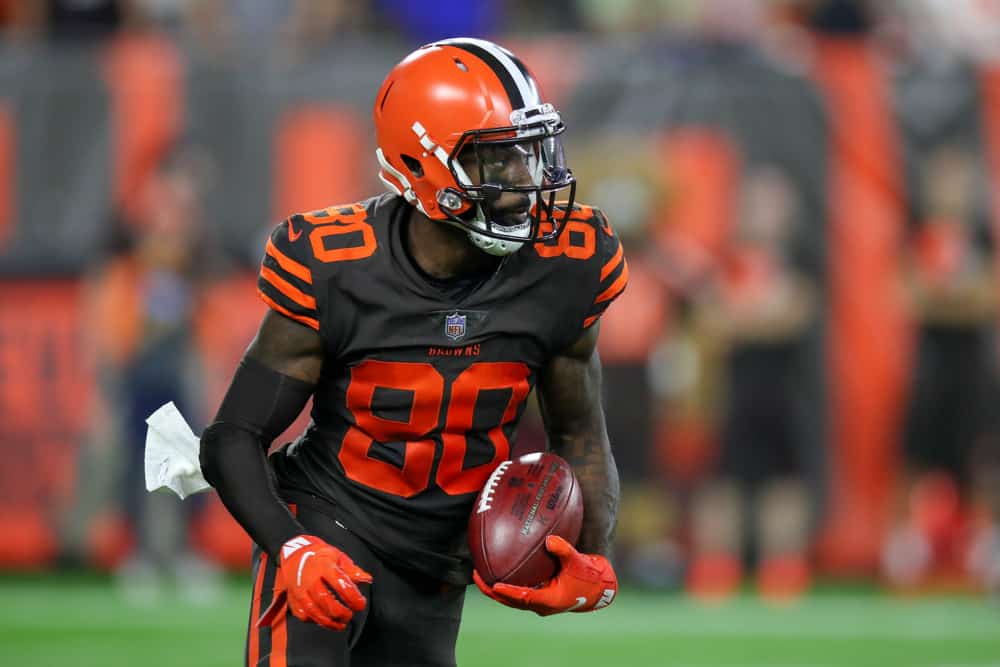 Cleveland Browns head coach Kevin Stefanski anticipates he will have both Odell Beckham Jr. and Jarvis Landry on his roster for the 2021 season.
Former NFL receiver Keyshawn Johnson asked Stefanski if the Browns allocate too much money to the wide receiver position during a Thursday appearance on ESPN's "Keyshawn, JWill and Zubin" show.
"I think you don't want to be so dogmatic about it and say, 'Alright, we have to have this number of receivers and this number of tight ends and this running back,'" Stefanski said. "I think you go with what you have and you make sure that you're putting yourself in position to field a competitive roster for a bunch of years moving forward.

"So, yeah, I think we're in a good spot. The easy part to say is, 'Hey, just give us more players. Give us three more great players on the offensive side, and give us three players on the defensive side, and we're going to spend this amount on each guy.' I think we have a plan. We'll follow through with that plan, but ultimately, as coaches, we'll make it work with whatever we go to.

"And I say that because sometimes you have a season, I've been a part of some teams in the past where you had four great receivers, so you molded your offense to that, or you had three great tight ends, and you molded your offense to that. So that's our job as coaches to take what we have on our roster and make sure we're maximizing everybody's talents."
Beckham, 28, is due to make about $45.75 million total through the 2023 season.
Landry, 28, is due to make about $28.3 million total through the 2022 season.
Combined, Beckham ($14.25 million ) and Landry ($14.55 million ) made up about 12.59% of the Browns' salary cap during the 2020 season, according to Spotrac.com.
The website estimates the Browns have about $24,643,031 to use in salary cap space this offseason if the NFL sets the cap at $185 million.
While the NFL has not set the cap yet, league officials have told teams it won't be lower than $180 million when the free-agent negotiating window begins on March 15.
The official start to free agency is 4 p.m. ET Wednesday, March 17.
The Browns have until May 3 to pick up the fifth-year options on quarterback Baker Mayfield and cornerback Denzel Ward.
The team could also look to offer running back Nick Chubb an extension.
The odd man out from an offensive standpoint could be receiver Rashard "Hollywood" Higgins, who is due to become an unrestricted free agent later this month.
Higgins has indicated he would like to sign a new deal with the Browns, but it's unclear whether he and the team can agree to terms.
On Thursday, Johnson also asked Stefanski about OBJ's rehab coming off a torn ACL injury.
"He's doing great," Stefanski said of Beckham. "He's working really hard. He attacks rehab like I've never seen people do it and last year he was rehabbing from a core muscle injury.

"So, this is a totally different injury, but just to see the way he went about it, he exhausts every avenue to get his body right, and he's just such a freak athlete. It's just amazing to me the process he goes through. So, he's working really, really hard, which should surprise no one. I think he's in a great spot, and I'm excited to get him back here."