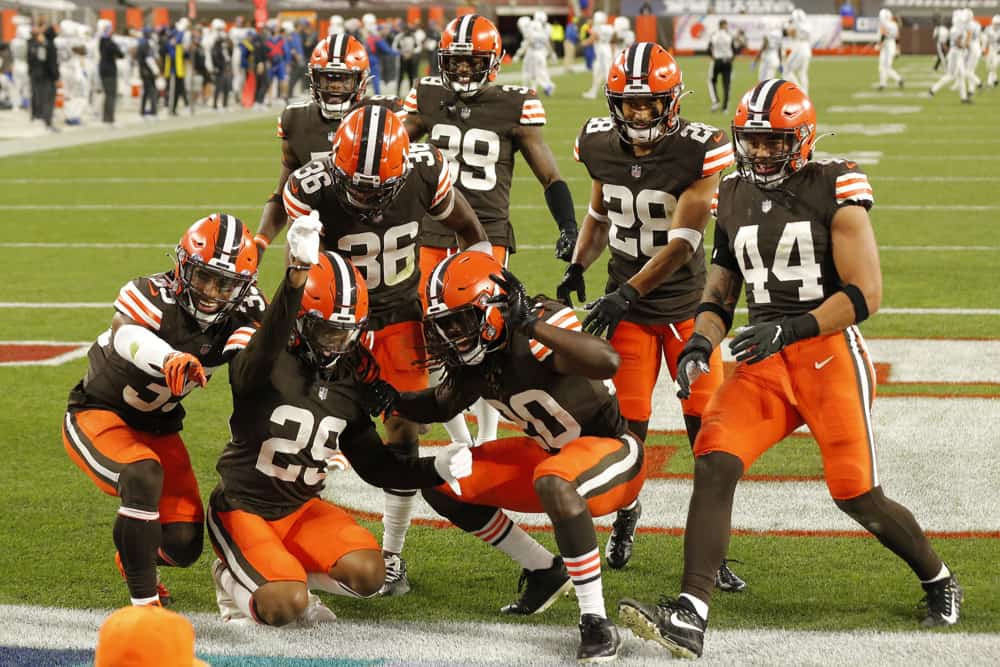 Last week I wrote about what beating Indianapolis and going 4-1 would mean for the Cleveland Browns and their fans.
Now, both parties have had about a half a week to bask in the praise and excitement that comes with that record.
It's a great feeling, sure.
But Browns fans aren't satisfied yet.
As week six approaches, the Browns can get to 5-1 with a win over Pittsburgh on Sunday.
6-1 is how the 1994 team started their campaign before dropping their second contest of the season.
A win on Sunday for Cleveland would mean much more than just getting closer to what the 1994 team accomplished.

Steelers Week and Beating Ben
The opponent that stands between the Browns and 5-1 is a significant one.
There are hundreds, if not, thousands of articles and podcasts that detail the hatred between these two sides.
If you had to pick one would you rather root for the Steelers or root for Michigan?

— The Ken Carman Show w/ Anthony Lima (@KenCarmanShow) October 13, 2020
The Pittsburgh Steelers have had a vice grip on this rivalry since the Browns returned to the NFL in 1999.
The Browns are just 7-35-1 against Pittsburgh since '99, and that includes a playoff loss in 2003.
Steelers quarterback Ben Roethlisberger had the most QB wins at First Energy Stadium until Baker Mayfield tied him at 11 with this past week's win over the Colts.
According to a recent Twitter poll, he is also more hated in Cleveland than John Elway, a man who once robbed the Browns of a chance to go to the Super Bowl.
`Who is Public Enemy #1 for the #Browns?

— ESPN Cleveland (@ESPNCleveland) October 13, 2020
It's no surprise the following GIF was created almost immediately after Myles Garrett was drafted.
Myles Garrett shredding Ben Roethlisberger just might come in handy later pic.twitter.com/x9jY7Byb0u

— CJ Fogler #BlackLivesMatter (@cjzero) July 19, 2018
The task is even tougher on the road, as Roethlisberger is a perfect 15-0 when taking on Cleveland at Heinz Field.
It's also a venue the Browns haven't won at since 2003.
There are a lot of narratives surrounding this rivalry that can change quickly on Sunday with a win.
The fans certainly know it, and I have a good feeling the players know what's at stake too.

Shutting "Yinz" Up
Today, especially with a global pandemic going on, much of the trash-talking done between fans happens on the internet.
Whether it be on a blog, forum, or social media outlet, that's where most of the conversing takes place.
And we all know at least one Steelers fan that mentions something about six Super Bowls at least once a week.
It gets old quick as a Browns fan, as the team has not given the orange and brown faithful much ammunition to retaliate with.
Think back to last year's win over Pittsburgh.
Myles Garrett and Mason Rudolph incident aside, there was not a thing Steelers fans could say that week.
Rudolph was terrible, the Browns made more than enough plays to win, and the football world watched Cleveland knock off Pittsburgh on a national stage.
That was bliss as a Browns fan.
Not only were there bragging rights, but the rivalry felt like it was legitimately "back".
We went over the record between these two since '99 already.
That record does not indicate a rivalry of any sort.
Former Steelers cornerback Ike Taylor recently admitted that he never viewed the Browns as a "rival" in his playing days.
The Steelers have long taken the Ravens more seriously than the Browns, and rightfully so.
Things are starting to change now, though, and it started with that Thursday night win about a year ago.
Fuel will be added to that fire if the Browns win on Sunday.
Going to smoke a cigar on the front porch.

I'm getting bombed by Steelers fans on twitter, and loving every minute of it. This is what our uncles and dads told us it was like (w/o the internet, of course). Cleveland and Pittsburgh is alive again!

Talk to you at 6am

— Ken Carman (@KenCarman) October 12, 2020
Divisional Respect
It's early, and even younger Browns fans have seen their team in first place in the AFC North a few times since '99.
Still, there's no question that teams and their fans get a different kind of energy from being on top of the division.
The Browns will claim at least a share of that divisional lead with a win over the Steelers this week.
Following the Browns, the Steelers will play Tennessee and Baltimore, two very tough teams.
The Browns, however, see Cincinnati and Las Vegas after this week.
While the Raiders are not bad, the Bengals certainly are.
What I'm getting at here is that if the Browns win this week, they can extend their lead over Pittsburgh in the AFC North in the coming weeks if the Steelers struggle.
Even if the Steelers beat Tennessee and then Baltimore, that helps the Browns create separation from the Ravens, provided Cleveland keeps winning.
Any momentum the Browns had last season was brought to a screeching halt after the trip to Pittsburgh.
This week feels like another game with tons of momentum on the line.
With a win, Cleveland will demand respect from its AFC North counterparts.