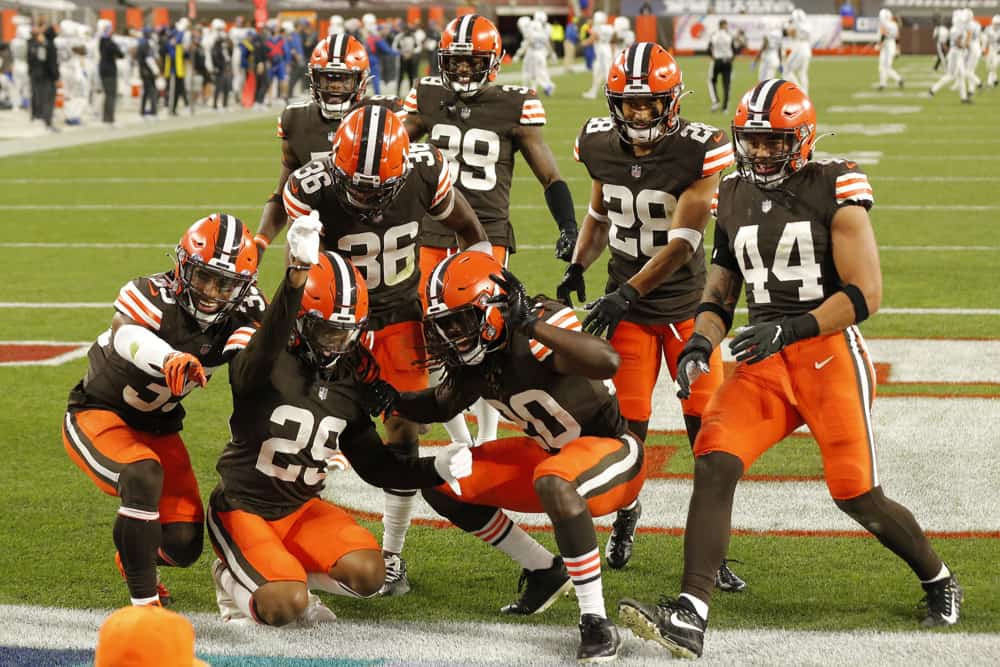 The Cleveland Browns are 7-3.
It's 2020 & the @Browns are 7-3!! Add another #VictoryMonday to this years calendar 🤗 #Browns

— Bridget Linton (@Bridget_Linton) November 22, 2020
Let that thought sink in.
And then add to it that the Browns are in 2nd place in the AFC North.
Wow.
Hopefully, the Browns keep the momentum going through the rest of the season, but it's worth pausing here to think about what this 7-3 start means for both the team and the city.
What Does 7-3 Mean For The Browns?
7-3 means that the rookie head coach is turning this team around.
It also means that the front office's draft picks, trades, and other offseason dealings have been largely successful.
In this COVID-19 year where the preseason was largely virtual with an abbreviated training camp, 7-3 is monumental.
The Browns also got there with some of their best players sidelined by injury or illness.
That can't be overstated.
The Browns hung on during the weeks that Nick Chubb was out, and Kareem Hunt was banged up.
And the team hung on without their defensive leader Myles Garrett.
-Baker outplayed Carson Wentz
-Nick Chubb Nick Chubbed
-Defense stepped up BIG TIME without Myles Garrett
-Stefanski proved he can win ugly games

Today was a good day…and our Cleveland #Browns are 7-3.

— Dave @ BIGPLAY (@BIGPLAY_dave) November 22, 2020
In the past 3 games, the weather has reared its ugly head acting as another opponent for the Browns to deal with.
And they've gone 2-1 in those conditions; learning from the Raiders loss to bounce back against Houston and Philadelphia.
Stefanski has preached the next man up mentality, and the Browns are doing it.
Though there is still a lot of football yet to be played, it's worth noting that some preseason predictions had the Browns at 8-9.
Mathematically, that is still possible but highly unlikely.
This Team Has An Identity
7-3 also means the Browns know who they are and what they do best.
Running the ball is how they win games.
Timely turnovers that either halt opposing teams' scoring drives or result in Pick 6's have been a winning formula for the Browns.
A lot of this is attributed to Coach Stefanski and his staff.
In his first season, he has turned a team that hasn't had a winning record since 2007 and has not seen any playoff action since 2002 into a winner.
And it doesn't matter what those wins look like; a win is a win.
After the Eagles game, Stefanski said it best.
"There is no such thing as an ugly win. That was a beautiful win."
What Does 7-3 Mean For The City Of Cleveland
Browns fans have been suffering for decades.
But they are a resilient bunch.
The only tragedy in this 7-3 run is that FirstEnergy Stadium cannot be filled to capacity for the city's diehard fans to celebrate this team.
It means that Cleveland is no longer the proud home of the Cavs, Indians, and the Rock and Roll Hall of Fame; it is also the home of the Browns.
Admittedly, the Browns have been an afterthought in the city's landscape in recent years.
That's changed.
Coach Stefanski would be the first person to say that there is a lot of football yet to play.
His team will likely have 1 day to enjoy the win, and then it will be time to get back to work and prepare for Jacksonville Jaguars.