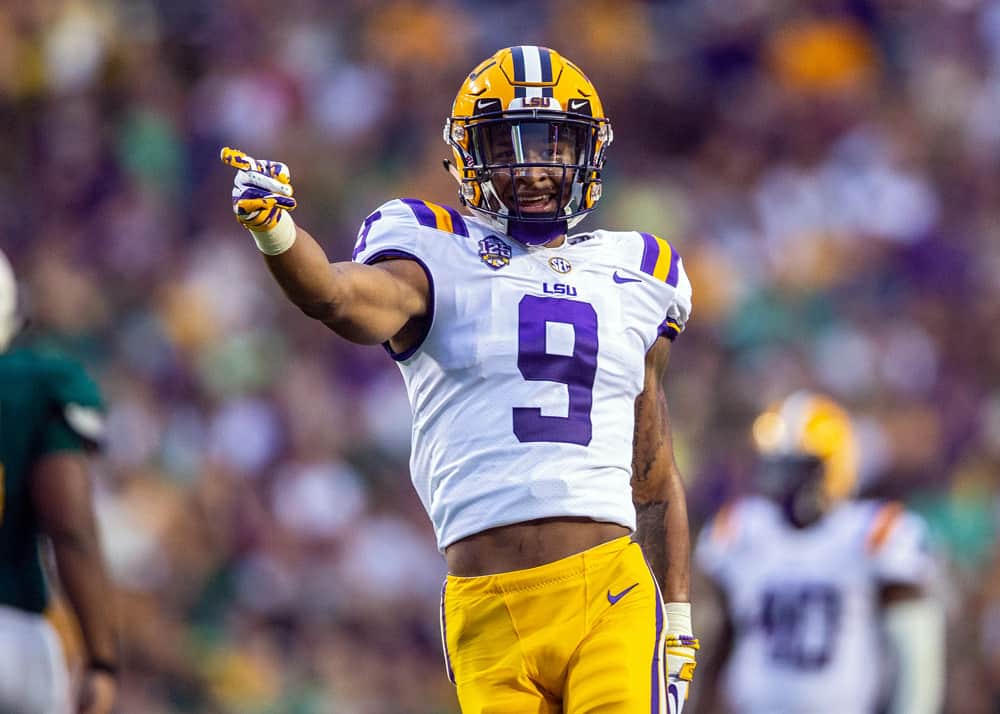 Just when it seemed like the Cleveland Browns defense was trending up, the team now faces a significant blow.
It is reported that second-round pick and safety Grant Delpit has torn his Achilles.
#Browns rookie S Grant Delpit has suffered a torn Achilles, the MRI confirmed. This ends his promising season before it began.

— Ian Rapoport (@RapSheet) August 25, 2020

This leaves the Browns with a huge hole in the secondary.
This is what it means for the rest of the defense.

Too Many Hurting
The unfortunate truth is that the Browns are on an unhealthy trend.
Through just nine practices, many of the Browns personnel has been shelved.
If you're scoring at home, here are the #Browns training camp injuries through 9 practices:

RB Nick Chubb (Concussion)
LB Mack Wilson (Knee)
DT Larry Ogunjobi (Groin)
TE David Njoku (Wrist)
C JC Tretter (Knee)
CB Kevin Johnson (Lacerated Liver)
S Grant Delpit (Achilles)

Yikes

— John Sabol (@John_Sabol) August 24, 2020
Loss Of Depth 
With Mack Wilson likely out for the year, and potentially Delpit, the Browns have lost two potential starters in less than a week.
Even if Delpit was not the presumed starter, the Browns took a huge hit with his loss.
With Kevin Johnson ailing, the Browns will have to shift third-string players up to backup positions at cornerback and safety.
Delpit's injury means that former Viking, Andrew Sendejo is the presumed starter at safety.
That will move Sheldrick Redwine up on the depth chart.
Browns rookie S Grant Delpit suffered a torn Achilles' tendon Monday and will miss the season, NFL Network's Ian Rapoport reports. That had been the fear, and MRI confirmed the injury. Sheldrick Redwine looks like the next guy up, but we'll keep an eye o… https://t.co/HxItZP70W3

— Fantasy Football (@FantasySmarts) August 25, 2020
The Backend Guys 
Redwine was selected in the fourth round of the 2019 draft out of Miami, where he played in 12 games as a rookie.
That included five starts as he finished with 42 tackles.
.@Browns director of college scouting Steve Malin says 4th-round pick Sheldrick Redwine (@_23NeverLeft) will create competition at safety. @wkyc @WKYCSports pic.twitter.com/7uHMxG7CQS

— Pat Chiesa (@PatChiesa) April 27, 2019
The Browns could look to move J.T. Hassell from strong safety to free safety.
Hassell is a former Division II All-American that played in four games last year after completing his second season.
Holy pick by J.T. Hassell 😱#BrownsCamp pic.twitter.com/WkeTxLYe0d

— Cleveland Browns (@Browns) August 21, 2019
The Stretch 
There's no traction on this idea, but with the release of Earl Thomas, there's a connection.
Thomas is a seven-time Pro Bowl selection that was just released by the Baltimore Ravens for an on the field incident.
Ravens are moving on from Pro Bowl S Earl Thomas today, sources tell ESPN. They either will release him for conduct detrimental to the team – punching S Chuck Clark – or trade him. Dallas is the leading contender if he's released, per sources. But his time in Baltimore is over. pic.twitter.com/eJeTuHD1mI

— Adam Schefter (@AdamSchefter) August 23, 2020
The Browns appear to have a "win now" mentality.
Signing Thomas would certainly make up for the loss of Delpit.
It's definitely a situation worth monitoring.