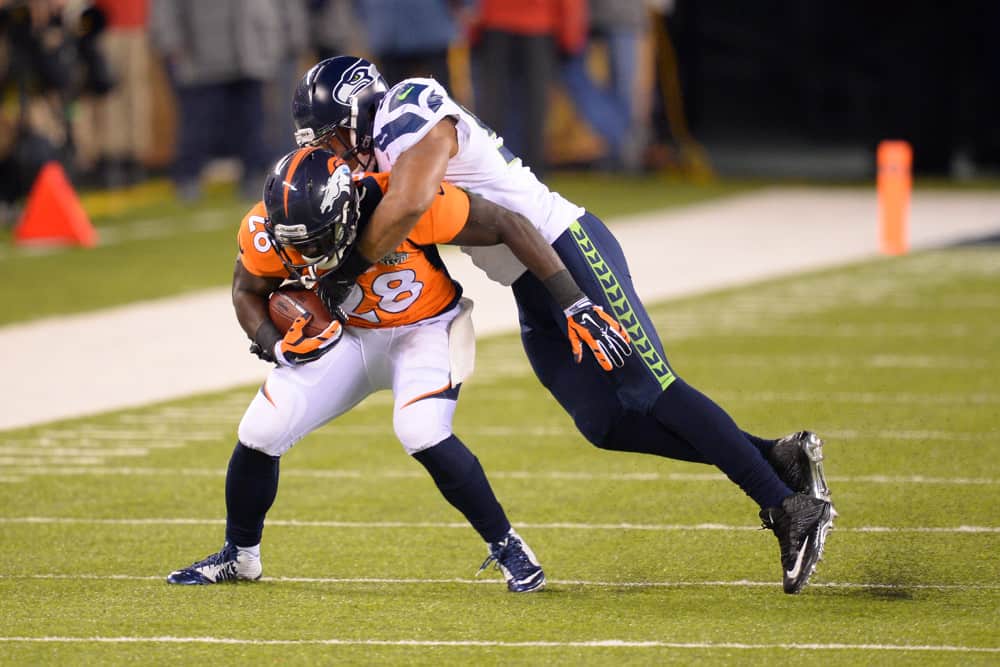 Former Super Bowl MVP Malcolm Smith signed with the Cleveland Browns this weekend.
Smith will help fill the hole created by Mack Wilson's injury.
Malcolm Smith Heads to Cleveland

More: https://t.co/9wNxUebWSk#DFS #NFL #News

— LineStar NFL DFS (@LineStarNFL) August 23, 2020
The newest Brown was selected by the Seattle Seahawks late in the 2011 draft.
Most fans remember his 2013-14 postseason performance.
Smith logged 9 tackles in his first career playoff game, a division round battle versus New Orleans.
He followed that up by catching a deflection from Richard Sherman that clinched the NFC Championship.
But it was his 10 tackles (6 solo), a pass deflection, fumble recovery, and 69-yard pick-6 in the Super Bowl that forced fans to remember his name.
53 Days until #Seahawks football!

Let's reminisce on No. 53, Malcolm Smith, the MVP of Super Bowl XLVIII.

He had a pick-6, fumble recovery and 10 tackles 🔥 🏆 @thesportsontap pic.twitter.com/LW0Avl1qzi

— Sports ON Tap Seattle (@SONTSeattle) July 22, 2020
His interception return took the life out of a struggling Denver Broncos team and all but settled the game before halftime.
It was enough to make Smith one of only 7 defensive players ever named Super Bowl MVP.
What else is there to know about Malcolm Smith?
Well, here are three facts to dazzle your friends with when his name comes up on gameday.
1. Smith's College Coach Drafted Him In Seattle 
Malcolm Smith played his college ball at USC, just like his older brother.
But while wide receiver Steven Smith (not that one) entered the draft as a highly-rated player, Malcolm did not.
In fact, the younger Smith did not earn an invite to the NFL Combine.
He attended USC's Pro Day and put up good measurables, but nothing tremendous.
USC changed coaches before Smith's senior season.
#Seahawks coach Pete Carroll (w/Lombardi Trophy)+LB Malcolm Smith (w/#SB48MVP Trophy) at press conf. just now in NYC pic.twitter.com/fcB1wJHkT3

— John Lok (@jlokseattle) February 3, 2014
The head coach for his first three years liked Smith's fight and drive.
And that coach happened to be the man in charge of the Seattle Seahawks in 2011.
Pete Carroll brought Smith in for a private workout and used Seattle's last draft pick- number 242 overall- on his former player.
Smith didn't break into the starting lineup until Leroy Hill left Seattle.
But he quickly made a name for himself on special teams and became a solid contributor in the linebacker rotation.
2. Pro Football Focus Unimpressed With The Super Bowl MVP 
One might expect a reigning Super Bowl MVP to have the edge for a starting position.
But Seattle's defensive coordinator, Dan Quinn, returned Smith to a reserve role for the 2014 season.
Injuries gave Smith a chance to log some midseason starts.
Unfortunately, his play didn't warrant much more.
Malcolm Smith's 2014 season made me not care about 7th round picks ever again.

— Lord Adorable (@DarthKripple) May 2, 2015
Malcolm Smith's statistics reflect an off-year.
But his PFF score was a brutal 37.3, one of the lowest among eligible linebackers.
Oakland was not dissuaded from signing the former MVP to a 2-year free-agent contract.
Jack Del Rio got his money's worth with a pair of 100-plus tackle seasons.
Smith logged 99 solo tackles in 2015, fourth-best in the NFL.
His performance for the Raiders earned Smith a 5-year contract with guarantees from the San Francisco 49ers.
The San Francisco #49ers signed UFA LB Malcolm Smith to a 5-year $26.5M contract.

Scouting report via @apfour21: https://t.co/NOd2Zoyeua pic.twitter.com/ynzWM2y6lr

— The Scouting Academy (@TheScoutAcademy) April 11, 2017
But Pro Football Focus was not as impressed.
PFF graded Smith as the 60th and 66th best linebacker (out of 88) in his two seasons in the Bay Area.
San Francisco would have saved themselves some sorrow if they believed in the PFF system.
Smith missed the entire 2017 season and started only 5 games in 2018, mostly due to injuries.
He was unceremoniously cut before the following preseason, playing a pair of games each for Dallas and Jacksonville last year.
3. Malcolm Smith Manages a Rare Medical Condition 
After his sophomore season at USC, Smith complained of problems swallowing.
He quickly lost weight as he vomited as much food as he digested.
Doctors eventually diagnosed Smith with Achalasia.
Achalasia is a narrowing and slowing of the movement in the esophagus (or feeding tube).
Malcolm Smith is a good story because he wasn't invited to the combine and has been able to overcome having the achalasia condition.

— Nate Weiser (@nweiser09) February 4, 2014
Smith required surgery that allows him to handle a normal diet.
He can maintain his weight without problems and most teammates won't notice anything wrong.
But Smith still needs to eat slowly and be careful with his food choices.
So if he appears hesitant to try out one of Cleveland's wonderful pierogis, just give him time.
He'll get it down eventually.