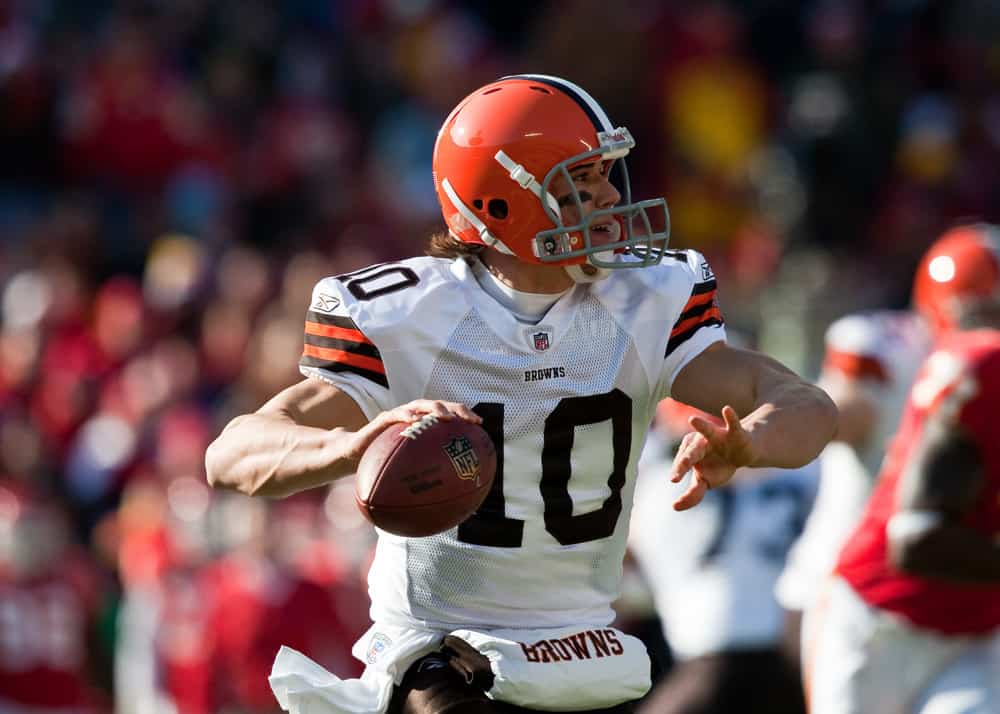 Brady Quinn had the looks of a QB and went to the most nationally followed college in America.
After starting for four years at Notre Dame, Quinn was deemed a first-round QB prospect.
The narrative of falling short in the big moments that started at Notre Dame dropped his draft stock heading into the NFL.
Quinn went 22nd overall to the Cleveland Browns in the 2007 NFL Draft.
Brady Quinn says he still wonders what would have happened if the #Browns didn't trade up to draft him.https://t.co/jO9ivDf2iJ pic.twitter.com/HQbXB5nKuB

— Sportsnet (@Sportsnet) November 1, 2017
A mix of injuries, underwhelming performances, and coaching changes ended Quinn's career quickly.
After the Browns released Quinn in 2009, he bounced around the league looking for another chance.
Once his career ended in 2014, Quinn became a broadcaster and showed that he wasn't afraid of the bright lights.
What ever happened to Quinn?
Impressing in South Bend 
Brayden "Brady" Tyler Quinn grew up in the suburbs of Columbus, Ohio, and quickly took to football as a kid.
As a quarterback at Coffman High School in Dublin, Ohio, Quinn impressed and became a highly ranked recruit.
He ranked in the Top 100 prospects and played in the U.S. Army All-American Bowl in 2002.
Three Blue Chip universities pursued Quinn to be their QB: Michigan, Ohio State, and Notre Dame.
Quinn decided to get away from the fierce rivalry of the Buckeyes and Wolverines and head to South Bend, Indiana.
Today we honor one of the absolute finest signal callers ever at ND. He is on the Mount Rushmore of Notre Dame Quarterback's. He broke 36 school records, had 11,762 yards passing and 95 TD's. He was a 2 time First Team All-American, 2 Time Heisman Semi-Finalist. #10 Brady Quinn pic.twitter.com/SwOAUjK9Ph

— Dos Leprechauns (@dosleprechauns) August 23, 2019
As a true freshman, Quinn started nine games and struggled to a 4-5 record with nine touchdowns and 15 interceptions.
The Irish saw minor improvement in Quinn's sophomore season as a young roster gained experience.
After finishing 6-6 in his 2004 sophomore season, Quinn exploded onto the scene as a junior.
With Charlie Weis as head coach, Notre Dame finished 9-3 in 2005.
Quinn threw for 3,919 yards, 32 touchdowns, and seven interceptions.
The Irish lost the Fiesta Bowl, 34-20, to Quinn's hometown, Ohio State Buckeyes.
He received the Sammy Baugh Award for the nation's best passer after the 2005 season.
Notre Dame started the 2006 season ranked No. 2 with Quinn featured on Sports Illustrated before the season.
After a 2-0 start, the Fighting Irish faced No. 11 Michigan and lost 47-21.
The loss served as a bit of a hit to Quinn's hype and knocked the Irish's expectations back to earth.
Notre Dame won its next eight games before heading into a huge rivalry game against No. 3 USC.
Once again, the Irish faltered in the big moment and lost 44-24 to the Trojans.
Another big-moment loss slotted Quinn behind JaMarcus Russell for top QB prospect heading into the 2007 NFL Draft.
The two top QB prospects headed into a Sugar Bowl matchup where Quinn had one more chance to impress.
LSU mauled the Irish, 41-14, as Quinn struggled to finish 15-for-35 with 148 yards, two touchdowns, and two interceptions.
JaMarcus Russell impressed with 332 yards and two touchdowns and basically locked up the top QB prospect spot.
Sliding into the NFL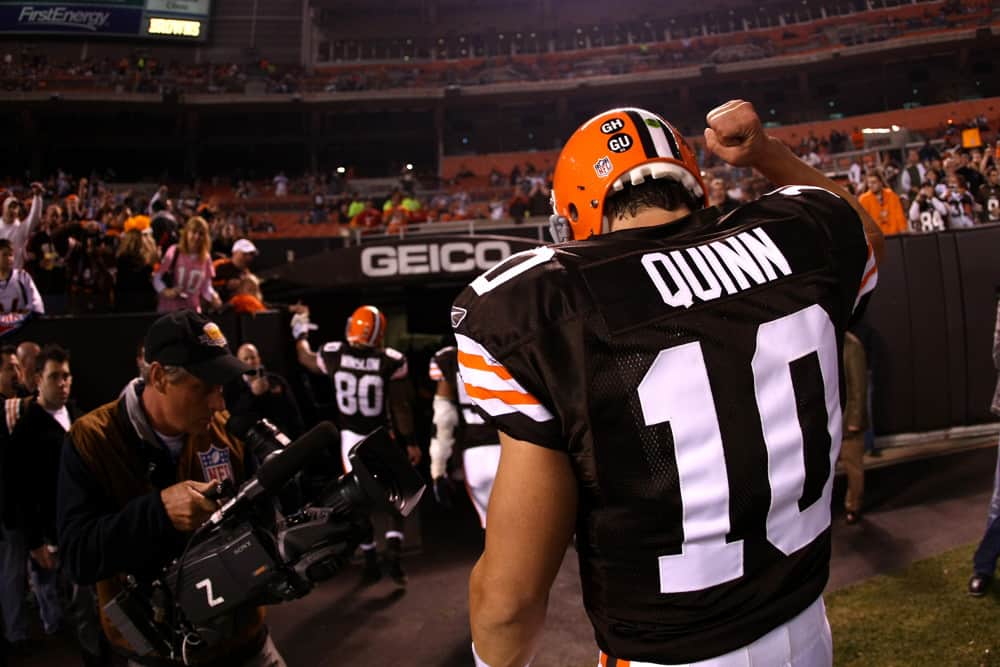 The hype that started around Quinn at the beginning of his senior season consistently dropped throughout the year.
With major losses on the biggest stages, Quinn's draft stock dropped from No. 1 overall into a mid-first-round pick.
Quinn stayed in the spotlight by playing for one of the most nationally televised college teams as a four-year starter.
"The big knock on Quinn is that he buckles under pressure," David Lewin wrote on Football Outsiders ahead of the 2007 NFL Draft. "Last season, against the top defenses that Notre Dame faced, those that really pressured the quarterback well, Quinn came up short. This was particularly evident in LSU's manhandling of Notre Dame in the Sugar Bowl."
When a QB spends so much time in the spotlight, it's hard to know if the critiques against him are a symptom of his exposure or legitimate concerns.
After an impressive pro day, Quinn's stock appeared to rise again heading into the draft and WalterFootball.com predicted he'd go No. 3 overall to the Cleveland Browns.
2007 Draft
Joe Thomas: 10x Pro Bowler, 6x All Pro, HOF All-Decade team 2010's, First Ballot HOFer
Brady Quinn: Backup QB at best, 4-16 record as a starter and 12-17 touchdown to interception ratio, traded for Madden cover athlete Peyton Hillis and was out of the league in 7 years pic.twitter.com/2JJ7A7GwhQ

— Tanner McTanner (@Tanner_McTanner) February 11, 2021
With the third pick in the draft, the Browns took OT Joe Thomas and the slide for Quinn started.
The next slew of teams wasn't extremely QB-needy and drafted for other positions, sending Quinn out of the Top 20.
Behind the scenes, Cleveland Browns general manager Phil Savage worked hard to trade back into the first round.
He made efforts with every team from No. 12 to No. 23.
Finally, Dallas Cowboys owner Jerry Jones flipped the No. 22 pick with Cleveland for a 2007 second-round pick and a 2008 first-round pick.
The Browns used the pick to select Quinn.
"We could finally exhale," Crennel said after the Browns made the trade to select Quinn. "Until it's done, you're holding your breath and hoping that no one jumps ahead of you. You never know what team is back there, wanting to move up. It's blind competition. Nobody is telling you whether they are negotiating with anybody or not. They're saying, 'I'll get back to you.' "
Struggling to Take the Job
Unlike Quinn's college career where he was quickly thrust into the starting role, he struggled to win the QB battle in Cleveland.
Derek Anderson went 0-3 with the Browns in 2006 but won the starting job over Quinn and Charlie Frye in 2007.
Quinn only attempted eight passes in 2007 that all came in Week 17.
Anderson led the Browns to a 10-6 record and kept the starting job going into 2008.
After a 3-6 start to the 2009 season, head coach Romeo Crennel turned to Quinn in Week 10 against the Denver Broncos.
Quinn impressed in the 34-30 loss with 239 yards and two touchdowns.
The Browns beat Buffalo 29-27 but Quinn struggled a bit in his second career start.
In his third career start, Quinn injured his finger and missed the rest of the regular season.
Heading into 2009, Quinn returned from injury and beat out Derek Anderson to be the Week 1 starter.
Highlight of #NFLCombine so far is meeting @brownsSUPERfan_ with a jersey of all the #Browns QBs since 1999.@Brady_Quinn is bottom left and @PriscoCBS got Brady to autograph the name tag on our @CBSSportsHQ set. pic.twitter.com/EegLzHf36m

— Tommy Tran (@TommyTranTV) February 26, 2020
After three weeks of mediocre play, head coach Eric Mangini, benched Quinn in favor of Anderson.
Quinn didn't see the field again until Week 8 when he came in late in a 30-6 loss to the Chicago Bears.
In Week 10, Mangini named Quinn the starter heading into a Monday Night Football matchup against the Ravens.
The Browns were shut out and Quinn finished with two interceptions and only 99 passing yards.
He stayed the starter in Week 11 and played the best game of his professional career against the Detroit Lions.
Quinn threw for 304 yards and four touchdowns and led the Browns to a go-ahead drive with five minutes to play.
The Lions and Matthew Stafford scored as time expired to give the Browns the loss.
Through the next three weeks, Quinn showed some small glimpses of competent play.
While scrambling in Week 15 against Kansas City, Quinn suffered a Lisfranc foot injury and went on injured reserve after the game.
In 12 starts across three seasons, Quinn posted a 3-9 record, 10 touchdowns and nine interceptions.
His longest starting stretch in Cleveland was only six games during the 2009 season.
With another injury and mediocre play on the field, the Browns decided to move on from Quinn and sent him to Denver in return for Peyton Hillis.
NFL Musical Chairs
While in Denver, Quinn didn't make a single start with Kyle Orton in front of him in 2010 and Tim Tebow taking the reins in 2011.
In 2012, he signed with the Kansas City Chiefs and accepted a backup role.
After Matt Cassell suffered a concussion in Week 5, Quinn came in and started eight of the next 11 games.
The Chiefs lacked talent across the roster and Quinn was ineffective in his eight starts.
Quinn threw two touchdown passes in Week 13 against Carolina but didn't throw another the rest of the season.
Chiefs: Crennel names Brady Quinn starter against Raiders http://t.co/xkdtcveo pic.twitter.com/93oISWyi

— 1st To Know (@1st_to_know) October 23, 2012
When the 2012 season ended, the Chiefs fired head coach Romeo Crennel and hired Andy Reid.
Reid decided to bring in Alex Smith and Quinn searched for another chance in the NFL.
He spent a short stint in Seattle but was cut in favor of Tavaris Jackson at the end of training camp in 2013.
Next, he joined the New York Jets for five days before being cut, re-signed, and cut again.
In October 2013, Quinn signed with the St. Louis Rams but herniated two discs in his back in the weight room.
After joining on with the NFL on FOX as a commentator, Quinn tried one more chance at the NFL with the Dolphins in 2014.
He spent two weeks on the roster before being cut.
This final cut ended Quinn's career as an NFL quarterback.
Making a Name in Broadcasting
After his efforts with the Dolphins ended, Quinn returned to be a part of FOX Sports NFL and college football coverage.
Quinn worked hard on his new craft of broadcasting and attended the NFL's "Broadcasting Bootcamp" in 2014.
He hosted a sports talk show in Columbus, Ohio with his brother-in-law, A.J. Hawk in 2015.
With an eloquent delivery and knowledge of the game, Quinn has climbed the ranks at FOX Sports.
He currently serves as one of the main analysts on Saturday's "Big Noon Kickoff" on FS1.
If you turn on any college football on FOX, you'll likely see Quinn as some part of the broadcast.
He occasionally commentates on NFL games for FOX too.
There's a new show launching tonight at 11pm ET on @FS1 hosted by @The_ChrisMyers!@FOXSports: The Home Game

Will be facing off against @Brady_Quinn tonight looking to answer sports & pop culture trivia correctly.

Should be interesting! 😃https://t.co/razqKCJGhY#TeamJG pic.twitter.com/ZQU7eGjrD1

— Jeff Gordon (@JeffGordonWeb) April 16, 2020
It isn't only TV where Quinn appears to talk NFL or college football.
Quinn makes appearances for CBS Sports HQ as well and is a weekly guest on the "PickSix Podcast".
He co-hosts SiriusXM's "The Blitz" three days per week and does a Sunday night radio show for FOX Sports.
All of the broadcasting experience has kept Quinn on the minds of football fans as his playing days slip further in the past.
Succeeding Beyond Football
The broadcasting career after football has only been a part of Quinn's life after the NFL.
In 2014, he married former Olympic gymnast Alicia Sacramone.
The couple has three children together.
Quinn also founded the 3rd and Goal Foundation to help military families.
There are a lot of reasons why Quinn struggled to make it in the NFL.
He joined a struggling organization and had several coaches who didn't think he was the best option on the team.
When he had chances, he ended up getting injured or underperforming and had to fight for the starting job all over again.
After bouncing around to seven teams in seven seasons, Quinn decided to focus on his life after football.
A solid broadcasting career, family and kids have Quinn living a good life.
The title of draft bust doesn't even stick as hard to Quinn because he went No. 22 overall and JaMarcus Russell went ahead of him as one of the biggest busts in NFL history.