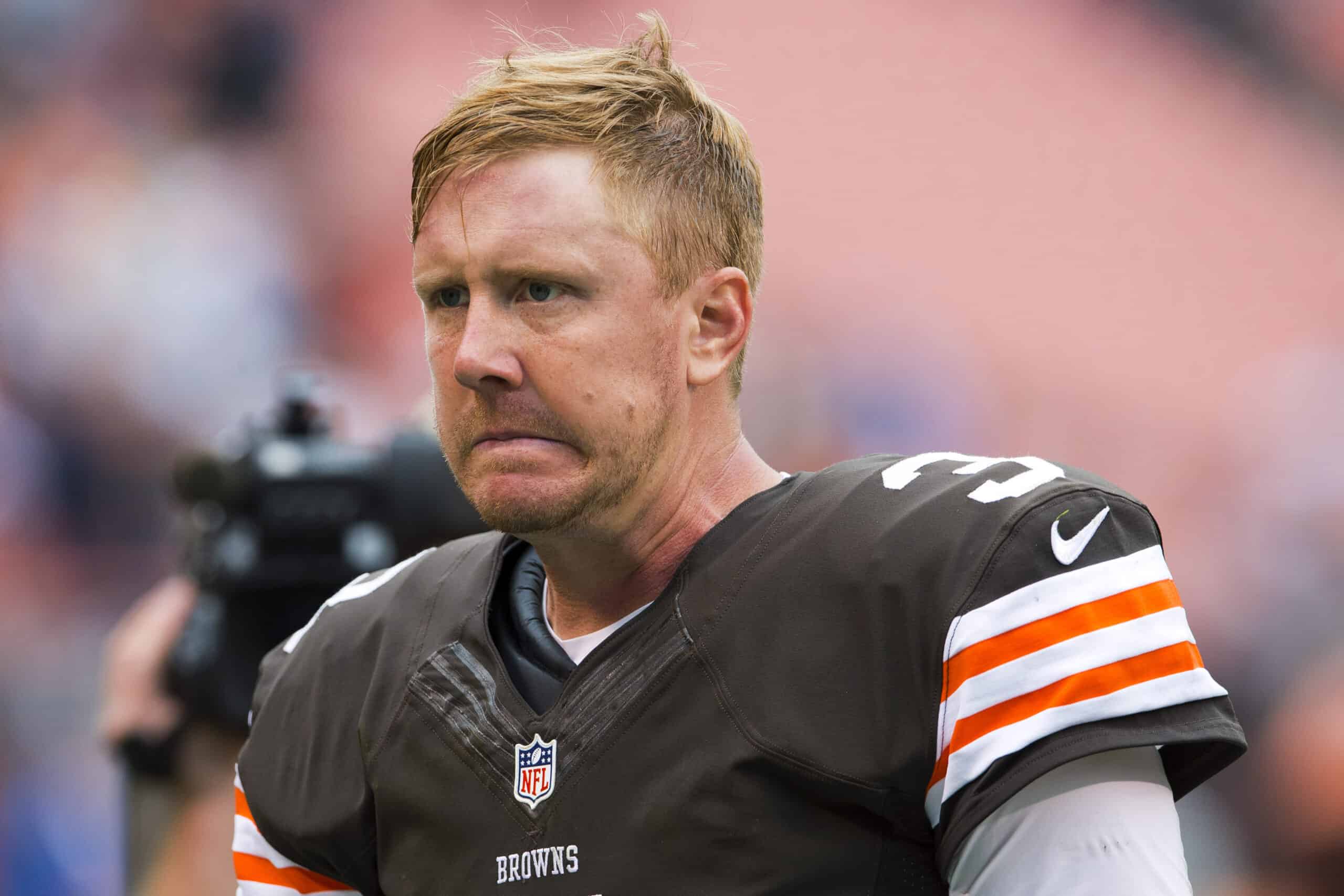 Without a doubt, quarterback is one of the most difficult positions in sports.
NFL history is filled with "can't miss" prospects that missed completely.
The skill set of a pro quarterback has to be ingrained with equal parts of talent, ability and coachability.
The Browns have seen this first hand since returning to the league in 1999.
Approximately 30 different quarterbacks entered and exited the revolving door of the organization in the past two decades.
Among them were a number of first-round selections that didn't pan out.
In 2012, Oklahoma State quarterback Brandon Weeden was drafted by Cleveland with the 22nd overall pick of the first round.
There were some question marks regarding his pro ability in the pre-draft process.
However, a number of teams, including the Browns, believed Weeden had the intangibles to make it big.
Two years later, he was gone.
The reasons why Weeden did not succeed are both obvious and vexing.
Here is a look at what happened to Brandon Weeden.
Remember Brandon Weeden?#ClevelandBrowns #DawgPound #Browns pic.twitter.com/s4Qmexj1pN

— Cleveland Browns Guys (@CleveBrownsGuys) April 23, 2020
Oklahoma State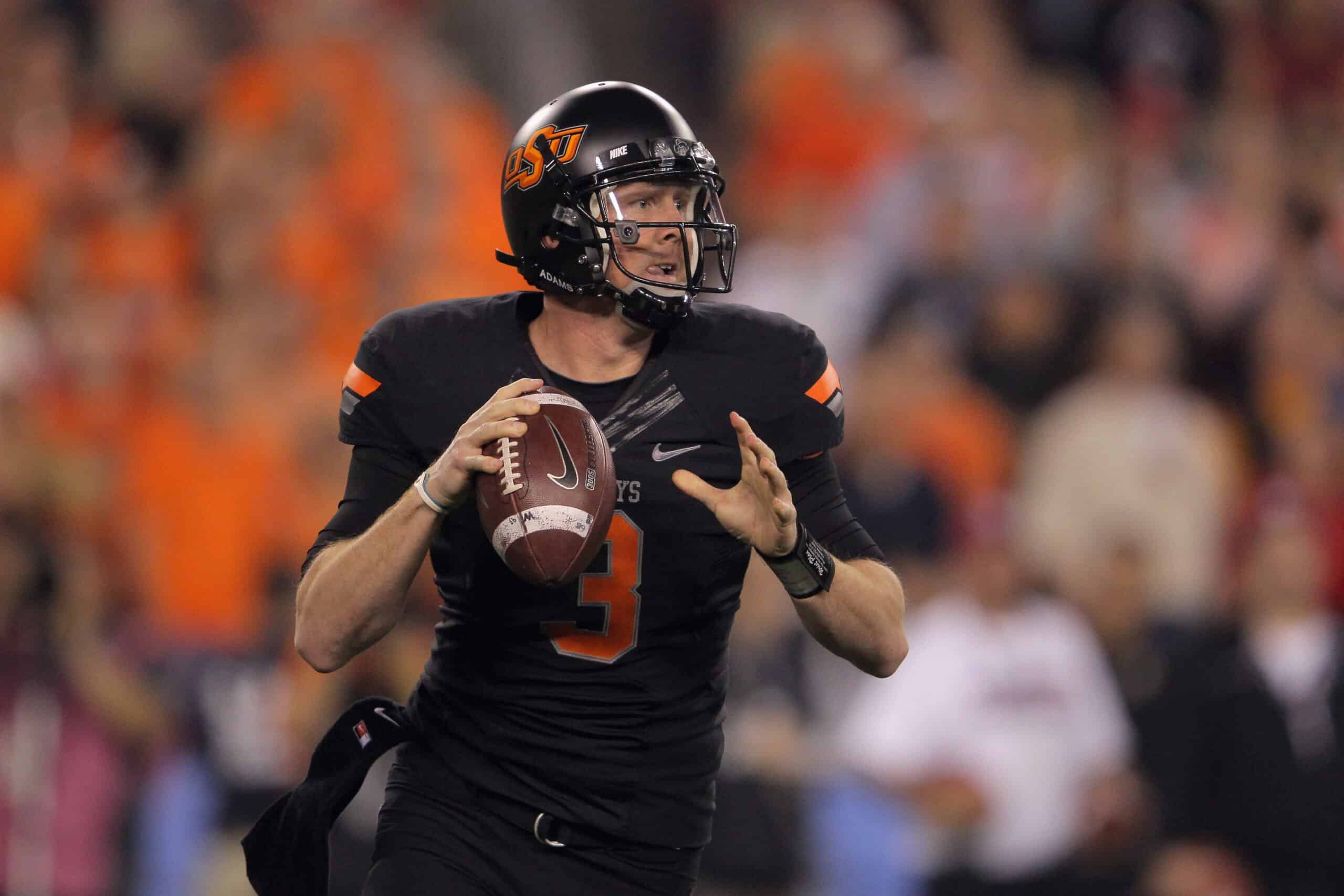 For those that don't remember, Weeden attended Oklahoma State from 2007-2011.
He was a two-year starter for the Cowboys who set program records and turned heads with his cannon arm.
In 2010, Weeden had six touchdown passes against Tulsa in Week 3 of the season.
OSU ended the year 11-2 and Weeden passed for 4,277 yards, 34 touchdowns, 13 interceptions and a 154.1 Passer Efficiency Rating.
He was recognized as a First-team All-Big 12 Quarterback for the season.
The Cowboys defeated Arizona 36-10 in the Alamo Bowl after the year.
Brandon Weeden
Oklahoma State, Quarterback 2008-2011 pic.twitter.com/UxPKddHLte

— Random College Athletes (@RandomAthletess) November 19, 2020
During Weeden's season year, he led the Cowboys to an 11-1 record, a number three ranking in the BCS standings and a berth in the Fiesta Bowl.
During the bowl game, Weeden tossed three touchdown passes and ran for another on the way to a 41-38 overtime win against Stanford.
For the season, Weeden threw for 4,727 yards, 37 touchdowns, 13 picks and a 159.7 Passer Efficiency Rating.
That year he also broke school records in total attempts, completions, yardage and touchdowns.
Pro Career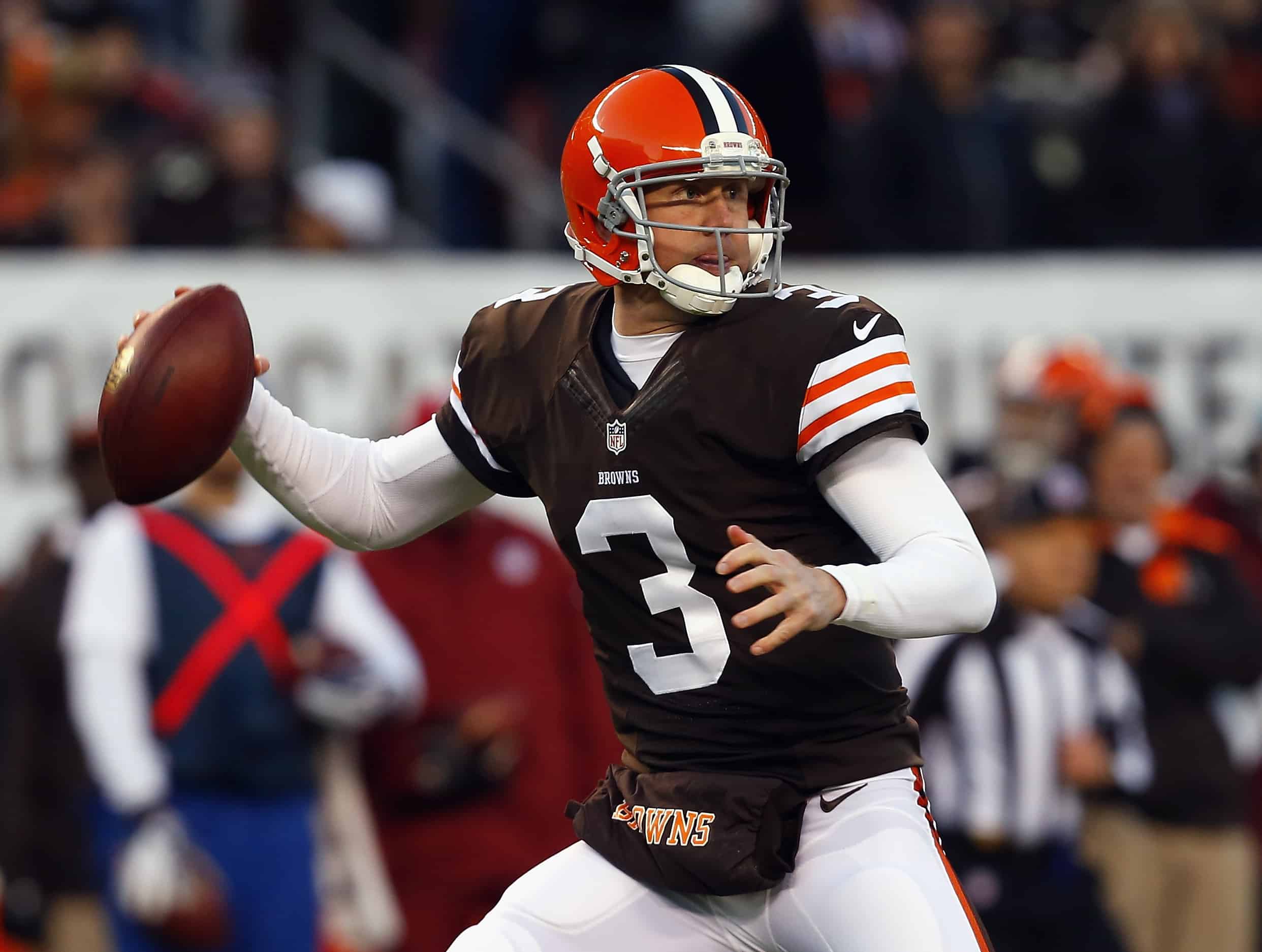 Given the numbers he put up at Oklahoma State, Weeden was seen as a possible franchise quarterback going into the 2012 NFL Draft.
With the 22nd overall pick of the first round, the Browns grabbed the signal caller.
The team was attempting to move on from their failed QB prospects of the past decade.
Previous Browns 1st round QB selections:
1999 Tim Couch
2007 Brady Quinn
2012 Brandon Weeden
2014 Johnny Manziel pic.twitter.com/QECFY0kIhk

— NFL on ESPN (@ESPNNFL) April 29, 2015
In the two years before Weeden arrived, three different quarterbacks tried to lead Cleveland.
Instead, Colt McCoy, Jake Delhomme and Seneca Wallace could muster only 5-11 and 4-12 records in 2010 and 2011 respectively.
The Browns management and fans hoped Weeden would turn around the fortunes of the club.
After being named a starter coming out of training camp, Weeden had a rough start to his career.
In Week 1 of the 2012 season, Weeden tossed four picks against the Eagles, leading to a 5.1 passer rating.
The abysmal mark was the sixth-lowest in a season opener by any QB attempting at least 15 passes since 1970.
Weeden got his first win as a pro in Week 6 when he passed for 231 yards and two touchdowns against Cincinnati.
He then had an up-and-down rookie year which led to the team's 5-11 record.
Weeden posted a completion percentage of 57.4, 3,385 yards passing, 14 touchdowns, 17 interceptions and a quarterback rating of 72.6.
Remember when the @Browns drafted Brandon Weeden in the first round? Good times pic.twitter.com/WXUzYU8KgH

— John Duffley, Jr. (@johnduffley) April 20, 2019
Hoping to improve in his second year, Weeden faced a number of challenges.
During a Week 2 loss to Baltimore, Weeden severely injured his thumb, forcing him from the game.
Backup quarterback Brian Hoyer took over and didn't relinquish his spot until being injured himself in Week 5.
Weeden came into that game and helped the team to its third straight win.
The following week, Weeden passed for 292 yards and two scores in a loss to the Lions.
In Week 7, he struggled to complete only 17 of 42 passes for 149 yards, one touchdown and a pick against Green Bay.
Before a Week 8 game against an undefeated Kansas City squad, head coach Rob Chudzinski benched Weeden and replaced him with Jason Campbell.
Campbell remained the starter for the remainder of the year and the team finished 4-12.
Weeden's totals for the year were a 52.8 completion percentage, 1,731 yards, nine scores and nine interceptions for a 70.3 quarterback rating.
The Browns were less than impressed with Weeden as an NFL quarterback.
On March 12, 2014, he was released by the team.
Dallas owner Jerry Jones was still enamored by Weeden's arm and signed him less than a week later.
He served as a backup to Cowboys starter Tony Romo for the 2014 season and part of the 2015 season.
After being released by Dallas near the end of '15, Weeden was signed by the Texans.
He remained with the team through 2016 and was released in September 2017.
Weeden was then signed by Tennessee but saw no action in 2017.
He spent 2018 back with Houston but only appeared in one game for one play.
Weeden has been out of the league since '18.
OFFICIAL: The Texans have re-signed QB Brandon Weeden.

MORE ➡️ https://t.co/jJLWLBZ6C7 pic.twitter.com/TY7ZbqQX0r

— Houston Texans (@HoustonTexans) April 1, 2016
What happened?
Weeden entered the league with high expectations only to flame out quickly.
So, why did such a great prospect fail to meet expectations?
The answers from coaches and personnel vary, but appear universal no matter the team he played for.
New PS3 custom Brandon Weeden controller! Lol #Browns pic.twitter.com/CRSrJxF4CR

— Champ (@Champ_Dawg9) October 21, 2013
Age
Weeden wasn't a typical rookie when he entered the NFL.
At the beginning of the 2012 season, he was 28 years old and turned 29 during the season.
By that age, most signal callers have spent at least five or six years in the league.
Weeden was an Oklahoma high school All-State athlete in both football and baseball.
As a pitcher in baseball, he was drafted by the Yankees in the second round of the 2002 MLB Draft.
For the next five years, Weeden bounced around various organizations including the Dodgers and Royals.
By the end of the 2006 season, Weeden had realized his pro baseball career was at an end.
That's when he made a life altering decision.
Wondering tonight whether I had photos of Brandon #Weeden playing minor league baseball … and I found this one. pic.twitter.com/gkHKyXQD

— Bill Mitchell (@billazbbphotog) January 3, 2012
"I think it was after the 2006 season, late in my career. I was going to give myself four to five years, and I ended up giving myself five, because minor league baseball you have a feeling whether you're going to make it or not and I didn't want to be a guy that's in the minor leagues for 10, 11 or 12 years. I wanted to play college football if that was going to be the case, where I wasn't going to make it. So I would say after that 2006 season, it became more of a reality. We talked about it, and that's what I wanted to do. I went to Spring Training just to confirm it, and I ended up getting released, and I was in Stillwater in 2007."
Weeden ended up spending five years in Stillwater.
He did well his junior and senior years, but that meant he was much older than most rookies entering the pros.
However, before the '12 draft, Weeden swore his age wasn't an issue with NFL teams.
"I talk to NFL teams about it; it's not even an issue. Age is a zero, non-issue now. I've stated my case (to the teams) and they've tended to agree with me. Obviously it gets tiresome to talk about it all the time, but at the same time I've finally got it to where (teams agree) it's a non-issue."
Weeden elaborated that, if he were younger, teams wouldn't have thought twice about his age.
"It sucks, and I wish it wasn't like this, but if I was 22, where would teams rate me with these other guys?" Weeden said. "If you look at every quarterback in front of me, I beat every one of them. If I'm 22, it's different right now. I think I belong right there with the best of them."
It's fair to say in hindsight that Weeden's age may have played a small part in his quick exit from the Browns.
Whereas most NFL rookie quarterbacks drafted in the first round are given three to four years to prove their worth, Weeden wasn't given that opportunity.
At the end of his second year (which was a disaster) the Browns were looking at a soon-to-be 31-year-old quarterback.
Your random Browns QB for today…

The oldest drafted, worst first round pick of all time, Brandon Weeden 👎🏼 pic.twitter.com/dfftUVb8ap

— 𝘾𝙡𝙚𝙫𝙚𝙡𝙖𝙣𝙙𝙎𝙕𝙉 🌟 (@GoatedBaker) August 5, 2021
It's not a stretch to think that the Browns' coaches didn't believe Weeden would get better as his career progressed.
After all, by that age, most teams know if a player will make it or not.
In fact, the vast majority of NFL players don't get past year three (or approximately 24-25 years old).
Of course, the Browns being the Browns, they didn't learn anything from Weeden and drafted Johnny Manziel in 2014.
Lack of pocket presence, poor footwork and slow decision making 
Before the 2012 draft, numerous scouts and pundits positively noted Weeden's arm strength, accuracy, quick release and the fact that he was a clutch performer.
Weeden himself believed his skill set would translate well in the NFL.
"I think my game translates to the NFL well," Weeden said. "I have a lot to offer. I can make all of the throws. Mentally, I'm stable. I'm able to make adjustments on the fly. I mean, the NFL is hard. It's hard as hell.  But I think my game translates over really, really well."
However, not all scouts agreed.
"He has a lot of arm talent, but he's not a real good foot athlete. He can throw it, but he's more of a pocket passer. If you've got a real good offensive line, he could flourish. If not, I think he'd have a hard time," said an NFC personnel director.

"It's not just his age," said one offensive coordinator for an AFC team. "To me, there's something else that keeps me from getting excited. He throws a nice ball, but I'm not sold that he can move all that well, or that he has that fast-twitch ability to get the ball out when the pressure comes. And I don't see him as one of those big, strong guys who'll break a lot of tackles in the pocket."

https://twitter.com/NotoriousWojo/status/389757718757535745
It turns out they were correct.
Weeden endured 55 sacks during his two years with the Browns.
In his short career, he was sacked a total of 66 times.
Although, it could also be said that Weeden's lack of mobility in the pocket was exacerbated by shaky offensive line play.
As if slow feet weren't bad enough, Weeden also had a tendency to focus on one receiver while being pressured.
That could explain his 30 career picks against just 31 touchdowns.
Inaccurate
Without a doubt, Weeden had a cannon for an arm.
The problem was, he couldn't fire the cannon adequately or accurately.
Weeden's tenure in Cleveland, as well as his few starts in Dallas in relief for Romo, we're replete with missed throws and off target passes.
Happy anniversary, Brandon Weeden's flip pass. pic.twitter.com/q57l6jYEKF

— Dan Labbe (@dan_labbe) October 13, 2016
Even more maddening for fans and coaches was Weeden's propensity for check downs.
Weeden apologists tried to spin the check downs as a good thing.
For them, it showed Weeden's maturity and growth as a pro player.
It was a sign that he could settle for the safer play.
However, for those who knew better, the "safe" throws just proved that Weeden either didn't trust his arm or he wasn't as accurate with the long ball as once believed.
He was in a bad situation and tried too hard
Between Weeden's first and second year, the Browns made changes to their coaching staff and front office.
Former Packers and Seahawks head coach Mike Holmgren was hired by the Browns in 2010 to be their team president.
Having worked with Brett Favre and Matt Hasselbeck, one might assume Holmgren knew quarterbacks.
He liked Weeden and hoped to get a few years out of him.
After the 2012 season ended with a 5-11 record, head coach Pat Shurmur and Holmgren were shown the door.
Chudzinski was hired and he, in turn, hired Norv Turner to run the offense.
This was the same Turner who won Super Bowls as the offensive coordinator for the Cowboys in the 90s.
Weeden was optimistic about putting his rookie year behind him.
"I know I'm a better player than the way I played all year," Weeden said, via SportsRadioInterviews.com. "I'm not satisfied with the way I played all year. So being the competitor that I am, I see a lot of areas of improvement. And I know I have to get better in order for this organization to win games. And my ultimate goal is for us to get to the playoffs and win a Super Bowl, so I feel like personally it starts with me — I've gotta get better. And I wouldn't change anything because I thought like I prepared well. Week-in and week-out I felt like I put myself in position."

https://twitter.com/Browns/status/369834150322515968
Chudzinski and personnel directors Joe Banner and Mike Lombardi didn't really have any other options and stuck with Weeden in 2013.
It would end up being one of many decisions they would regret.
The trio were also shown the door after a dismal 4-12 season.
With another new coach and GM arriving in 2014, Weeden was the proverbial dead man walking and he was released.
Although, he would be happy for the opportunity for a fresh start elsewhere.
"It wasn't an ideal situation," Weeden told SiriusXM's Alex Marvez and Zig Fracassi recently. "The regime that drafted me was out a year after I got there. You never know the plans the group coming in has. I think, as a player, as much as you try not to do too much, try not to put too much pressure on yourself to perform and show you can be the guy for the long haul, sometimes you get caught up in it.

"You try to do much as a player. That's one thing if I could change about myself, I wouldn't try to do too much every Sunday. Just let the game kinda come to you and be more patient."
Bottom line
Weeden was an enormously successful college quarterback who didn't make it as a pro.
It happens all the time.
As much as Weeden might have believed he gave his all in Cleveland (and he did to an extent, given the ability he had to work with) that wasn't good enough.
The Browns drafted Brandon Weeden because he broke clay pigeons with passes on SportsScience https://t.co/vd9VKXu8Yx pic.twitter.com/8CpHZESXRR

— DollarDog Nick @BIGPLAY (@DollarDogSports) July 25, 2021
Quite simply, Weeden did not have the skill set to be a pro quarterback.
Despite those who believed in him, the knocks against him before the 2012 draft proved accurate.
His stops in Cleveland, Dallas and Houston are the evidence.
Perhaps things might have turned out differently had Weeden passed on baseball and went to college right away.
He may have developed his skills earlier and truly shown an ability to make it in the NFL.
Instead, he missed 10 years to pro baseball and college and looked like he was past his prime when he reached the NFL.
At Oklahoma State, Weeden was a man among boys.
He feasted on young players and had the benefit of a future NFL receiver and a good nucleus around him.
In the pros, the situation was much different.
Weeden was the old man competing against young professionals and cagey veterans.
Like Chris Weinke before him, Weeden was a feel good story that ended in disaster.
However, for a brief moment, Weeden lived the life many of us have only dreamed about.
Turning pro in two different sports was accomplishment enough, even if neither opportunity panned out.