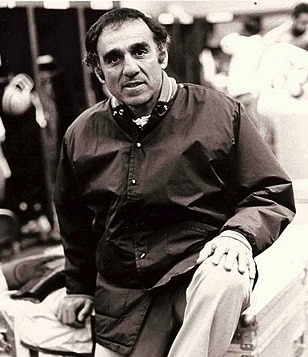 The Cleveland Browns have a storied coaching history.
The franchise began with Paul Brown and included the likes of Blanton Collier, Marty Schottenheimer and even Bill Belichick.
Just before Schottenheimer was promoted to head coach, Sam Rutigliano was at the helm for six and a half seasons.
He came at just the right time for the Browns.
Cleveland during the mid-to-late 1970s was mired in a playoff drought.
Rutigliano was able to put together a team of characters who produced miracles that inspired a city and returned the franchise to the playoffs.
This is the story of Sam Rutigliano.
Sam Rutigliano
The 5th Head Coach of the Cleveland Browns
Vintage #Browns pic.twitter.com/oB5fYuLkn8

— Vintage Browns (@VintageBrowns) August 7, 2019
Early Life and Coaching Origins
Sam William Rutigliano was born on July 1, 1931, in Brooklyn, New York.
Rutigliano was a sports aficionado from an early age.
He played football at Erasmus Hall High School in Brooklyn.
Rutigliano was talented enough on the gridiron that he matriculated to the University of Tennessee.
While playing for the Volunteers, Rutigliano roomed with future pro wrestling star Lou Albano.
Rutigliano later transferred to Tulsa where he played end.
After leaving college Rutigliano began his coaching career.
He coached at three different high schools in New York and Connecticut between 1956 and 1963.
Rutigliano then joined the coaching staff at the University of Connecticut where he coached defensive backs.
After two years with the Huskies, Rutigliano went to the University of Maryland for a year to coach the Terps' receivers.
Found a pic of yesterday's alumni coach of the Day Sam Rutigliano in his Greeley Gear! pic.twitter.com/rKjKsqRgYX

— Greeley Football (@greeleyfootball) January 27, 2021
On to the NFL
Rutigliano rose through the coaching ranks quickly.
Barely a decade after beginning his career, Rutigliano was hired as the receivers coach for the Denver Broncos.
Rutigliano next coached receivers for New England and head coaches John Mazur and Chuck Fairbanks.
In 1973, Rutigliano coached Patriots rookie receiver Darryl Stingley.
Stingley's career would end in the 1977 preseason when he was severely injured on a hit by the Raiders Jack Tatum.
The injury would cost Stingley his mobility as he spent the rest of his life as a quadriplegic.
Meanwhile, Rutgliano left the Pats after the 1973 season and spent two years coaching defensive backs on the staff of the Jets.
He then traveled south where he spent the 1976 and 1977 seasons as the Saints receivers coach.
"A man can make mistakes, but he isn't a failure until he starts blaming someone else." – Sam Rutigliano https://t.co/2mzPQimPnp pic.twitter.com/3DqtSMmWji

— Darrin Donnelly (@DarrinDonnelly) March 24, 2020
Hired by the Browns
Before Rutigliano arrived, the Browns last reached the postseason in 1972 under head coach Nick Skorich.
They lost in the Divisional round to the Dolphins 20-14 and then began a long slide into mediocrity.
Skorich was replaced by Packers legend Forrest Gregg in 1975.
However, Gregg didn't quite make it through three seasons before he was axed.
Once the 1977 season ended with a 6-10 record and a fifth straight year without a playoff berth, team owner Art Modell hired Rutigliano as his new head coach.
It struck some as an odd choice as the teams' Rutgliano assisted never had a winning record.
However, in 1978, Rutigliano inherited a number of players who would soon help turn the franchise around.
Among them were quarterback Brian Sipe, running backs Mike and Greg Pruitt, receivers Ricky Feacher and Dave Logan, tight end Ozzie Newsome, kicker Don Cockroft and a host of defensive holdovers.
#17 Brian Sipe and Coach Sam Rutigliano #Browns pic.twitter.com/dczyki3TQp

— Vintage Browns (@VintageBrowns) October 18, 2020
Rutigliano got to work quickly and led the Browns to an 8-8 finish in his first year.
This was a two-game improvement from 1977.
In 1979, Cleveland shot out of the gate with a 4-0 record.
The first three games were each decided by three points, leaving fans on the edge of their seats.
It was after their Week One victory over the Jets that the team birthed a nickname.
Upon returning to Cleveland after downing New York in overtime, a doctor from the Cleveland Clinic visited the Browns to share an interesting story.
"One of the physicians from the Cleveland Clinic came down to our training center in Berea," Sipe said in an interview with Club 46 in 2019. "I think it was after that game, and showed us a paper readout on a cardiac machine, and it showed that somebody had died right at that moment. I think the story was that he was watching the game, and he died."
The "Kardiac Kids" were born.
Just when spirits were high, the team then dropped their next three games.
The losing spell was snapped by a three-game winning streak.
In Week Eight against the Bengals and Week 10 against the Eagles, the Browns won by one and five points respectively.
The following week the team lost by five to Seattle.
Then, they beat Miami by six, lost to the Steelers by three, beat Houston by seven and lost their last two games by five points or less.
After it was all said and done, the Browns had compiled a 9-7 record and third place in their division.
For his part, Rutigliano was named the NFL's Coach of the Year.
Little did he know that the fun was just getting started.
The Kardiac Kids Continue Stopping Hearts in 1980
Just when the Browns and their fans were expecting to hit the ground running in 1980, the bottom fell out, at least briefly.
The team was crushed by the Patriots 34-17 in Week One and then lost to the Oilers by nine.
They finally found their legs in Weeks Three and Four when they defeated the Chiefs and Buccaneers by seven points each.
After a three-point loss to Denver, Cleveland reeled off five straight victories.
Between Weeks Seven through Ten, the Browns won by six points or less.
The Kardiac Kids were back.
#Cleveland @browns Coach Sam Rutigliano and Ricky Feacher celebrate 27-26 victory over the Steelers on October 26, 1980. Source: AP Photos. pic.twitter.com/7ay2uVjo9F

— John Skrtic (@SkrticX) May 1, 2021
"Everybody likes underdogs and overachievers. We weren't the greatest team in the league because we didn't win it all, but we had our successes. I think they certainly should be, can be and are celebrated," said former linebacker Dick Ambrose in 2020.
On November 16, the Steelers beat Cleveland by three.
The following three weeks produced three wins, two by only three points.
In Week 15, the Browns only had to knock down Vikings quarterback Tommy Kramer's Hail Mary pass at the end of regulation to win their fourth straight.
Instead, Kramer's pass bounced off Browns safety Thom Darden and into the hands of Minnesota receiver Ahmad Rashad.
Minnesota would win the contest 28-23.
The regular season ended after a three-point victory over the Bengals in Cincinnati.
That victory put the Browns at 11-5.
It was their highest win total since 1965.
Rutigliano was again named Coach of the Year and Sipe was the Player of the Year and league MVP.
#Cleveland @browns Coach Sam Rutigliano (1980). Source: @Cleveland_PL from Sam, Sipe, & Company. pic.twitter.com/UrseyuNXEu

— John Skrtic (@SkrticX) August 6, 2020
Red Right 88
By virtue of their 11 wins, the Browns were able to sit at home the first week of the postseason to see who they would play first.
They watched as the Raiders dispatched the Oilers 27-7.
That meant Oakland would be headed their way the following week.
On January 4, 1981, the temperature for the Divisional playoff was a bitter four degrees.
The field resembled an ice rink and many players found the footing difficult.
"Those were probably the most difficult conditions I ever played in," running back Mike Pruitt recalled.  "It was super cold. Everybody knew that. You couldn't wear cleats because the ground was frozen solid. We had to wear shoes with a rubber spongy bottom. You couldn't stop and cut because you couldn't get any traction. You couldn't stop and turn because you'd slip and fall.  The field couldn't have been worse. Trying to throw the ball, trying to catch the ball — as soon as you took your gloves off your hands would freeze. Your hands were just about numb. I remember coming off the field to get some water and the water was ice."
The game didn't begin well when Cockroft missed two field-goal attempts.
Thankfully, not long after the misses, Browns defensive back Ron Bolton picked off a Jim Plunkett pass and returned it 42 yards for a touchdown.
Cockroft's PAT was blocked.
The first half ended after the Raiders Mark van Eeghen tumbled in from one yard out to tie the game.
The extra point was good and Oakland led 7-6 at halftime.
Cockroft put the Browns ahead early in the second half on a 30-yard field goal.
Minutes later, he had another opportunity, only to have the snap sail through holder Paul McDonald's hands.
"That was one of the problems," said left tackle Doug Dieken years later. "McDonald was wearing gloves. I don't think he ever practiced with gloves on. For the amount of time he was on the field, you'd think he'd be able to just take them off and stuff them in his pants and try to catch the ball bare-handed where you'd have the natural feel, but he didn't."
As the third quarter was ending, Cockroft connected on another 30 yarder and the Cleveland lead increased to 12-7.
Van Eeghen scored his second touchdown of the day in the fourth quarter to put the Raiders back in the lead 14-12.
After both teams failed to produce points for the next several minutes, the Browns got the ball back with 2:22 remaining.
It was time for another Kardiac Kids miracle.
"I wouldn't feel too good if I was an Oakland Raider right now," offered John Brodie on the NBC telecast.

"They are ready for another Cleveland Brown finish," added his broadcast partner, Don Criqui, the noise of the crowd in the background swelling. "Fasten all seat belts. The Kardiac Kids, they call them. They will give you those heart palpitations."
OTD 1981
° 1980 AFC DIVISIONAL °#Raiders frost the Browns in CLE, 14-12; the coldest NFL postseason game in 13 yrs (0°F).

CLE coach Sam Rutigliano eschews a FG attempt (weather hampered CLE kicking game all day), OAK's Mike Davis picks off Brian Sipe in the end zone w/ :41 left pic.twitter.com/4d48UDVMJy

— Kevin Gallagher (@KevG163) January 5, 2019
Sipe was surgical on his first two throws, connecting with Newsome and Greg Pruitt for large chunks of real estate.
Mike Pruitt produced two runs that got the Browns to the Raiders 13-yard line.
With 49 seconds left, Cockroft appeared to be the best option.
However, since it was second down, Rutigliano wanted to take another shot at the end zone.
Besides, Cockroft wasn't exactly having the best day.
"What many people don't know about that situation is that I was a long way from being 100 percent physically in 1980," Cockroft said in 2006. "I had two herniated discs and needed four epidurals to just get through the season. I probably should have gone on IR."
Rutigliano called time out and met with Sipe on the sidelines.
The call was "Red slot right, halfback stay, 88."
"His last words to me were, 'Just don't get sacked," Sipe said after the game.
After the snap, Sipe briefly looked for intended receiver Dave Logan.
Seeing Logan covered, Sipe spied Newsome sprinting for the end zone.
He let the pigskin fly.
The wild winds whipping into the stadium turned Sipe's pass into a floating balloon.
The ball hung in the air just long enough for Oakland safety Mike Davis to step in front of Newsome and steal the hearts of the Kardiac Kids.
"The play was designed to go to [Dave] Logan, but when I saw Burgess Owens pick up Logan, I went to Newsome," Sipe said at the time. "Our passing game, remember, is based on what the defense does. So when Burgess did what he did, it changed my plan. But I'm not trying to dodge responsibility. Play selection isn't as important as execution."
Expecting another Kardiac Kids miracle, the Browns were sent packing instead.
Their dream season was over.
"I remember how loud the stadium was when we were driving down there," Dieken recalled.  "I also remember how quiet it got in a short period of time. It was like somebody just turned the volume down on your TV when you were blasting it so loud the neighbors could hear it three doors down. It was like 'What the hell just happened?'"
As Sipe came off the field dejected, Rutigliano went over to his quarterback, put his arm around Sipe and told him he loved him.
"What else could I say? I did love him. A football play does not make a person what he is. He needed to hear it," said Rutigliano.
#Raiders Tom Flores with Browns HC Sam Rutigliano
January 4, 1981 "Red Right 88" 1980 AFC Divisional Playoff Game.
Raiders 14 Browns 12 pic.twitter.com/Q4lQYZiENT

— AFL Godfather🏴‍☠️👓🏈 (@NFLMAVERICK) January 4, 2019
Despite the devastating loss, and with the benefit of hindsight, Rutigliano wouldn't have changed a thing that day.
"The one good thing about coaches is they forget about it," Rutigliano said in a recent interview. "If I had to do it over again, I would have done the same thing."
The Browns Regress then Return to the Postseason
The Kardiac Kids magic fizzled out in 1981.
The season began with the Browns 4-4, but ended 1-7.
In 1982 the NFL players went on strike and reduced the season to nine games.
Cleveland finished the year 4-5 and qualified for the modified playoffs.
At the time, the Browns and the Lions (who also qualified with a 4-5 record) were the first NFL teams to win their divisions with losing records.
That ignominious feat has since been accomplished by two more teams.
Throwback Thursday: Check out this photo of Brian Sipe and Sam Rutigliano from 1981! pic.twitter.com/p5Ly2Kyz3n

— Cleveland Browns (@Browns) March 7, 2013
The Browns traveled to Los Angeles to face the Raiders (who had relocated from Oakland before the season).
They hung with LA and were only down by three at the half.
The Raiders extended their lead in the second half by scoring 14 unanswered points.
For the second time in three years, the Raiders eliminated the Browns from the playoffs 27-10.
Rutigliano is Fired in 1984
Rutigliano got the team back on track in 1983.
In their game against the Lions in Week Two, Sipe threw four touchdown passes.
That raised his career touchdown total to 135 which surpassed Frank Ryan for first in franchise history.
The team also pitched two shutouts in back-to-back weeks against the Bucs and the Patriots.
That ended a streak of eight years without a shutout.
Cleveland finished the year 9-7 but just missed the playoffs.
After the 1983 season ended, Sipe left the team to join the New Jersey Generals of the USFL.
Sipe had angered Browns management when it was revealed that he had been negotiating with Generals team owner Donald Trump during the '83 season.
With SIpe out of the picture, the organization was left with McDonald as their starter.
McDonald had been drafted in 1980 and spent his first four seasons as Sipe's backup.
Without the leadership of Sipe, the Browns won only one game through the first half of the 1984 season.
It was at that point that Modell stepped in and fired Rutigliano.
Although it seemed like a bad time for Modell to make a coaching change, defensive coordinator Marty Schottenheimer stepped in and coached the team to a 4-4 record to end the season.
In the press meeting to announce the decision, Rutigliano did not show any ill will toward the organization.
"Let's look at it as a fresh start," Rutigliano said.  "Today I've become the No. 1 fan of the Cleveland Browns. I think I was treated fairly."
Modell offered Rutigliano a role in the front office, but the coach passed on the opportunity.
"I have a daughter who is a senior in high school and I'll be visiting colleges with her," he said.  "And, very frankly, take the opportunity to reflect and sort some things out in my own mind, look at some options and have the time to evaluate what would be the best direction for me to go."
With that, Rutigliano left the Browns.
In six and a half years as head coach, he posted a 47-50 record.
He also helped restore Cleveland to the postseason with two playoff appearances.
Broadcasting and then a Return to Coaching
After leaving the Browns, Rutigliano was an analyst for ESPN and NBC for five years.
In 1989 he became the head coach at Liberty University in Lynchburg, Virginia.
Liberty was founded by the late Reverend Jerry Falwell in 1971 and Rutigliano was excited for the opportunity.
Sam Rutigliano brought @NFL coaching experience to #LibertyUniversity. https://t.co/KS9O2kqD9n pic.twitter.com/Btp4jVfmEy

— Liberty University (@LibertyU) November 23, 2015
"This gave me the opportunity to do what I really wanted to do; teach and be around 1950's kids with Christian values and beliefs," said Rutigliano.
At first glance, Rutigliano's decision to coach at a faith based college may have surprised some people.
However, shortly after his hiring, Rutigliano shared a painful personal story that shed some light on the decision.
On a family trip in the early 1960s, Rutigliano, his wife and their daughter, Nancy, were involved in a vehicle accident.
Rutigliano had nodded off and their vehicle veered off the road and flipped several times before stopping.
Rutigliano and his wife were battered and bruised but conscious.
However, Nancy could not be found.
After a quick search, the Rutiglianos found their daughter pinned under one of the wheels.
She was unable to be revived and passed away.
"I just really had a tremendous problem trying to sort that out," Rutigliano said. "How was I ever going to get this thing back together again? I blamed myself. I just didn't know."
Where most parents could have come apart under such a traumatic ordeal, the Rutiglianos grew closer together.
They attribute their healing to attending church and finding counsel with others who shared their pain.
"And God answered us. Through the wonderful pastor we met we realized that God wasn't going to bring her back, but he promised us we would be together in the next life," said Rutigliano.
That was when Rutigliano decided to turn to faith as a reason for doing what he loves.
"I was saved, as the Christians say. I found that higher power. I was really at peace. I came to have almost a calling. It's unbelievable how many coaches and other friends have come to me since 1962 with similar experiences. I tell them: 'I know. I know the pain.' "
Rutigliano got to work quickly, hiring a staff that included former player Joe DeLamielleure and getting the Flames to 7-3 his first season.
After 11 seasons at Liberty, Rutigliano left the program as the school's all-time leader in wins.
Only hours after "retiring" from Liberty, Rutigliano was hired by the Barcelona Dragons of NFL Europe.
"Can you believe it? It's unbelievable to me – and they're paying me too!  These kids are 21-23 years old and haven't played in awhile. My goal is to help them reach their goal," said Rutigliano at the time.
Rutigliano worked for three teams as an offensive assistant in NFL Europe and returned to television work by 2006.
Active in Retirement
After spending a career on the go and crisscrossing the country for employment, one might have expected Rutigliano to settle down in retirement and live the good life.
However, playing golf and living a quiet life was not for him.
"I grew up in New York City. First time I saw a Golf Course I thought it was a cemetery. Anyway, like someone once said golf is a good way to ruin a nice walk," said Rutigliano.
October 30, 2017. Pro Football Hall of Fame Luncheon Club Speaker: Former Cleveland Browns Head Coach, Sam Rutigliano. pic.twitter.com/wgs5XeYDGg

— Profballhoflc (@profballhoflc) October 31, 2017
Instead, in addition to numerous speaking engagements, the Rutiglianos have been active in their work helping addicts overcome their addictions.
They were inspired by this calling during Rutigliano's time in Cleveland.
While coaching the Browns, he teamed up with Dr. Gregory Collins of the Cleveland Clinic to form "Inner Circle."
Inner Circle was an anonymous support group known as the "Inner Circle" to help players with substance abuse problems.
In 2007, Rutigliano was given the National Council on Alcoholism and Drug Dependence's Bronze Key Award by the NCADD's Northeast Ohio affiliate, Recovery Resources.
The Rutigliano's currently reside in the Cleveland area.