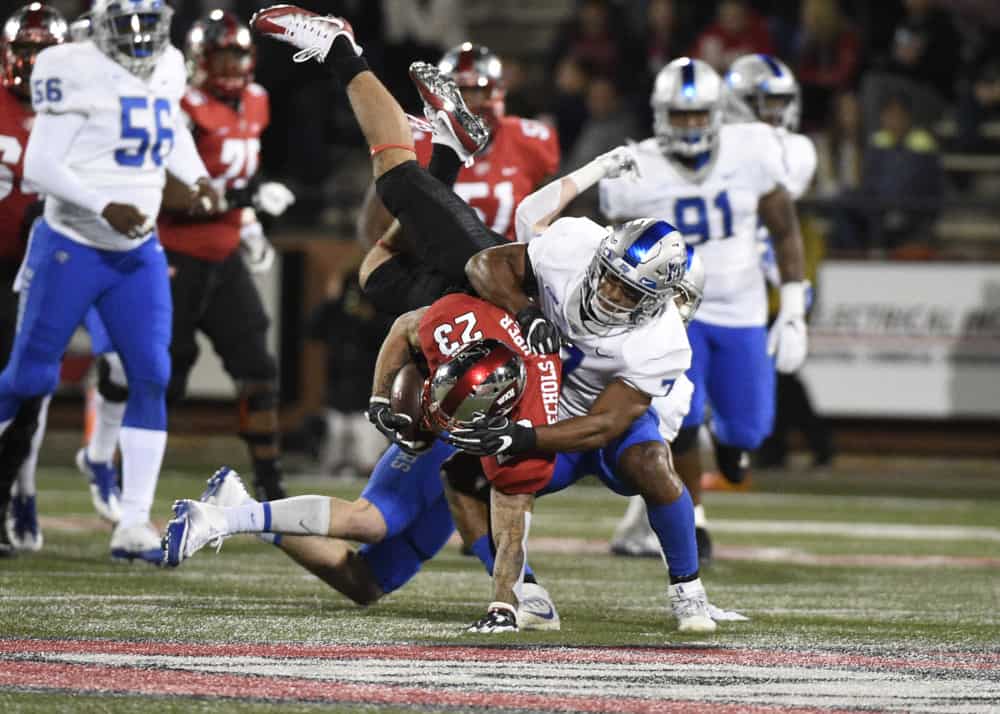 After the 2020 NFL Draft concluded, the Cleveland Browns announced the signing of 15 undrafted free agents.
Many of those players have uphill battles to make the 53-man roster, but they will get an opportunity to showcase their talent during camp.
Cleveland #Browns first 10 UDFA's signed #udfa #sign

S Jovante Moffatt
CB Jameson Houston
T Alex Taylor
LB Solomon Ajayi
WR Tony "Touchdown" Brown
RB Benny La May
RB Brian Herrian
DE George Obinna
QB Princeton Kevin Davidson
LB Austin Hall

— Paul Brown🇬🇧 Cleveland Browns🏈 / Food🌶 Vlogger (@PaulBrown_UK) April 26, 2020
One player who may have a shot at seeing playing time for the Browns this season is safety Jovante Moffatt.
Cleveland could use some depth at the safety position, so Moffatt might have the inside track at making the active 53-man roster.
Jovante Moffatt
The Browns decided to bring in Middle Tennessee State safety Jovante Moffatt after he went undrafted during the 2020 NFL Draft.
He does have weaknesses in his game, but had an extremely productive college career.
Moffatt finished with 312 tackles, 5.5 tackles for loss, and five interceptions during his four years in college.
He played well enough during his senior year to earn an invite to the NFLPA Bowl.
During his senior year, Moffatt recorded 98 tackles and three interceptions through 12 games.
His performance during his final season earned him serious draft consideration.
He's an experienced safety that does offer some upside to in terms of potential, but no organization decided to take a chance on him until after the draft.
Why Did Moffatt Go Undrafted?
There's been plenty of cases where an undrafted talent goes unnoticed, but eventually makes an impact in the NFL.
Players such as Tony Romo, Wes Welker, and Arian Foster all went on to have successful NFL careers after going undrafted.
Moffatt could very well follow in their steps, but he needs to make major improvements before he's ready to do that.
Often times, Moffatt is undisciplined and lacks athleticism, which could end up costing him big time at the professional level.
He is known for having an aggressive mentality, but he'll need more than that to succeed at the highest level.
Moffatt was not exactly playing professional-level talent while at Middle Tennessee State.
Been a big believer of Middle Tennessee safety Jovante Moffatt (@Jovante_Moffatt) for some time now. Physical presence at safety, Jovante exemplifies intensity as a football player. Really underrated range as well for his play style. Don't overlook him folks. Really good player. pic.twitter.com/zaaGZloY3M

— Ryan Roberts (@RiseNDraft) December 22, 2019
There are definitely some good parts to his game, but he'll need to be close to perfect if he wants to earn a spot on a professional roster.
There's always a chance that Moffatt lands on the practice squad and can learn and improve without being on the active roster right away.
However, he'll need to prove to the organization during the preseason that he is deserving of that spot on the team.
Can Moffatt Make The Roster?
Just like most undrafted players, Moffatt will have an uphill battle to earn a spot on the Browns roster.
The Browns lack talent at the safety position, so Moffatt has a chance at making a name for himself in camp.
Cleveland currently has eight projected safeties on their roster, which means Moffatt will have to battle if he wants to stay on the 53-man roster after the preseason.
It's highly unlikely that Cleveland keeps that many safeties on their active roster, so training camp and the preseason will determine a lot for these players.
There is a chance that Moffatt makes the roster as third-string safety depth or possibly a special teams spot.
He has some upside, but it'll depend on if Moffatt can impress the coaching staff enough to keep him around after camp.