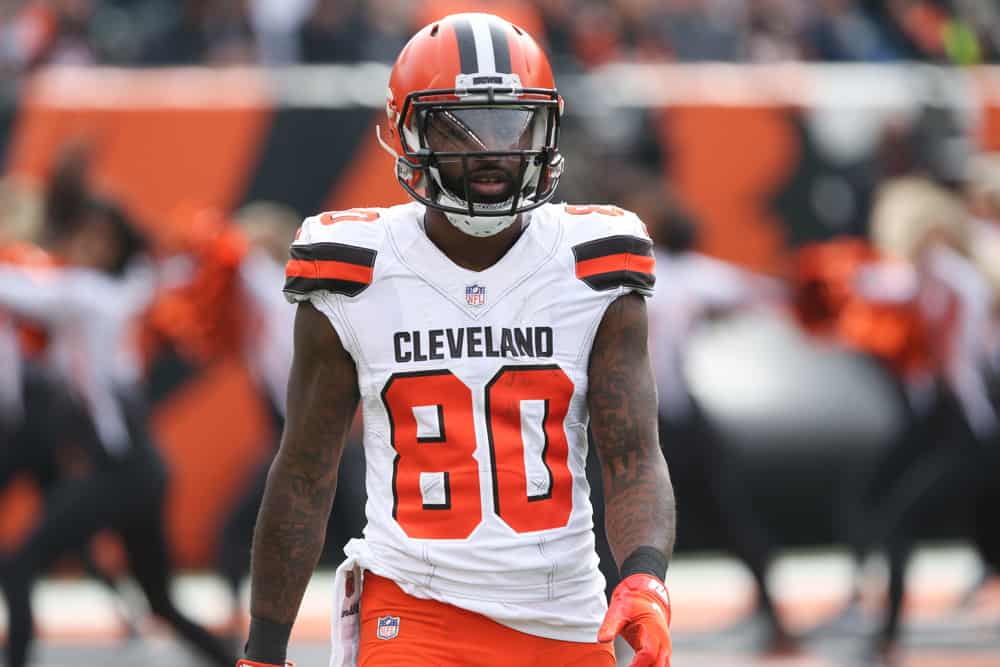 If it is up to Donovan Peoples-Jones, he is going to give Rashard Higgins a run for his money.
When Higgins was resigned, it appeared that he would be the bonafide No. 3 receiver.
However, according to ESPN's Jake Trotter, Pro Bowl wide receiver Jarvis Landry is taking DPJ under his wing.
Donovan Peoples-Jones is in Ft. Lauderdale working out with Jarvis https://t.co/VrTliam7cO

— Jake Trotter (@Jake_Trotter) May 15, 2020

The mentoring relationship could prove big dividends for the new Browns receiver.
This could be great for both parties.
Landry's Credential For Mentorship
No other wide receiver has finished with more receptions than Landry over the last five years.
If DPJ wanted to receive mentorship from someone, he landed a solid mentor.
In 2017 with the Miami Dolphins, Landry had more receiving touchdowns (9) than the entire Browns roster combined (7).
Jarvis Landry has been a force in the red zone over the past two seasons! Check out key stats on our top 15 2018 free agents:https://t.co/mmpm3rXEuV pic.twitter.com/acwj7py6Oq

— PFF (@PFF) January 27, 2018
Then, he was acquired by the Browns in exchange for a fourth and seventh-round pick.
In his first year with the Browns, he led the team with 81 receptions for 976 receiving yards on a whopping 149 targets.
Last year, Landry made the Pro Bowl for a second consecutive year with a career-high 1,174 yards and six touchdowns.
DPJ's Chances At Making The Cut
As previously mentioned, DPJ will have his work cut out for him in making the roster as a receiver.
However, he posses great skills as a punt returner, which is something that Landry has served over the last two seasons.
This could be Landry's way of passing the torch.
Last season, Landry returned five punts for 43 yards serving as the primary punt returner.
This is where DPJ steps in.
Go ahead and count the number of Buckeyes Donovan Peoples-Jones shed on this punt return. pic.twitter.com/i73w0YHeC9

— Big Ten Network (@BigTenNetwork) November 25, 2017
As a receiver, he never finished with more than 612 yards and had just 34 receptions for 438 yards last season.
As a specialist, DPJ led the Big 10 in return yards in 2018 and was All-Big Ten Third-Team in 2018 and 2019.
Could we see the new main return man?
Browns Are Excited
It's not too many times we see a franchise excited over a sixth-round pick, but the Browns are hyped to start working with DPJ.
According to the Browns new head coach, DPJ brings a type of "versatility."
"With Donovan, we got a player that has played outside and inside," Browns coach Kevin Stefanski told reporters in a post-draft conference call. "I think there is versatility with this player in terms of where you can play him in the formation. Having return ability and having a history in the return game helps. I do think he has the physical skill set to be a special teamer. There is a lot this kid can do. Then, it is going to be a matter of him showing it to us."
Fans should be excited because this description was based off a season in which DPJ battled an injury.
One reason for his drop in value on the offensive side might have resulted from an early-season injury, in which Jim Harbaugh described as a "soft-tissue groin injury."
After an offseason with Landry, the Browns could see a new receiver.