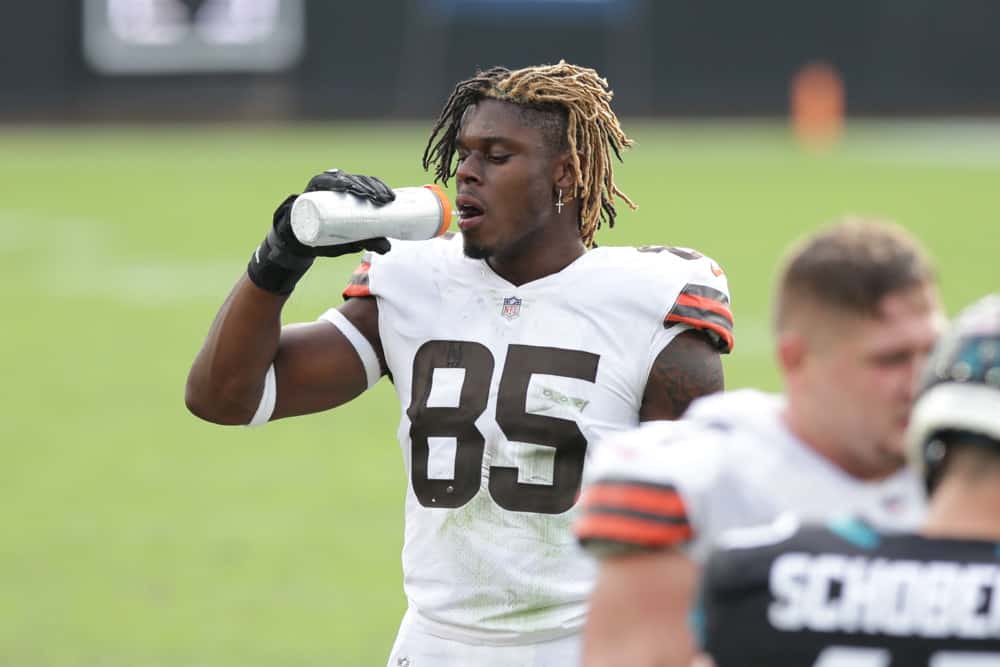 One of the many dilemmas the Cleveland Browns have to deal with is their situation at tight end.
Coach Stefanski likes running an offense with multiple tight end sets, and the two best tight ends on the Browns roster are Austin Hooper and David Njoku.
Hooper joined the Browns as a free agent from Atlanta in 2020.
Njoku played his fifth-year option in 2021 and is currently a free agent.
If Njoku Gets A Big Contract Then What Happens?
Hooper is set to make $9.5 million in 2022.
The cap hit for Hooper is $13.25 million.
If he is released or traded before June 1, the dead cap hit is $11.25 million.
According to Mary Kay Cabot, the Browns are prepared to pay Njoku a salary in the ballpark of Hooper's which is a four-year $42 million deal that runs through the 2023 season.
The #Browns have been talking with the Agent of David Njoku for months, want to get a deal done by Free Agency and are prepared to pay him double digit millions, per @MaryKayCabot.

Was not expecting him to get that much. This could create problems with the Tight End market.

— The GOAT House (@GoatHouseNFL) February 28, 2022
It seems unlikely the Browns would carry two tight ends making top salaries given their needs in other position areas and the many unresolved free agent issues they have.
If Njoku gets a contract of this magnitude, they will not keep Hooper.
It just isn't possible to tie up $20 million on two tight ends who are splitting time.
Neither is of the caliber of George Kittle who had more yards (910 vs. 773) and one less touchdown (6 vs. 7) than Njoku and Hooper combined.
He makes $15 million a year.
Njoku's Projected Market Value
Another source of confusion and conflict in this discussion is the projected value of a contract extension for Njoku.
It is not in the $10 million range; it is closer to $7 million.
ON THE RADAR FREE AGENTS:
TE David Njoku #dallascowboys pic.twitter.com/g53EBBHd2c

— Dallas Cowboys Network (@TheCowboysNet) March 4, 2022
Njoku has been a great player, but is he a $10 million per year player?
Arguably, Austin Hooper has not been worth his salary so why would the Browns, who are very scrupulous with money, make the same mistake two times and overpay both tight ends?
The Browns need tight ends who can catch and block consistently but need not overpay them.
March 16 is coming quickly so we will soon have a better idea of how the Browns plan to resolve their tight-end dilemma.