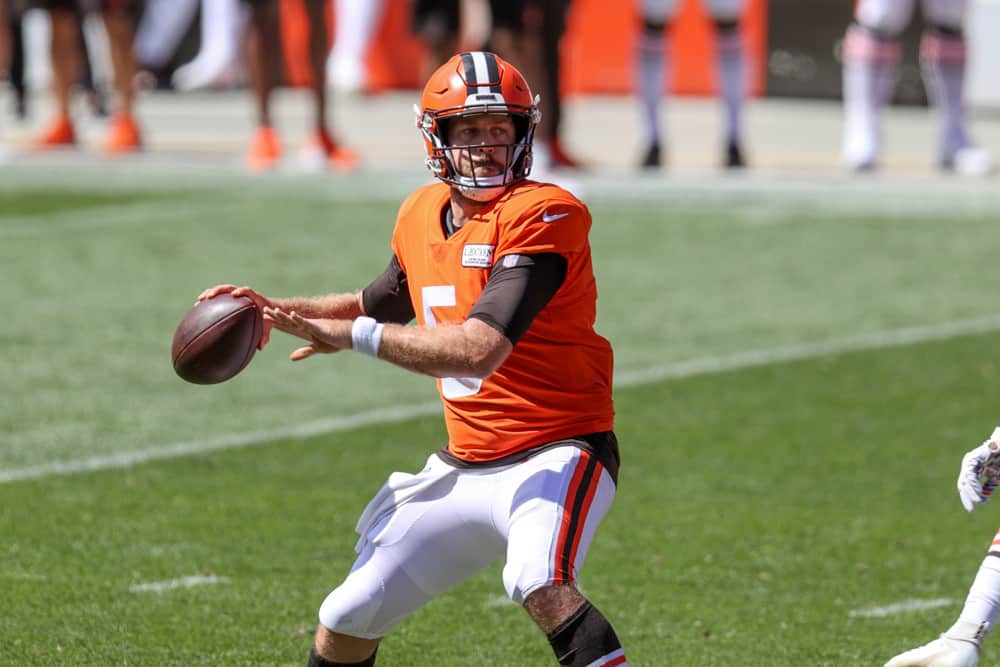 The Cleveland Browns made Case Keenum one of the highest-paid backup quarterbacks in the league.
They gave the veteran quarterback a three-year deal worth $18 million in 2020.
Since then, Keenum has started in a total of two games for the Browns.
In the past, the 34-year-old has experienced success under Browns head coach Kevin Stefanski.
That was likely a big reason why the Browns decided to originally sign Keenum.
Now, Cleveland needs to make a tough decision this offseason on whether or not to keep Keenum around in 2022.
Worth The Money?
It's uncertain why the Browns decided to pay Keenum so much to be a backup.
Possibly, the organization didn't believe that Baker Mayfield was the answer at quarterback.
Two years later, the Browns are still uncertain if Mayfield can lead this team to a championship.
Last season, Mayfield played through a majority of the season with a torn labrum.
It goes to show that the Browns would rather start an injured Mayfield over Keenum.
Although, Keenum did make two starts for the Browns last season.
He started and helped lead Cleveland to victory over the Denver Broncos.
Also, Keenum started in the season finale when the Browns decided to shut down Mayfield.
Now, the Browns need to decide if they want to pay over $8 million for a quarterback who played in two games.
Cleveland could save over $7 million if they decide to part ways with Keenum this offseason.
Case Keenum Salary Cap numbers
Against 2022: $8,433,334

If cut:
Dead Cap Hit: $1,333,334
Salary Cap Savings: $7,100,000#Browns

— BB (@BuckeyesBrowns) March 3, 2022
The Browns appear to be committed to Mayfield beginning the 2022 season as the starter.
That being said, there's a good chance Keenum becomes a cap casualty this offseason.
The organization has shown little faith in Keenum and it wouldn't be shocking if the team decided to move on from the veteran quarterback.
Who Becomes The Backup?
At this point, the Browns could go multiple routes as far as backup quarterbacks.
Mayfield is entering his fifth and final year of his rookie contract.
That means, the Browns will likely need to sign Mayfield long-term or let him walk in free agency next season.
That being said, Cleveland could look to add a young quarterback through the draft.
That quarterback would sit behind Mayfield for a season before taking over in 2023.
Also, Cleveland could bring in legitimate competition as insurance in case Mayfield struggles again.
One name that continues to be talked about is former Chicago Bears first-round pick Mitch Trubisky.
I've talked to more NFL teams this week about Mitchell Trubisky than the 22 QB class.

I think that says a lot.

— Matt Miller (@nfldraftscout) March 1, 2022
Cleveland cannot afford to have another season wasted by below average quarterback play.
The Browns should bring in someone who can help in 2022, but also be a future option as well.
Keenum is a decent backup quarterback, but hasn't been a full-time starter since 2018.
It's unlikely that Cleveland would trust him to take over as the starter if Mayfield struggles.
The front office probably wants to bring in a possible successor to Mayfield, which isn't going to be Keenum.
He should be able to find plenty of suitors because Keenum does have experience.
However, it's time the Browns end the Keenum experiment and attempt to upgrade this offseason.