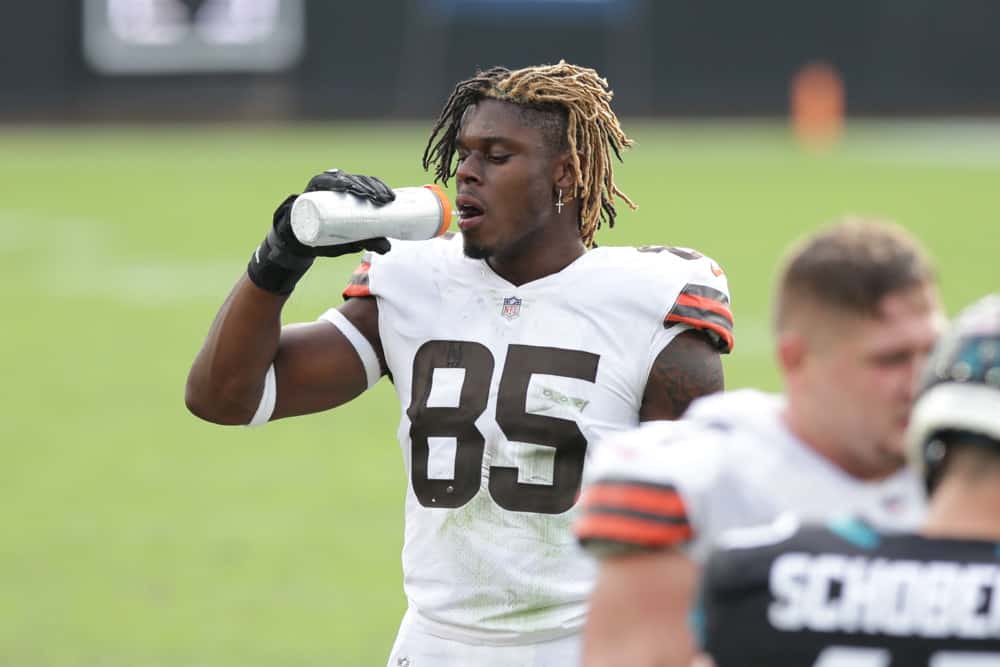 There have been plenty of ups and downs in the relationship between the Cleveland Browns and TE David Njoku.
And most of those have happened within the past 12 months.
Coach Stefanski's Browns rely on multiple tight ends so Njoku being the third tight end on the depth chart still guarantees a lot of work and playing time.
But whenever the Browns season comes to an end, one of the questions that will need to be resolved is what to do about Njoku.
The answer is as simple as these two words, "keep him".
Njoku Should Be A Brown in 2021
To begin with, the Browns exercised the fifth-year option of his rookie contract in April 2020 so he is under contract through the end of the 2021 season.
The Browns owe Njoku $6 million in 2021 so he might as well suit up and play.
Statistically, 2017 and 2018 were Njoku's best seasons so far.
He had 8 TDs and over 1,000 yards receiving collectively in those two seasons.
2019 and 2020 have been riddled with injuries.
He missed 11 games in 2019 with a broken wrist and was never able to get in a groove when he did return to the field.
Njoku suffered a knee injury in Week 1 of the 2020 season that sent him to injured reserve.
When he is on the field, he is a playmaker.
David Njoku has a higher catch percentage and yards/target than Odell Beckham Jr. this year.

Njoku: 63.2%, 8.0
Odell: 53.5%, 7.4@Rob_Shenanigans I know you'll love that stat. Lol

— DarkStool Sports (@CLLEE59094305) December 21, 2020
#Browns Tight End, David Njoku, has been an instrumental part of the offense this year.

Njoku ranks 1st among #NFL TEs with a Pass Block Grade of 83.8, per @PFF.

As a pass-catcher, 77% of his Receptions have gone for a First Down.

He has a Passer Rating of 125.8 when targeted. pic.twitter.com/zIop9dlxQi

— The Hottest Take Sports Podcast (@Hottest_TakePod) December 22, 2020
And the Browns offense appears to have plenty of work for all three TEs, Austin Hooper (also riddled with injuries in 2020), rookie Harrison Bryant, and Njoku.
So the argument to keep Njoku is a sound one.
But given the off-the-field antics in 2020, the question could end up being, does Njoku want to be a Brown in 2021?
Does Njoku Want To Be A Brown In 2021?
That is a decidedly different question, and only Njoku knows the answer to that.
Njoku anticipated a reduced role when the Browns signed free-agent Austin Hooper in the offseason.
He fired his agent and hired Drew Rosenhaus who wasted no time making it known that Njoku wanted to be traded before the 2020 regular season.
"It is in David's best interest to find a new team at this time."
It's unclear how seriously the Browns took this request, because when training camp came and Njoku reported, he tweeted this:
"I'm all in Cleveland. Time to work."
At which point, Rosenhaus echoed Njoku's sentiment.
"David Njoku has had some good meetings with the new Browns organization, including GM Andrew Berry, and he has decided to give the team his full commitment right now and go from there."
"I just feel like it's in my best interest to stay here for the time being and try and contribute in any way I can to help the team win and succeed."
Of course, the words "for the time being" stick out like a sore thumb.
Arguably what the Browns decide to do with David Njoku in 2021 may be the result of what David Njoku wants.
And right now, it's anyone's guess what that is.