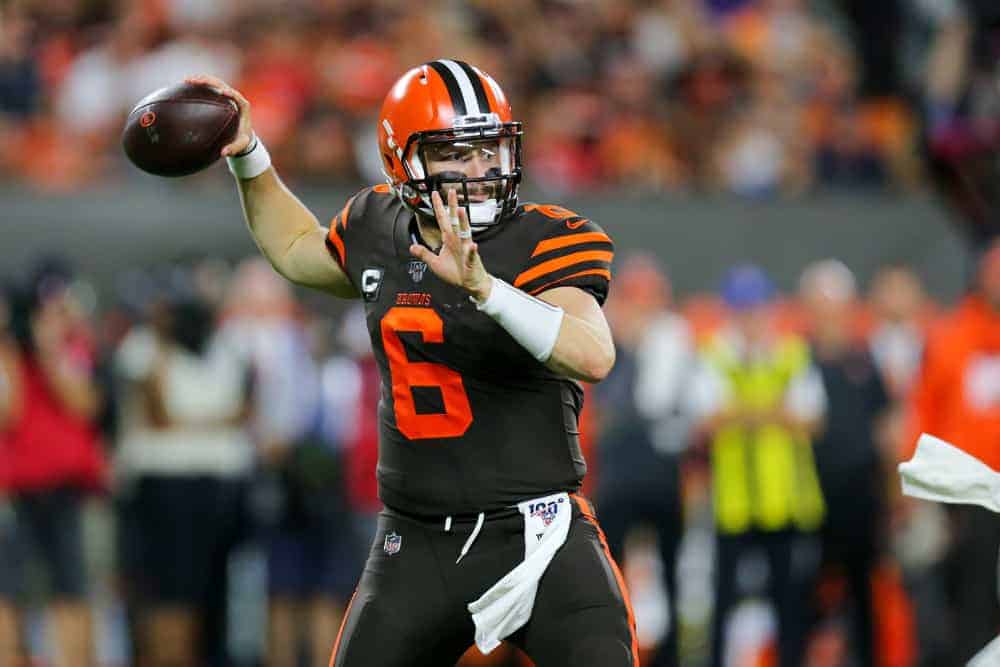 Freddie Kitchens wasn't the only member of the Cleveland Browns to flash brilliance in 2018 only to flame out this season.
He wasn't even the most important person to deliver a dud.
That would be Baker Mayfield.
Mayfield followed up a near-Rookie of the Year effort with one of the worst quarterback performances in the NFL.
Baker Mayfield 2019 numbers

20 batted down balls

93 bad throws

Baker threw 534 throws.

18.1% of his throws last year were bad throws

🤯🤯

— Fantasy Football 24/7 (@FFBallAllDay) January 8, 2020
He ranked second-to-last in completion percentage and quarterback rating.
His 22:21 touchdown-to-interception ratio was dead last.
Cleveland is known to cut bait early when it comes to drafted quarterbacks.
But, Baker Mayfield will almost certainly line up under center to start the 2020 season.
Freddie Kitchens was fired.
Cleveland hired another inexperienced head coach with no experience at that level.
Minnesota offensive coordinator Kevin Stefanski will be the head coach of the Browns.
What does it all mean for Baker Mayfield?
What does Stefanski Bring to the Relationship?
When Kevin Stefanski emerged as one of the favorites for the same position last year, Mayfield went to bat for Freddie Kitchens.
The relationship between Kitchens and the Browns' young quarterback tilted the table away from Stefanski.
Kitchens valued the relationship, too.
Unfortunately, he valued it more than teaching Mayfield or setting him up for success.
By the end of the year, it is uncertain what Mayfield thought about Kitchens.
It is apparent Kitchens' relationship with other members of his offense was frayed.
#Browns Freddie Kitchens attributes Jarvis Landry's heated sideline exchange with QB coach Ryan Lindley to his passion for the game: "That's what makes Jarvis such a special player' https://t.co/knULS1VXti

— Mary Kay Cabot (@MaryKayCabot) December 3, 2019
Kevin Stefanski is a personable guy.
But his Ivy League education and analytical mind contribute to an even-keeled demeanor.
Stefanski heard complaints from members of his Vikings offense this season.
He was able to make adjustments to lessen the criticism while improving his offense.
There were no explosive sideline scenes or protracted locker room battles.
Mayfield should expect more advice from a hands-on head coach.
He can also expect explanations and potential solutions instead of a hug.
Offensive tendencies
Stefanski and Kitchens come from different offensive backgrounds.
Kitchens is a student of Bruce Arians' vertical attack.
Stefanski utilizes more of a West Coast offense.
This should set Mayfield up for better efficiency, even if it looks less exciting.
Stefanski utilized a run-first and run-often game plan in Minnesota.
With Nick Chubb and Kareem Hunt on the roster, there is little reason to expect less.
How tough to bring down was the #Browns backfield? When paired together from Weeks 10-17, Kareem Hunt (119.2) and Nick Chubb (94.5) finished 3rd and 7th respectively in elusive rating*

*Out of 54 qualifying RBs

— PFF CLE Browns (@PFF_Browns) January 9, 2020
Unless that philosophy was dictated to Stefanski by his head coach.
Stefanski became a coordinator when Mike Zimmer fired Jack DeFilippo over his refusal to run more.
In that case, Mayfield should be happy to see what Stefanski did with his passing game.
Kirk Cousins was suffering through an underwhelming 2018 with a passer rating hovering around 90.
Since Stefanski took over, Cousins sports a 107.1 passer rating.
This season, Cousins set personal bests for fewest interceptions, passer rating, and completion percentage.
He still threw 13-percent of his passes longer than 20 yards downfield.
Mayfield should be anxious to improve his own numbers in all of those areas.
What Will That Look Like?
Kevin Stefanski is smart enough to use his players' strengths instead of making them conform to his plan.
But his plan in Minnesota is a good fit for Mayfield.
Browns fans tired of watching Mayfield scramble aimlessly should be excited, too.
Stefanski inherited a below-average offensive line in Minnesota.
He devised new run- and pass-blocking schemes to make them more efficient.
He coupled that with a heavy dose of outside-the-pocket passes and play action.
Cousins boasted the 5th highest completion percentage outside the pocket at 62%.
Mayfield ranked 30th at 36%.
Designed passes versus scrambling accounts for much of that.
Stefanski will roll Mayfield out by design, making good use of his mobility and ability to throw off-platform.
Stefanski also knows Baker Mayfield had the highest rating (92.5) from Pro Football Focus on play-action passes.
Freddie Kitchens rarely used play action.
In fact, only three teams used play-action less than Cleveland.
Kevin Stefanski called play-action at the third-highest rate in the league.
Minnesota was ranked as the most efficient play-action team.
Increased use of play-action and rollouts and a heavy run attack will take a lot of pressure off Mayfield.
Who Else Gets Involved?
Kevin Stefanski had similar issues with keeping his wide receivers happy as Kitchens did.
Stefon Diggs lashed out over his lack of targets when the Vikings were 2-2.
Adam Thielen expressed himself after some low-target games, too.
Stefanski's Vikings threw the ball 162 fewer times than the previous season.
To appease his passer and receivers, Stefanski made the throws count.
Deep into the 2019 season, Jarvis Landry and Odell Beckham Jr had such similar target and yardage numbers, it seemed like a concerted effort to avoid controversy.
In Minnesota, Thielen, when healthy, saw about the same number of targets as years past.
Diggs saw 55 fewer targets and caught 39 fewer passes on the season.
Stefanski compensated Diggs with yardage.
Diggs gained 109 more yards with those reduced targets, which ended his angst.
Beckham and Landry could take over the Diggs/Thielen roles seamlessly.
To paraphrase what was heard in the office after this Baker Mayfield touchdown to Odell Beckham Jr.:

About darn time. #Browns pic.twitter.com/IC2JBhcvwR

— Sporting News Fantasy (@sn_fantasy) November 24, 2019
Minnesota made good use of their tight ends, too.
Irv Smith and Kyle Rudolph caught 75 passes for 678 yards and 8 touchdowns.
David Njoku and Demetrius Harris fit the mold of tight ends Stefanski can use.
Kareem Hunt won't get lost in this offense, either.
Dalvin Cook was a workhorse with 250 carries (250/1135/13).
But Stefanski fed 170 carries to his other running backs for 867 yards.
Running backs collectively caught 98 passes under Stefanski this season, too.
Will Baker Mayfield Like the Stefanski Offense?
It is difficult to imagine Baker Mayfield not liking the Stefanski hire.
He just took a quarterback coming off a disappointing season and turned him into the 7th-ranked passer (by QBR).
Cousins was known as much for turnovers as touchdowns coming into 2019.
Stefanski made him a top-5 TD-to-Interception ratio passer.
But there are some warning signs from Mayfield.
Stefanski is an analyst and tinkerer.
Mayfield preferred the laid-back approach of Freddie Kitchens last year.
At the end of the season, Mayfield said he didn't need an off-season quarterback coach.
Baker Mayfield says he doesn't have to work with a private passing coach in the offseason. Short-sighted and more than a little arrogant:https://t.co/ltnoYk4yVH

— shalise manza young (@shalisemyoung) December 27, 2019
"I can critique myself," Mayfield said.
Will the new coach get through to his quarterback?
Or will the young player resist the advice and direction of his inexperienced boss?
Stefanski has a short, but credible, coordinator history.
He also has over 15 years of progressively expanding coaching experience with three head coaches and countless other bosses and charges.
It served him well in dealing with his wide receivers last season.
Time will tell if he can get through to all the personalities in Cleveland.
That includes the most important personality, Baker Mayfield.