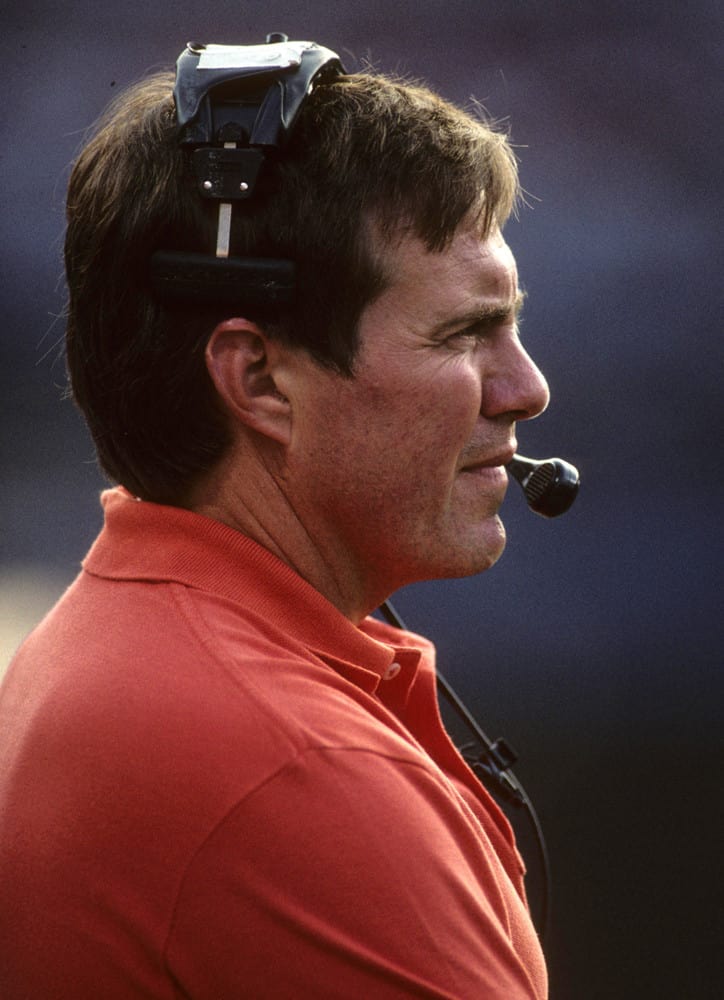 Mention the name Bill Belichick to any football fan and the response will be mixed.
It will either be visceral in noting "Sygate" and/or "Deflategate," or praiseworthy in noting his six Super Bowl victories.
Either way you look at it, since 2000, Belichick has become synonymous with winning.
In his 20 years with New England, Belichick has compiled an impressive 237-83 record, good for a .741 winning percentage.
In addition to his six world titles, the Pats under Belichick have appeared in three other Super Bowls that ended in losses.
One of those losses came at the end of a near perfect season in 2007.
When it comes down to it, Belichick knows how to win and win consistently.
In 2000, he took a mediocre New England squad and quickly turned it around to become one of the premiere franchises in the NFL.
This is in stark contrast to 1991, when Belichick was hired to be the head coach of the Cleveland Browns.
He took a franchise that had been a consistent winner and struggled to keep the team relevant.
After five seasons in Cleveland, Belichick was fired by owner Art Modell.
His record with the Browns was 36-44, a .450 winning percentage.
This includes only one postseason appearance in 1994.
I just heard this on Sports Center. The last coach to win s playoff game with the Cleveland Browns is Bill Belichick back in 1994. pic.twitter.com/IV4nGVErpy

— 617 Apparel (@617Apparel) January 17, 2018

So, what happened?
Why was Belichick so unsuccessful with the Browns but has reached nearly unprecedented heights in New England?
Were there specific reasons why he struggled to achieve greatness in Cleveland?
How did he suddenly become one of the best coaches in NFL history only after he left the Browns?
The following is a look back at Belichick's time in Cleveland and the reasons why he did not win with the franchise.

A Little Background…
In 1979, Belichick was hired to be a defensive assistant and special teams coach with the New York Giants.
The following year, he was tasked with coaching the linebackers in addition to his other responsibilities.
Belichick eventually worked with future Hall of Famers Lawrence Taylor and Harry Carson as well as Carl Banks, Pepper Johnson, and Gary Reasons, just to name a few.
After taking over as defensive coordinator under head coach Bill Parcells in 1985, Belichick made a name for himself as one of the bright young assistants in the NFL.
His defensive game plans, along with the generational talent Taylor possessed, befuddled many an opponent.
The wealth of talent New York had on both sides of the ball led to the Giants bringing home championships after victories in Super Bowls XXI and XXV.
Belichick received high praise when he figured out how to slow down the fast-paced Buffalo Bills in Super Bowl XXV.
His attention to detail helped lead to a 20-19 upset that is still mentioned today as one of the best displays of coaching in a Super Bowl.
Meanwhile, in Cleveland, the Browns were riding high during the late 1980s.
Three AFC Championship appearances in four years helped establish the club as a perennial favorite in the conference.
However, in 1990, the team came crashing down to earth.
That year, Cleveland finished 3-13 and head coach Bud Carson was shown the door after a 2-7 start.
Owner Art Modell wanted to bring in some fresh blood to coach his underachieving team.
On his shortlist was Belichick, fresh off his Super Bowl XXV feat.
General manager Ernie Accorsi liked what he heard in his interview with Belichick, along with his coaching pedigree.
Shortly after, Belichick became the eighth head coach in franchise history on February 5, 1991.

1991
Belichick's inaugural season with the Browns got off to a good start.
In the first round of the NFL Draft that year, Cleveland drafted UCLA safety Eric Turner.
In the sixth round, the team selected Michael Jackson.
No, not that Michael Jackson.
This Jackson was the receiver out of Southern Mississippi who would go on to be a fairly productive pass-catcher for Cleveland through the 1995 season.
Turner would prove to be a valuable addition to the defense and play in the NFL for nine years.
After losing his first game as a head coach to the Cowboys, Belichick and the Browns reeled off two straight wins over the Patriots and Bengals.
(Yes, Belichick's first win as a head coach came at the expense of his future employer).
Unfortunately, Cleveland would then lose nine of their next 13 games.
The Browns finished Belichick's first year with a 6-10 record and third place in the AFC Central.
28 years ago today the Bill Belichick era gets off to a slow start as the Cowboys defeat the Browns 26-14 in Cleveland. Nick Saban was Bill's D coordinator. @KevG163 @BIGPLAY_dave @Browns @PaulBrown_UK #SundayThoughts #Browns pic.twitter.com/ycuNyfg0Qy

— Johnstone (@JStoneTrivia86) September 1, 2019
1992
In '92, the Browns grabbed "Touchdown" Tommy Vardell from Stanford with their first-round pick.
Vardell did not live up to his moniker, however, and only had five total touchdowns during his career with Cleveland.
By the end of Week 10 in 1992, the Browns were a respectable 5-4.
Then, the team went 2-5 the rest of the way.
Belichick improved his win total by one to end his second year 7-9 and another third-place finish in the division.

1993
Offensive lineman Steve Everitt was the Browns first pick in '93.
He would only play three years for the team at the center position.
Belichick was ready to build on his moderate improvement from 1992 and get the team to the playoffs.
Unfortunately, a little quarterback drama got in the way.
By Week 8 of the season, the Browns were sitting pretty at 5-2.
Up next was their old nemesis, the Broncos, at home.
Throughout the season, quarterback Bernie Kosar and Belichick clashed over their offensive philosophies.
Kosar wanted to be more aggressive in play calling while Belichick preferred a more methodical, subdued approach.
Belichick would become known for his meticulous game planning, but Kosar did not abide by his coach's methods.
Several times, Kosar would change a play call at the line of scrimmage.
This would infuriate Belichick and the two could be found engaging in a war of words on the sideline.
In addition to the clash of ideologies, Belichick would occasionally yank Kosar in favor of newly signed backup quarterback (and former Kosar college teammate) Vinny Testaverde.
During the Denver game, Kosar started due to Testaverde being injured a few weeks prior.
By the end of the game, the Broncos were clearly in charge, leading 29-7 with only a few seconds remaining.
The Browns had possession and Belichick wanted to run out the clock with a few kneel-downs.
Kosar had other ideas.
Huddling with his teammates, he drew up a play in the dirt.
At the snap, instead of kneeling down, Kosar reared back and threw a bomb to Jackson.
Jackson hauled in the pass and scored a touchdown.
The game ended in a 29-14 loss.
Soon after, the Browns experienced a loss of a different variety.
Incensed that Kosar threw a pass when he was supposed to kneel down, Belichick lit into Kosar after the game.
Belichick was still steaming a day later when, citing "diminishing skills," he unceremoniously cut Kosar.
(It should be noted that this decision was given the green light by Modell).
This was a huge psychological blow not only to the team but to Cleveland as well.
Kosar was a favorite son, a local product who wanted to play for the team ever since he was a child.
After nine years, he was gone for good.
Even worse, he was picked up by the Cowboys days later and ended the season as a Super Bowl champion.
With Kosar gone, and Testaverde still injured, the Browns cratered.
The Denver loss began a 2-7 nosedive to finish the season.
The Browns stayed mediocre with a 7-9 record and third place in the division.

1994
Four years into the Belichick regime and the Browns finally got off to a good start.
Cleveland had two first-round picks in '94 and selected Alabama cornerback Antonio Langham and Michigan receiver Derrick Alexander.
Both men would stay with the franchise through the 1997 season, even after the move to Baltimore.
Belichick also had a hand in bringing in some of his former Giants linebacker pupils to give the defense some teeth.
Both Carl Banks and Pepper Johnson roamed the field for Cleveland that year and the result was a number one ranked defense.
Photo of Bill Belichick and Pepper Johnson during their days in Cleveland. pic.twitter.com/S9h28pYBAU

— Oliver Thomas (@OliverBThomas) January 21, 2014
After Week 8, the Browns had a commanding 6-1 record.
They would go on to finish the season 11-5, good for second place in the division.
In their first playoff game of the 90s, Belichick and the Browns would defeat his future team, the Patriots, 20-13 in the Wild Card round.
25 years ago this week, Bill Belichick's Browns beat Bill Parcells' Patriots in the last playoff game won by the Browns. @jeffphowe has an oral history of that game, and the promise Belichick once offered Clevelandhttps://t.co/6lzXNkWsXU
👉Subscribe with 50% off today pic.twitter.com/vNB2wBK20y

— The Athletic Boston (@TheAthleticBOS) December 30, 2019
The following week, Pittsburgh defeated Cleveland for the third time that year 29-9.
Despite the loss, there was optimism in Cleveland heading into the 1995 season.
Could the Browns take the next step and make it to the Super Bowl?

1995
The first round of the '95 draft brought Cleveland linebacker Craig Powell from Ohio State.
Powell played two years with the Browns and was out of the league by 1999.
Meanwhile, Belichick had the team riding high after a 3-1 start.
Then, the bottom fell out.
Cleveland lost 10 of their next 12 games to finish 5-11 and settle for fourth place in the division.
Embarrassingly, the team lost two games to the expansion Jaguars who were now division rivals.
By the end of the '95 season the talk of the town was the team's eventual move to Baltimore.
Owner Art Modell had had enough of the haggling between him and the city to build a new stadium for the Browns.
Shortly before Thanksgiving that year, Browns fans knew they were going to lose their beloved team at season's end.
Once the season wrapped, Belichick was assured by Modell that he would be moving with the team to Baltimore.
The owner went back on his word only weeks later.
On February 14, 1996, Modell called Belichick and fired him over the phone.
Happy Valentine's Day indeed.
OTD 1996: With no intention of keeping him on after league approval of the franchise's move to from Cleveland to Baltimore the week prior, Art Modell fires Bill Belichick.

Belichick amassed a 36-44 record in five seasons as head coach of the Browns. pic.twitter.com/Z9LO3cxIs2

— Kevin Gallagher (@KevG163) February 15, 2019
What Happened?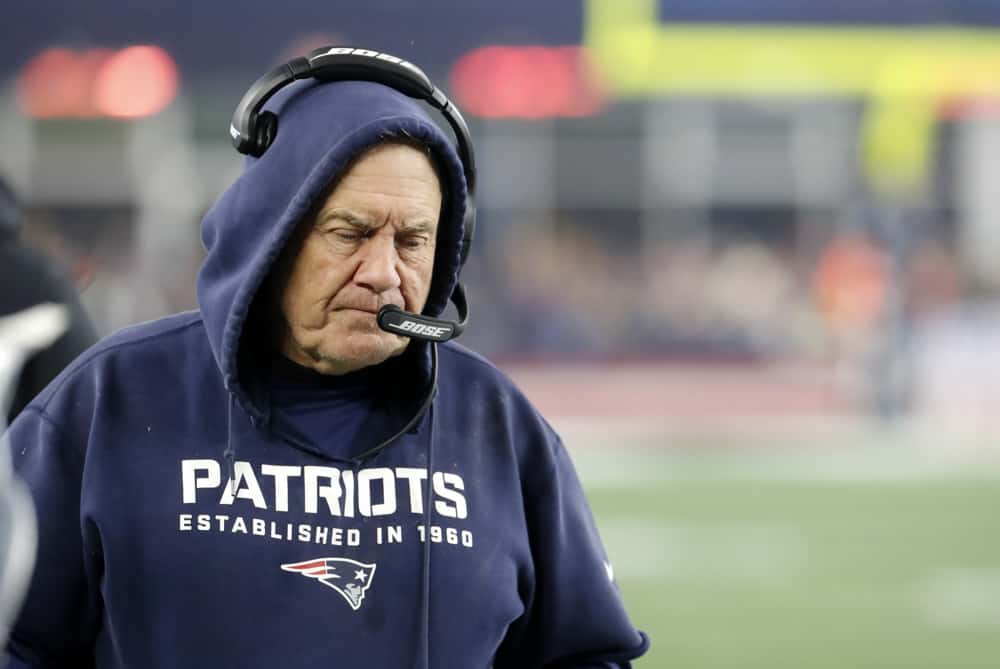 Four years later, Belichick became head coach of the Patriots and the rest, as they say, is history.
Six championships with New England has sports fans asking why Belichick did not have the same magic with the Browns.
Looking back at his time in Cleveland through the lens of former players, coaches, and media, it's not hard to figure out why Belichick was persona non grata.
Initially, one could look at the surface level and just focus on Belichick's overall record with the Browns. 36-44 isn't exactly a paean of a world class coach.
Just about any owner worth their salt would axe a coach who posted a losing record after five years on the job.
However, if the reason for his departure was that easy, you wouldn't be reading this.
No, it wasn't just the record that led to Belichick's ouster from Cleveland.
There were numerous other factors that led to his firing.

Not Exactly a Players' Coach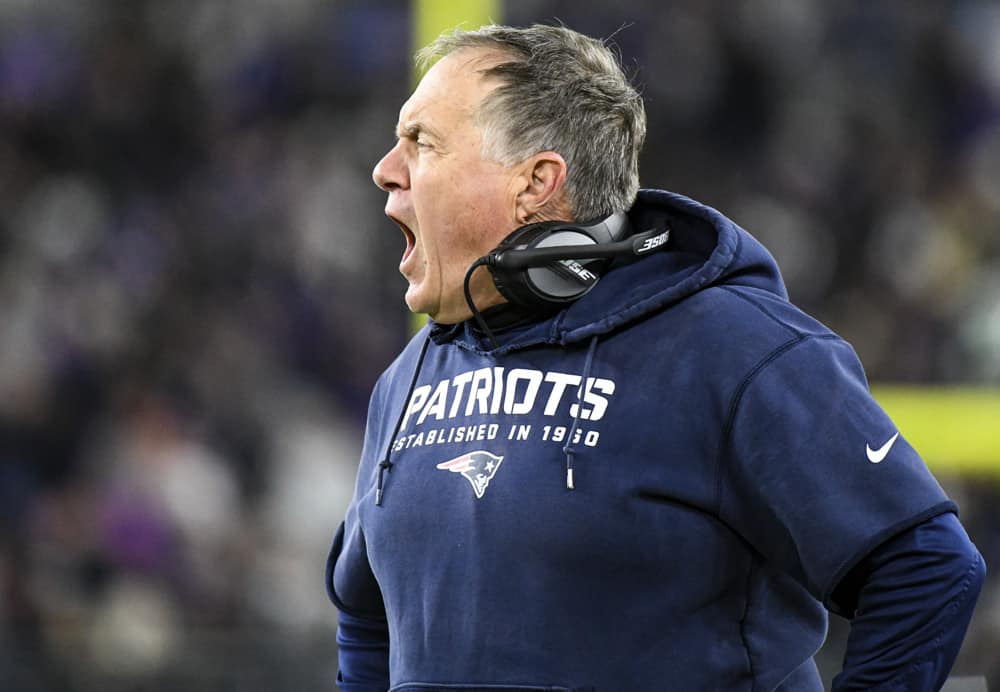 It is common knowledge that young coaches emulate their mentor coach in communication and coaching style.
Belichick worked under strait-laced Bill Parcells when both were with the Giants and Jets.
Parcells had a gruff personality and fiery temper.
Although he had his favorite players, Parcells never shied from getting in the face of even his most valued athletes.
Belichick was the same way, especially during his time with Cleveland.
Although it is safe to say that he was never an extrovert, Belichick went out of his way to light a fire under his Browns players.
Even Lawrence Taylor, who Belichick coached in New York, had a love/hate relationship with Belichick.
"Bill Belichick is a pain in the ass, a total pain in the ass," said Taylor in a 2016 interview. "No smiling. Driest humor son-of-a-bitch you've ever seen. But that dog knows some football. The one thing I can say about Belichick is on Sunday afternoon you want to be sitting right beside him. Any other day, you don't want to be near him. But on Sunday afternoon, you want to be beside him because he knows what he's doing."
It took a few years for the Browns to see Belichick's slavish devotion to the sport of football as something positive.
Initially, players were weary of his berating, condescending tone when "communicating" with them.
"Our job isn't to assemble the best players, it's to put together the best team." Bill Belichick pic.twitter.com/n8IZiEHT6f

— Mack Brown (@CoachMackBrown) April 15, 2019
When Banks and Johnson were brought in from the Giants, they helped their new teammates understand Belichick's coaching style.
However, that was not always easy. Belichick used his players any way he could to get the most out of his team.
"He was the same (in Cleveland)," Banks said in 2016. "When I got there, it was not much different as a nine-year veteran, Bill Belichick says to me, 'don't expect me to be any different with you than I would have been if I were coaching you with the Giants.' So I'm like, 'alright.' He says, 'you've always been a good special teams player, so you're gonna have to run down on kickoffs, you're gonna have to run down on punts, you're gonna have to do kickoff returns and you're gonna have to do punt returns. I'm not gonna ask you to do it because I'm trying to prove a point, but I am trying to prove a point that I'll ask my best players to do what they do best."
It didn't matter if a player was a rookie or a veteran such as Banks. Belichick did what it took to win even if it meant alienating some of his players.
"He has a powerful need for control," former Browns tight end Scott Galbraith said. "Total, absolute control corrupts. He's running around out there with a Napoleon attitude. He thinks he's God gift. When he releases players, other teams fight like crabs in a barrel to get them."
Galbraith also called Belichick's coaching style "bully ball."
Ultimately, despite his meticulous game planning and football acumen, many of his Cleveland players had soured on him by 1995.
Even Mark Bavaro, a notoriously stone-faced tight end who played for the Giants and the Browns, knew trouble was brewing shortly after he arrived in Cleveland.
"When I got there [in 1992] I remember hearing some complaints that practices were too hard, meetings were too long," said Bavaro during a 2016 interview. "I don't think we had an offensive coordinator at that time, but the guy that called the plays, I remember him up at the board and Bernie Kosar just interrupting him: 'no, no, coach, we don't do it that way, we're not going to do it that way.' You know, I'm coming from the Giants, you kept your mouth shut. You couldn't say stuff like that. And if you did, (Bill) Parcells would kick you out of here faster than you could blink. It's just like, this is a whole different world here. You had players like Bernie, Clay Matthews … these guys were great, great players. These guys were established, old veterans. They just did not like a new guy coming in and disrupting things."
He Cut Kosar
Ah yes, Bernie Kosar.
By the time Belichick arrived in 1991, Kosar had helped establish the Browns as one of the preeminent teams in the 1980s.
Three times Cleveland went to the AFC Championship game with Kosar at the helm.
Even though the Browns lost all three contests, Kosar was still beloved in Cleveland.
As Bavaro stated in 2016, Belichick did not like Kosar second-guessing his game strategy.
Kosar liked to run the offense a certain way.
Belichick wanted to run the offense his way.
There was no middle ground.
Belichick had an idea of how to do things and, if you weren't on board, you were gone.
It didn't matter that Kosar was on the downside of his career. Belichick's sin of jettisoning the fan favorite was unforgivable to most Clevelanders.
Growing up in Cleveland in the 80's, the answer is easy. Bernie Kosar (@BernieKosarQB).

I was so crushed when he was cut by Bill Belichick that I wrote him a letter when I was 10, and he sent me a signed photo in return. https://t.co/FcQJ5vEfhI pic.twitter.com/BtBr82DMgW

— Danny Neckel (@DNeckel19) July 3, 2020
A story in the Miami Herald shortly after Kosar was dumped by Belichick gives the transaction some context regarding fan and teammate reactions.
"Browns fans are enraged by the sacking," read the November 12, 1993 article. "A radio call-in poll showed sentiment running against Belichick by a 9-1 margin. Some season-ticket holders have demanded their money back. And Browns players aren't any happier. Said runner Leroy Hoard: "I thought it was a joke. How do you get a positive out of this?"
A day later, the Dallas Morning News (only too happy to have Kosar backing up Troy Aikman on their way to a Super Bowl run) quoted a despondent Browns fan.
"The trading of Colavito, the firing of Paul Brown, Warfield for (Mike) Phipps, (Earnest) Byner for (Mike) Oliphant, the release of Kosar . . . I've had enough, I'm moving to Dallas!"
Belichick was Abrasive with his Assistants
Much has been written about the Belichick coaching tree.
Numerous former assistants have been, or are currently, the head coaches of NFL teams.
However, as he was (and still is) with his players, Belichick's communication style with his coaches is not always pleasant.
This is evident in interviews with some of his former Browns assistants.
Not only did Belichick want his players to "do their jobs," he expected the same from his acolytes.
"We were handcuffed — let's put it that way," said former quarterbacks coach Gary Tranquill in 2018. "I didn't have any fun coaching there. It's as simple as that."
In the same 2018 interview, it was said that Belichick would expect his assistants to "extend the day" or, basically, to add more to their already full plate.
While this attitude was described by some of his coaches as the reason they became better teachers, others chafed at his demands.
They were also irked when they didn't feel like they had a voice.
"There was nobody on offense calling the shots," said Tranquill. "We would mash around things for hours, and then we'd have to go through him to make sure, and he'd say he doesn't want to do that — which is a head coach prerogative, but sometimes that got old."
"The Voice of Doom"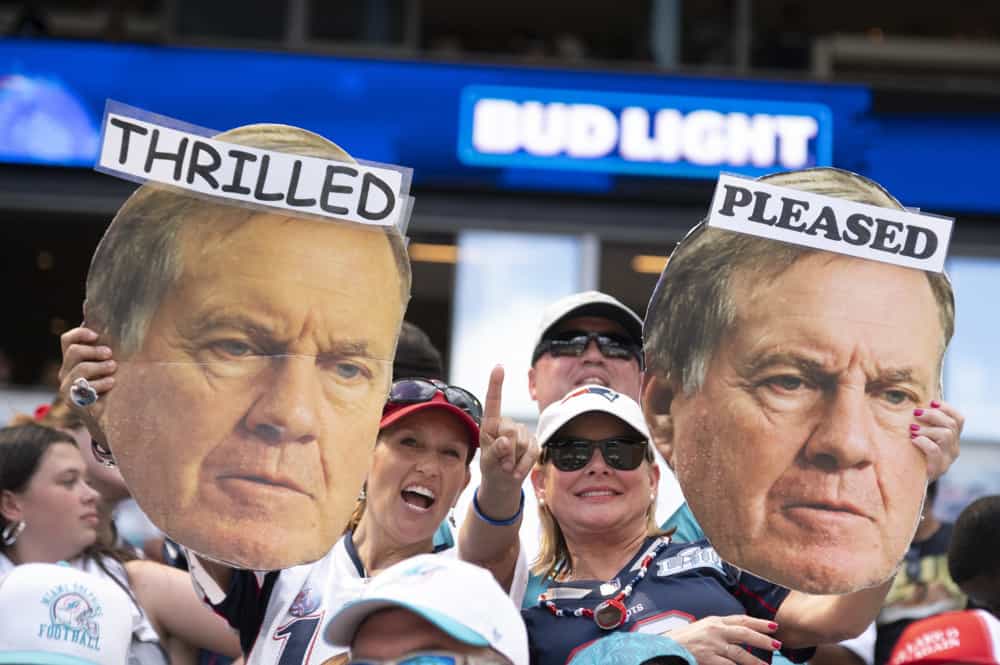 It's no surprise today when watching a Belichick press conference that he has little regard for the media.
This disdain was on full display during his Cleveland days as well.
Interviews with Belichick became so dreaded that local media began to nickname him "The Voice of Doom" or just "Dr. Doom."
This photo of Dr Doom always reminds me of Bill Belichick @JD62479 @RonWaldorf @BiggieSmalls716 #GoBills #NFL #PatsNation #Ravens #TomBrady pic.twitter.com/kXUuIj1OK4

— GruesomeDUSM (@GruesomeDUSM) December 10, 2016
Not only was Belichick tough to deal with in Cleveland, media members from other NFL cities weren't exactly keen on Belichick's interview style.
In 1993, a writer for The Houston Chronicle had this to say about Belichick:
"In 14 years of covering the Oilers, I never have seen a coach work harder at being a cold fish than the Browns' Bill Belichick. He possesses the worst communicative skills of any coach I have interviewed. When circumstances force him in front of the public or media, he frowns and squirms uncomfortably. Belichick is vilified in northern Ohio. In the wake of the Bernie Kosar debacle, Browns fans are finding out what most of the players and reporters who cover the team knew — that Belichick is an insecure control freak with a little man's mentality. The chip on his shoulder is the size of a football, and anyone who even thinks about questioning his authority is given a bus ticket out of town."
Days later, a scribe from the Columbus Dispatch had a few scathing words for Belichick as well.
"Here's some wit, wisdom and advice for 'Wild Bill' Belichick and the rest of his Wild West Show: When you shoot yourself in the foot so many times, two things are bound to happen. You run out of toes, or you run out of bullets. Maybe an offensive coordinator can help you with your aim. Or at least start Tom Tupa so when you run on first and second down, you'll have the option of passing or punting on third down."
Local writer Mary Kay Cabot of Cleveland.com is a little more level about her days covering Belichick.
"My first impression was that he was a tough as nails football coach that was smart and knew what he was doing and was going to improve this football team on the field," said Cabot in a 2016 interview. "He was someone who was not going to be all laughs and smiles during press conferences and somebody who could be a little difficult to deal with, but that doesn't determine whether or not you're a good football coach or not."
No Regard for what Fans Thought of Him
By the time 1993 arrived, Browns fans had soured on Belichick.
Angry from the losing and his dour demeanor, the fans began calling him "Mr. Bill" after the Saturday Night Live character.
Of course, things really got bad after Belichick cut Kosar.
Not long after Kosar left town, a few hundred fans snuck into Cleveland's Municipal Stadium after a game against Houston and were ready to tar-and-feather Belichick, as reported by USA Today on November 22, 1993.
"Of all the NFL action Sunday, the toughest run was the one Cleveland Browns coach Bill Belichick had to make. He had a police escort for his 5-yard jaunt, but the distance from Cleveland's locker room to an interview room was as tough a gauntlet as any coach has had to face. There, about 200 fans waited for Belichick after his Browns gave a dismal, five-turnover performance while losing to Houston 27-20. This was Cleveland's first home game since the Browns told Bernie Kosar to get lost, and now the fans were going to share that same sentiment with Belichick.

They knew that this was where Belichick would have to emerge, sooner or later. Even if it was only for a few seconds, they were going to have their say. And Belichick should count himself lucky that the building emptied early, or it could have been much worse. Of all the things the fans chanted in the bowels of Cleveland Stadium, "Bill must go!" was the most polite. Belichick and the Browns were braced for a negative reaction, but nothing like this. During his postgame news conference, the embattled coach barely could be heard over all the booing outside."
Even with the imminent threat, Belichick shared his sentiments regarding the fans' reaction to his treatment of Kosar.
"I'm not running for mayor," said Belichick. "I'm running a football team, and you can't make everybody happy."
Accumulation of Faults, but No Real Changes
A character in the 2007 movie No Country for Old Men had a memorable line, "It's the dismal tide. It's not the one thing."
For Belichick's time in Cleveland, that quote is true. It wasn't just one thing that led to firing, it was many.
He rode into town looking like the next coming of Paul Brown.
He left town with a losing record and a chip on his shoulder.
Sure, Belichick made several errors while coach of the Browns.
However, not much has changed in his leadership of the Patriots.
ICYMI: Calling Bill Belichick a failed coach in Cleveland is a misnomer. Fan laments #Browns woes https://t.co/kkd10WuEhV #SuperBowl51 #SB51 pic.twitter.com/HSSDsm0DD2

— NyergesMike (@NyergesMike) February 5, 2017
He's still moody, cantankerous, ornery, impatient, and downright loathes talking to the media.
The only thing different is the cast of characters has changed.
After experiencing the wild hits-and-misses of the drafts in Cleveland, Belichick has handled the personnel duties in New England.
It also helped that he had Tom Brady as his quarterback in New England for 20 years.
In Cleveland, Belichick had an aging Kosar and Testaverde.
Belichick also currently has one of the most patient owners in the NFL, Robert Kraft. Art Modell was no Robert Kraft.
In other words, perhaps if Belichick had a few more pieces and a level-headed owner, maybe things would have turned out differently in Cleveland.
However, though he quickly moved on after leaving the Browns, Belichick has shown some remorse for how his tenure with Cleveland ended (at least in his typical, understated way).
In a conversation mentioned in the book "The GM," former general manager Accorsi said Belichick told him, "I really screwed up that thing in Cleveland, Ernie." Truer words have never been spoken.