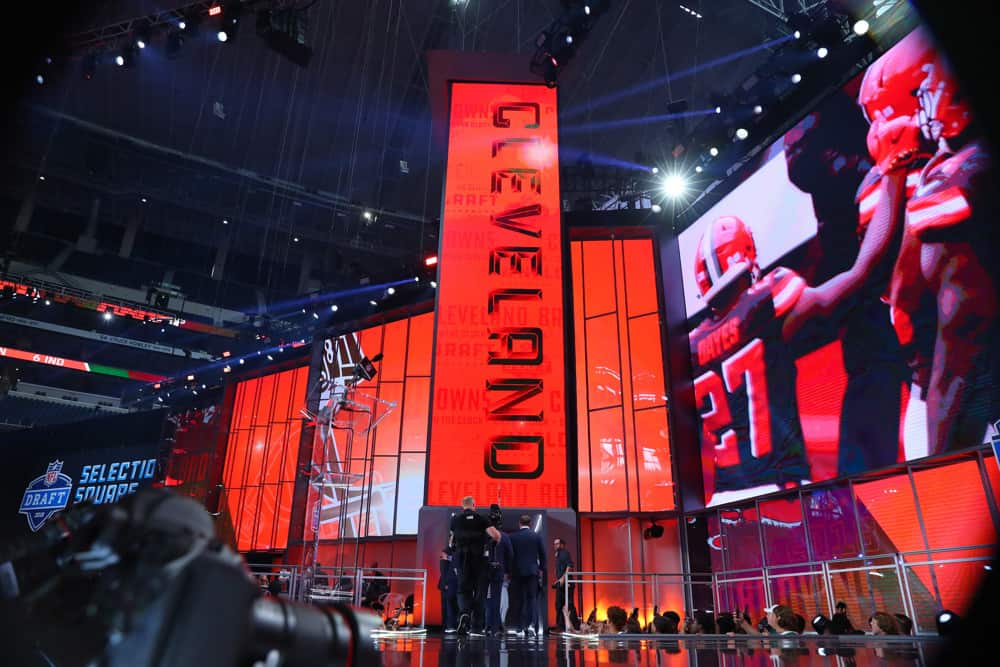 New Cleveland Browns general manager Andrew Berry has done a tremendous job this offseason.
The team has landed big name free agents such as right tackle Jack Conklin and tight end Austin Hooper.
They also did an outstanding job when it came to draft time.
Cleveland selected offensive tackle Jedrick Wills and safety Grant Delpit with their early picks.
However, there are some late-round rookies that could surprise a few people in Cleveland this season.
Best Late-Round Move
The Browns made some helpful late-round picks, but one could be bigger than the rest.
The addition of Florida Atlantic tight end Harrison Bryant could be key for Cleveland.
With the 115th overall selection in the 2020 NFL Draft, the Cleveland Browns select…

Harrison Bryant, TE, FAU pic.twitter.com/PofELRlw8d

— PFF (@PFF) April 25, 2020
The Browns took Bryant in the fourth round, but honestly he could've been taken earlier than that.
He's coming off an impressive senior season that rose his stock significantly.
Bryant hauled in 65 receptions, 1,004 receiving yards, and seven touchdowns through 13 games.
Maybe the fact he played in a weaker conference hurt his draft stock, but the talent is clearly there.
Where Does Bryant Fit In?
As mentioned before, the Browns signed Hooper this offseason.
The team made a splash and made Hooper the highest-paid tight end in the league.
The Browns have signed TE Austin Hooper to a 4 year $44 Million contract. pic.twitter.com/nJ3xVhPTxf

— Everything Cleveland (@EverythingCLE_) March 16, 2020
Clearly, the Browns are hopeful that Hooper can be a main contributor for years to come.
As of right now, David Njoku is projected to be the second tight end, but we'll see how long that lasts.
He requested a trade earlier in the offseason, but recently said he's sticking with Cleveland after a meeting with the front office.
I'm all in Cleveland. Time to work.

— Chief David Njoku (@David_Njoku80) August 1, 2020
It sounds like Njoku is staying in Cleveland for now, but who knows for how long.
He is coming off an injury-riddled 2019 campaign, so the Browns are likely giving him a chance to redeem himself.
Which means, Bryant is stuck as the third tight end for the moment, but he'll get chances to prove he's talented enough to be on the field.
What Can Bryant Do In 2020?
Out of all the late-round rookies, Bryant has the best chance to make an impact this season.
He has proven to be able to play at a high level during his time in college.
The Browns have depth at tight end, but it sounds like Bryant has already worked his way to third on the team before touching the field.
Head coach Kevin Stefanski is going to run a zone-blocking scheme with the Browns.
Which basically means, the team is going to run the ball more and heavily utilize two tight end sets.
Njoku already missed significant time last year, so another injury could mean big playing time for Bryant.
Fans shouldn't expect Pro Bowl numbers out of Bryant, but he could be a steal for a fourth-round pick.
After possibly one season, Bryant could end up being a reliable No. 2 tight end.
It's never easy finding trustworthy tight ends in the NFL, so the Browns might have a real gem here.
Time will tell, but right now Bryant looks like the best late-round rookie in Cleveland.