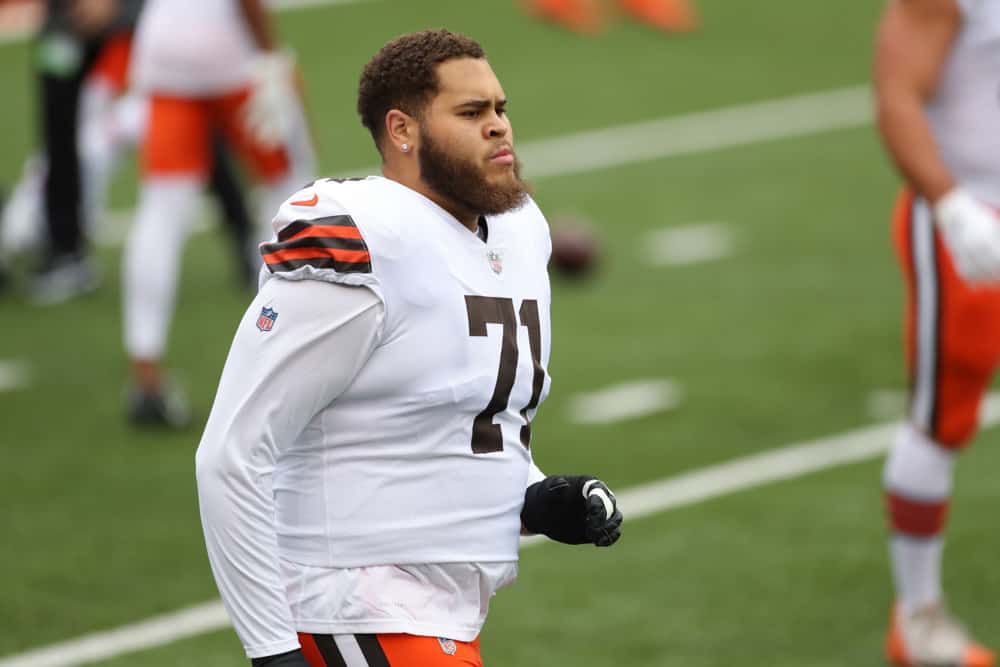 Bill Callahan's offensive line enters the 2023 season with a big hole and an even bigger question mark.
How much the Cleveland Browns' solution for one affects the other remains to be seen.
Even the best pair of guards in the NFL will find it hard to work without a center in between them.
But before Andrew Berry commits to a plan for the middle, he has to settle his left tackle debate.
#Browns Andrew Berry said like all players, Jedrick Wills Jr. has areas he can improve but said "I think Jed definitely took strides this year."

— Camryn Justice (@camijustice) January 9, 2023
Should the team guarantee Jedrick Wills a salary of $14.175 million for the 2024 season?
Wills' perceived faults have been well-debated, often boiling down to perception versus stats.
His fifth-year option is a fair price for a serviceable left tackle.
But there could be considerations in play beyond the Xs, Os, and $s.
Is There A Baker Mayfield Hangover? 
Andrew Berry, Kevin Stefanski, and Paul DePodesta enter the tail end of their 5-year contracts this season.
They get a mulligan for 2022, but grace, understanding, and forgiveness could soon run thin in Berea.
Deshaun Watson's 2023 performance is the biggest key to their future employment.
But the brain trust can't complicate Watson's efforts with mistakes that hurt the team's chances.
Jedrick Wills. Effort. #Browns pic.twitter.com/RlQFNcE3Wv

— Roberto Shenanigans (@Rob_Shenanigans) January 8, 2023
If Wills is not the guy at left tackle, Berry already has a huge challenge to mitigate the damage of his first-draft pick.
And paying $14 million to another player cut or traded after the season won't help.
Baker Mayfield's fifth-year option was a well-calculated gamble, and everyone knew they might have to eat his 2022 salary.
But Wills would be another costly mistake to consider as the Haslams consider management options for 2024.
Prediction: Berry Bets On Wills
Adding Wills' fifth-year option ties up 54 million cap dollars for Cleveland's 2024 starting offensive line without a center.
Nick Harris is a free agent, and if Bill Callahan's vision for him works out, he'll need to be paid something.
Cutting Wyatt Teller allows the Browns to save $9 million (or $14 million with a post-June 1 designation) in 2024.
There are also a few highly-rated centers in this season's draft, and Berry could find a budget-friendly option there.
The #Browns are probably going to pick up the 5th year option of Jedrick Wills.

Its a pricy decision, but they don't have much of a choice. He needs to be the solution, not the problem.

— Nick Pedone (@NickPedone12) February 8, 2023
And if a big tackle like OSU's Dawand Jones slides into his lap at #42, it could radically alter Berry's draft plan.
However… this season is too important to throw a pair of rookies onto the offensive line.
So we bet Berry drafts defense, picks up Wills' 5th-year option, and re-signs Ethan Pocic to a creative deal.
And if he survives the 2023 season, Berry will figure out a way to beat the 2024 cap, too.