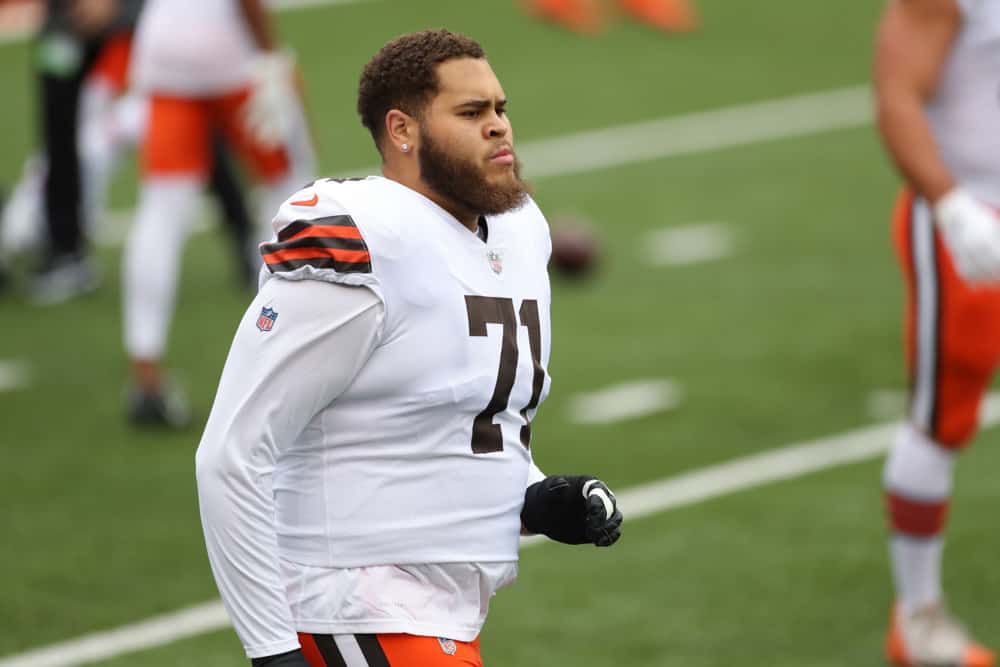 Cleveland Browns left tackle Jedrick Wills Jr. had a great rookie season.
He played well despite the challenges of a pandemic that forced virtual offseason workouts and transitioning from playing right tackle at Alabama to left tackle for the Browns.
Wills also was part of an outstanding offensive line that protected Baker Mayfield and created running lanes for Nick Chubb and Kareem Hunt.
The Browns offensive line was the best unit in the NFL despite:

3 new starters with no off-season to gel.
Jedrick Wills switching from right to left tackle.
Wyatt Teller projected as a backup.
9 missed games between them.

They're all 30 and younger.
Imagine years of this. pic.twitter.com/jl0NxRCYDp

— Nick Karns (@karnsies817) March 23, 2021
Building upon his 2020 experience, Wills could certainly make his first Pro Bowl in 2021.
How could he do it?
Continue To Protect Baker Mayfield
There are not as many statistics or measurables for offensive linemen, and they tend to play an understudy role to their offensive playmaking counterparts of quarterback, running back, tight end, or wide receiver.
However, excellent play by the left tackle is vital for a right-handed quarterback.
Wills protects Baker Mayfield's blind side so he gives Mayfield time to avoid sacks and to make accurate throws with fewer interceptions.
Mayfield in 2020 was sacked 26 times and threw only 8 interceptions.
Compared to 2019, that was a huge improvement; he was sacked 40 times and threw 21 interceptions.
Wills needs to keep up his good work, and he could land a spot on the 2021 Pro Bowl team.
Avoid Injury
This is a no-brainer and is true of every position player.
Wills needs to be healthy and on the field.
In 15 games, he played in 90% of snap counts.
Continuing this will help him earn his first Pro Bowl honor in 2021.
Avoid The Penalty Flag
Besides snap counts, offensive linemen have another measurable statistic.
That is penalties caused.
Jedrick Wills Jr. has been excellent as a rookie but that's his 10th penalty on the year. 3rd most of any OL and not inconsequential from a value perspective

— Mike Renner (@PFF_Mike) December 15, 2020
Wills had 11 penalties called on him in 2020.
3 were holding penalties, and 8 were false starts.
For a rookie coming into the league during a pandemic who was switching positions, this was good.
To be named to the Pro Bowl, he could cause fewer penalties in 2021.
Peer Comparison
Terron Armstead earned his third consecutive Pro Bowl nod in 2020 ⚜️

Season in Review: https://t.co/GSZFZ4B2ym#Saints | @CommunityCoffee pic.twitter.com/GwG4RAoqxI

— New Orleans Saints (@Saints) February 6, 2021
To be named to the Pro Bowl, players are evaluated against their peers from other teams.
This provides a frame of reference for the growth required for Wills to make the Pro Bowl.
In 2020, Terron Armstead, the New Orleans Saints left tackle, was a Pro Bowler.
He played in 80% of the offensive snaps.
Armstead only committed 2 penalties in 14 games.
One was a holding penalty, and the other was a false start.
Armstead also had to protect multiple quarterbacks during the season as starter Drew Brees was injured and replaced by Jameis Winston as well as Taysom Hill in some situations.
Brees threw 6 interceptions and was sacked 13 times in 12 games.
Winston threw no interceptions and was sacked 2 times in 4 games, and Hill appeared in all 16 games throwing 2 interceptions and being sacked 14 times.
Jedrick Wills In 2021
Wills hit the ground running in his rookie year and always had the confidence of former Browns left tackle, Joe Thomas.
Last September, Thomas commended Wills for looking like a veteran.
"Because he really has done a great job of keeping his name out of everybody's mouth, right? There's not really been noticeable mistakes. He's not getting beat consistently. He's not having a bunch of penalties."
All of this means there is plenty of optimism surrounding Wills and the Browns in 2021.