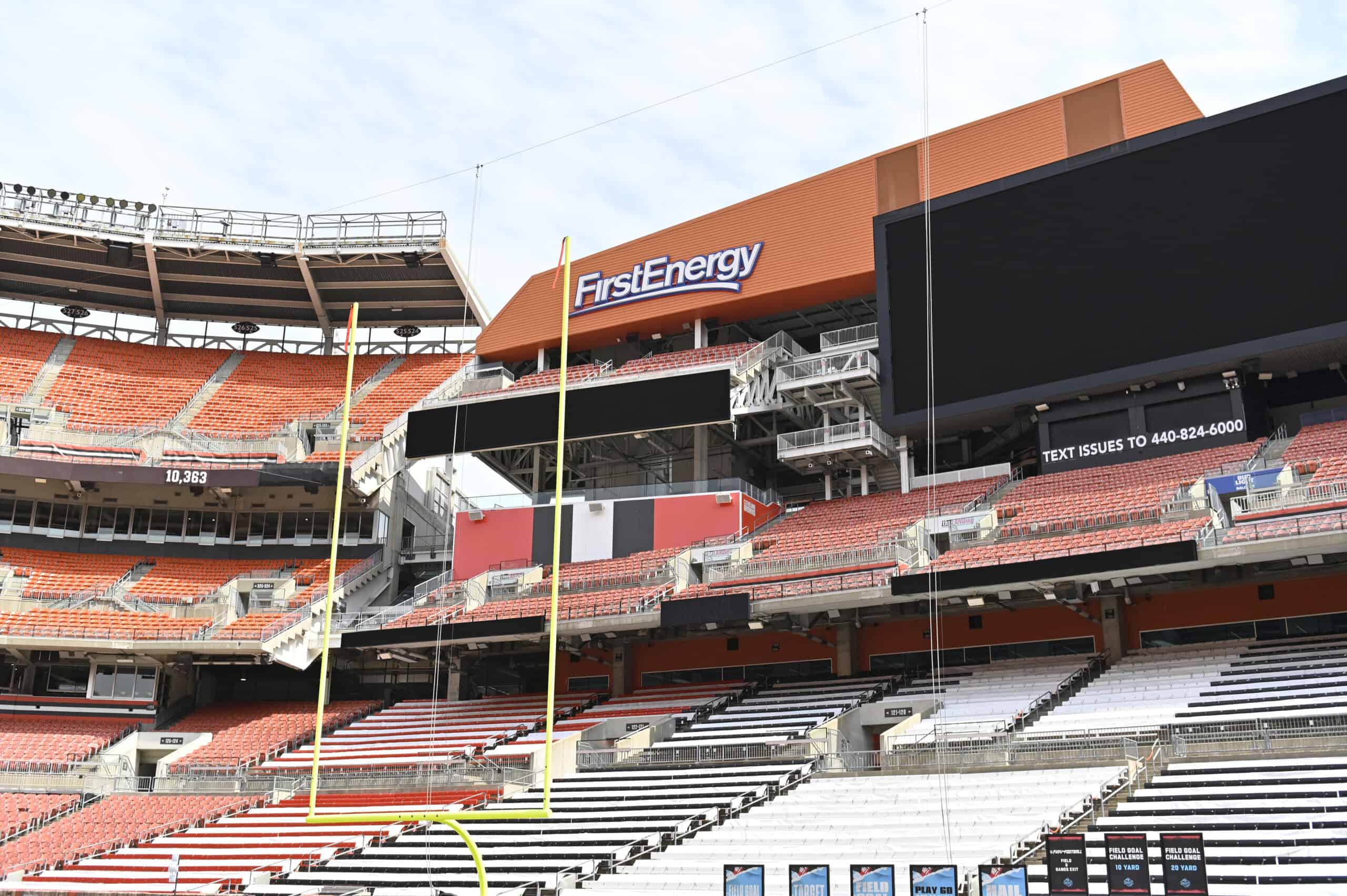 What a difference a few seasons make.
Not long ago, a 4-4 record for the Cleveland Browns would be exciting.
But today, fans are disappointed to think Cleveland "only" has a .500 record.
And it doesn't help to see the team listed 4th in the AFC North.
AFC North standings:
Baltimore Ravens 5-2
Cincinnati Bengals 5-3
Pittsburgh Steelers 4-3
Cleveland Browns 4-4#Browns

— Hayden Grove (@H_Grove) October 31, 2021
After yesterday's lackluster showing against the hated, and flawed, Pittsburgh Steelers, fans are upset.
And we'd like to think the Browns are upset, too.
But does that mean the team will shake things up this week?
Will the Browns be buyers or sellers at the trade deadline?
Buyers: The Browns Need More Parts
Folks were pretty excited about the roster Andrew Berry put together in the offseason.
And winning 4 preseason games with backups validated the optimism until injuries reared their ugly heads.
Jack Conklin dislocated an elbow yesterday, pushing Blake Hance into the starting lineup at right tackle.
With Chris Hubbard out for the year, Cleveland is suddenly in the market for a reliable backup tackle.
Wonder if Conklin's injury could be a factor for #Browns at Tuesday's trade deadline. Could use another veteran offensive lineman behind OL swingman Blake Hance

— Marla Ridenour (@MRidenourABJ) October 31, 2021
And while he's at it, Berry might want to kick the tires on a deep-threat wide receiver.
But the most pressing issue is the rebuilt secondary wobbling under the weight of expectations and injuries.
Berry would do well to grab an experienced safety and corner to cover his fragile starters.
Because the team came close to using a couple of players with no NFL defensive snaps yesterday.
Sellers: Time To See What The Kids Can Do 
Even though Cleveland is within striking distance of the leaders, last place is a bad look.
Injuries continue to pile up and whether or not that is what drained the energy from this team, something has to give.
Andrew Berry has a lot of money tied up in wide receivers Kevin Stefanski barely uses.
He can realize $16 million in savings by selling off the tandem of Odell Beckham and Jarvis Landry.
Jarvis Landry's late drops and fumble will overshadow just how much of a total non-factor Odell Beckham has become in the #Browns passing game. 1 catch today, 6 yards.

— Jake Trotter (@Jake_Trotter) October 31, 2021
Let Donovan Peoples-Jones lead this unit and put Rashard Higgins and Demetric Felton to work.
Maybe Berry can accumulate some late picks with his excess defensive linemen or linebackers?
Someone might take a chance on Andrew Billings, Joe Jackson, Mack Wilson, or even Sheldon Day.
Even a one-year starter or two on an underwhelming unit might be worth an extra pick in 2022.
Why Not Both: Mixing and Matching 
There is nothing that says a team can't buy and sell at the trade deadline.
This is especially true if teams can match up problems in a rare player-for-player deal.
Odell Beckham Jr is under-utilized and unreliable when called upon.
And the Los Angeles Rams suddenly have issues with wide receiver depth.
#Browns CB Denzel Ward officially ruled OUT for Sunday vs Steelers (Trotter) pic.twitter.com/N293jVfiMr

— MoreForYouCleveland (@MoreForYou_CLE) October 29, 2021
Why not swap OBJ for the Rams disgruntled wideout, Desean Jackson?
Likewise, the Browns can snag Xavien Howard for a pick and the oft-injured Denzel Ward.
They still have to pay Howard, but at least he stays on the field.
Shore up some weak spots and sell off some potential conflicts for a win-win.
My Thought: Anything To Shake Up This Team 
Cleveland practically sleep-walked through Sunday's game against a hated division rival at home.
When Baker Mayfield tried to wake them up with a fist-pumping reaction to his own gutsy run, they still slept.
Traditionally, that would spell the end of the head coach's tenure with the Browns.
But it seems unlikely the new and improved Jimmy Haslam will fall back on that habit.
The #Steelers just walked into First Energy Stadium and broke the #Browns despite a horribly officiated game that kept giving Cleveland life. Outplayed them straight up and Pittsburgh's on a 3-game win streak.

— Christopher Carter (@CarterCritiques) October 31, 2021
That leaves Berry with player and assistant coaching moves to shake things up in the locker room.
It could be as simple as benching a starter or maybe shifting responsibilities among the coaching ranks.
But the trade deadline just happens to be this week and that presents a timely opportunity to Andrew Berry.
We trust it won't be a knee-jerk reaction like years past, but something has to happen in Berea.