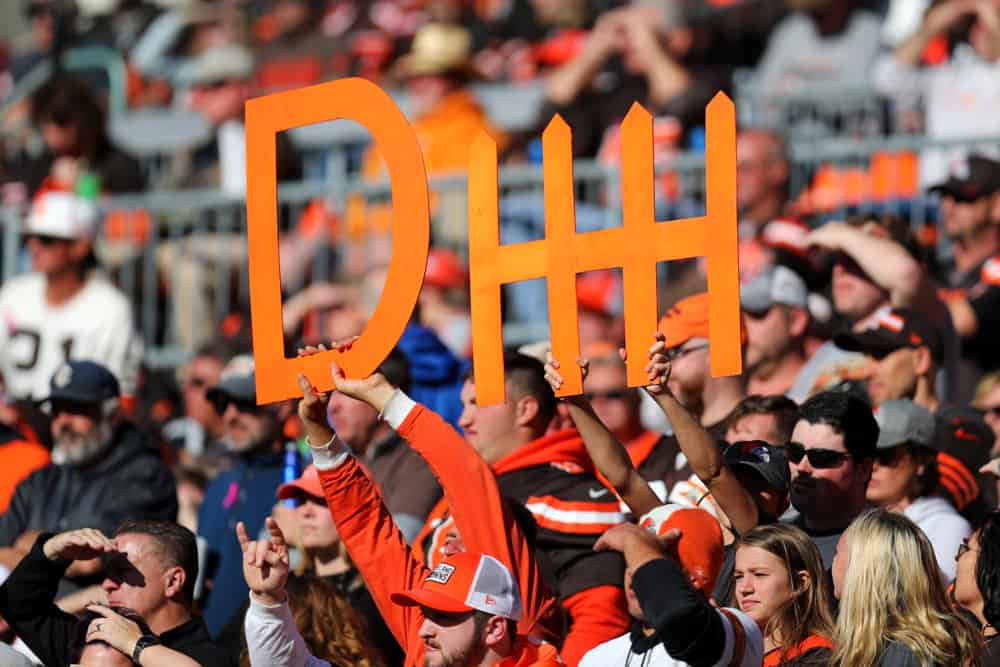 Jadeveon Clowney will make a big difference for the Cleveland Browns' defense.
But the notion that he is the final piece in a complete unit is far from correct.
Even before the Browns created a new hole by releasing Sheldon Richardson, there were needs.
It looks like Cleveland fans can fill in their starting lineups.
The Cleveland #Browns will now have a No. 1 pick on both edges of their defense. It's what they imagined last offseason, now is reality this offseason. https://t.co/GiZ41R2a4i

— Ian Rapoport (@RapSheet) April 14, 2021
But just an injury or two puts the team right back where they were in 2020.
Questions remain at every level of the defense, and fans can expect a new face or two on offense.
Did the Clowney signing change the Browns' list of needs much?
He might not have changed it much, as this list of top 3 needs of the Browns after the Clowney signing reflects.
TOP NEED: Cornerback 
At first glance, it looks like the Browns have a superb cornerback group.
Denzel Ward was the highest-ranked coverage corner in the league last season.
Greedy Williams struggled in Steve Wilks' zone-heavy defense in 2019, but who didn't struggle in 2019?
He still came out of college with a reputation as an excellent man-coverage corner.
And Troy Hill was the best slot corner in free agency and isn't a liability outside, either.
TROY HILL COAST 2 COAST

— PFF (@PFF) January 3, 2021
But once you get past the starters, Cleveland rosters a bevy of unproven or flawed entities.
MJ Stewart, Brian Allen, Robert Jackson, and AJ Green still carry the potential label.
But there is no Terrance Mitchell or Kevin Johnson standing by to cover injuries.
And if there is one thing besides coverage Ward and Williams provide, it's injuries.
The four backups can spot a starter for a breather or two each week.
But Cleveland has to find a solid coverage corner as insurance for any longer-term needs.
CLOSE SECOND: Interior Defensive Line 
Even before Sheldon Richardson was released, the interior line looked shaky.
It is entirely possible a healthy Malik Jackson can return to form in a full-time role.
And Andrew Billings can shake any rust and provide solid play alongside Jackson.
Jordan Elliott didn't tally a sack, quarterback hit, or a tackle-for-a-loss as a rookie.
New addition to the #Browns front, Andrew Billings 😳

— MoreForYouCleveland (@MoreForYou_CLE) March 19, 2020
But he also didn't miss a single tackle, which explains why the coaches are still very high on him.
On the other hand, Jackson could be on the downside of his career, Billings might need time, and Elliott can backtrack.
And Sheldon Day, the only other interior lineman on the roster, doesn't offer much insurance in relief.
Day, a career backup coming off an injury, never played more than 32% of defensive snaps in his first 5 seasons.
Cleveland needs more than depth on the inside, they need quality depth behind some serious question marks.
THIRD TOP NEED: Edge Rusher
Fans are rightfully salivating at the notion of Myles Garrett and Jadeveon Clowney coming off the edges.
And if Clowney jumps inside, McKinley and Garrett straddling Clowney and Jackson doesn't sound bad either.
But every starter besides Garrett is playing one a one-year prove-it contract.
One would think players hoping to score big in free agency next year would be at the top of their game.
Jadeveon Clowney and Myles Garrett on the same line is gonna be a scary sight 😳 @clownejd @Browns pic.twitter.com/LvhZheI6do

— The Checkdown (@thecheckdown) April 14, 2021
But there is a reason prove-it deals are so popular among NFL GMs: they don't usually work out for the player.
And if they do, will any or all of the Browns free agents look for bigger paydays than Berry is willing to offer?
Cleveland's defense didn't skip a beat when either Porter Gustin or Joe Jackson slipped in for a spell last year.
But neither is counted on to be an impact starter in 2022.
McKinley and Clowney are young enough to re-sign for a few years if they work out.
But the uncertainty of their success and whether they can be re-signed means the Browns need a Plan-B.
How It Plays Out 
Barring any surprises, Berry's next big day is probably the NFL draft.
With the bulk of their starters in place, Cleveland can select the best athlete available in the first round.
Ideally, that athlete will play one of the three listed positions, most likely a corner or edge rusher.
Interior linemen can usually be found in the middle and late rounds.
"[The Cleveland Browns] are contenders to win the Super Bowl!"

—@maxkellerman pic.twitter.com/gRNmAiaMBc

— First Take (@FirstTake) April 15, 2021
Should one of the top-two linebackers fall to the Browns, Berry might be tempted to sign an impact player there.
But at the very least, we expect the Browns to land a quality corner and edge rusher early in the draft.
Late-rounds might offer a speedy wide receiver or a backup safety, too.
Once Berry lands his draft class and a bevy of undrafted free agents, expect him to fill any holes with one-year deals to some NFL veterans.