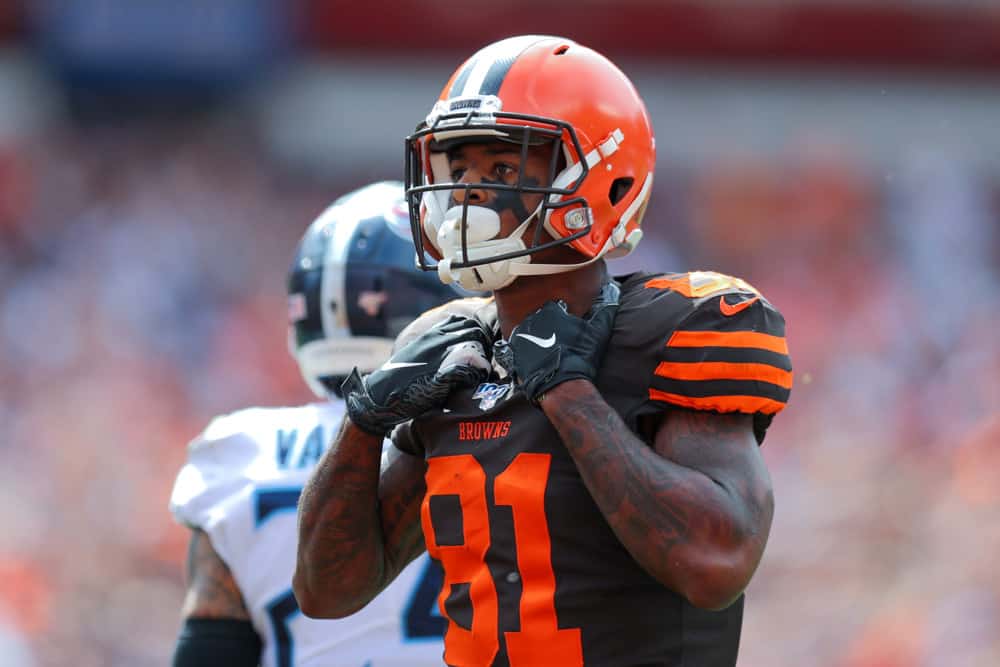 Cleveland Browns WR Rashard "Hollywood" Higgins has been MIA this season.
In addition to being inactive the past 2 games, Hollywood only played 21 offensive snaps in Weeks 1 and 2.
After the Browns re-signed Higgins in May, fans have been wondering what his role would be.
Rashard Higgins was so productive during Baker's rookie season.

I'm still trying to figure out why he hasn't really played since.

— Colb (@___Colb___) October 6, 2020
But it appears that Week 5 may be Hollywood's time to shine.
Making The Case For Hollywood
1. Injuries
KhaDarel Hodge
Hodge was listed as 3rd on the depth chart at wide receiver up until last week's game.
He suffered his hamstring injury during warmups for the Cowboys game.
Hodge is currently on IR.
JoJo Natson
Natson was the 4th WR on the depth chart prior to his ACL injury.
He is out for the season.
Odell Beckham Jr.
OBJ was limited at Thursday's practice.
Reports indicate that he is dealing with a toe injury.
2. Other Personnel
Donovan Peoples-Jones
Though his role has largely been on special teams, rookie 6th round pick DPJ did play 33 offensive snaps against Dallas.
About DPJ's play last week, Coach Stefanski said:
"He got somebody on the ground (blocking) on that very first play. He is plenty big and plenty strong so that has to be a part of his game."
DPJ has been a positive addition, but his primary role right now is on special teams.
Kareem Hunt
Hunt is more than capable of lining up as a 3rd WR.
However, he has been battling a groin injury and was limited in practice on Thursday.
And with Nick Chubb out, Hunt is going to be needed more at RB.
3. Hollywood's Stats
Rashard Higgins was the Browns' 5th round pick of the 2016 NFL Draft (172nd overall).
To say he has experienced ups and downs is not an exaggeration.
At one point in 2017, he was signed to the practice squad.
However, he has 7 career TDs in 6 career starts in the past 4 seasons.
4 of those TDs came in his best season (and Mayfield's also), 2018.
A look at Rashard Higgins' (@CALLME_WOOD) best work from 2018.

Played only 13 games, but found a way to be 11th in DVOA, 14th in the AFC in 1st downs per catch, 6th in the NFL in 1st downs per target.

Year three jump from the WR was evident. Expecting big things in 2019. pic.twitter.com/9T8KtjCUQ5

— Jake Burns (@jake_burns18) March 8, 2019
When asked about Higgins before Week 1, Coach Stefanski said:
"Rashard did a nice job. He grinded. He earned that role. I think you saw at practice he had some moments that were very impressive. There is obviously a rapport with the quarterback. They have thrown a lot of balls to each other. Excited for Rashard and then just looking forward to him being in that room and competing with the rest of the guys."
4. Plays With 3 Wide Receivers Are Few And Far Between
Higgins has suffered from being in a talented pool of wide receivers.
Barring major injury, OBJ and Jarvis Landry will be the starters.
And it's true that the Browns rarely run plays with 3 WRs so that has affected his playing time.
However, there are indications that may change.
#Browns OC Alex Van Pelt indicated he thought WR Rashard Higgins would be up this week to provide more options as the 3rd WR

— Keith Britton (@KeithBritton86) October 8, 2020
5. Talented TE Pool Affects Higgins Too
In addition to being among a crowded room of elite WRs, the signing of Austin Hooper and the early positive play of rookie Harrison Bryant has probably hurt him also.
And given that Coach Stefanski is more apt to use multiple TEs then 3 WRs is a factor.
Conclusion
There are many factors against Rashard Higgins.
However, the Browns have 2 difficult games coming up in Weeks 5 and 6 against the high caliber defenses of Indianapolis and Pittsburgh.
Creative play-calling has been part of the Browns and Stefanski's early success.
So it is time to add Higgins into the game plan and for Baker to target him.
2020 needs a little "Hollywood" to spice things up.