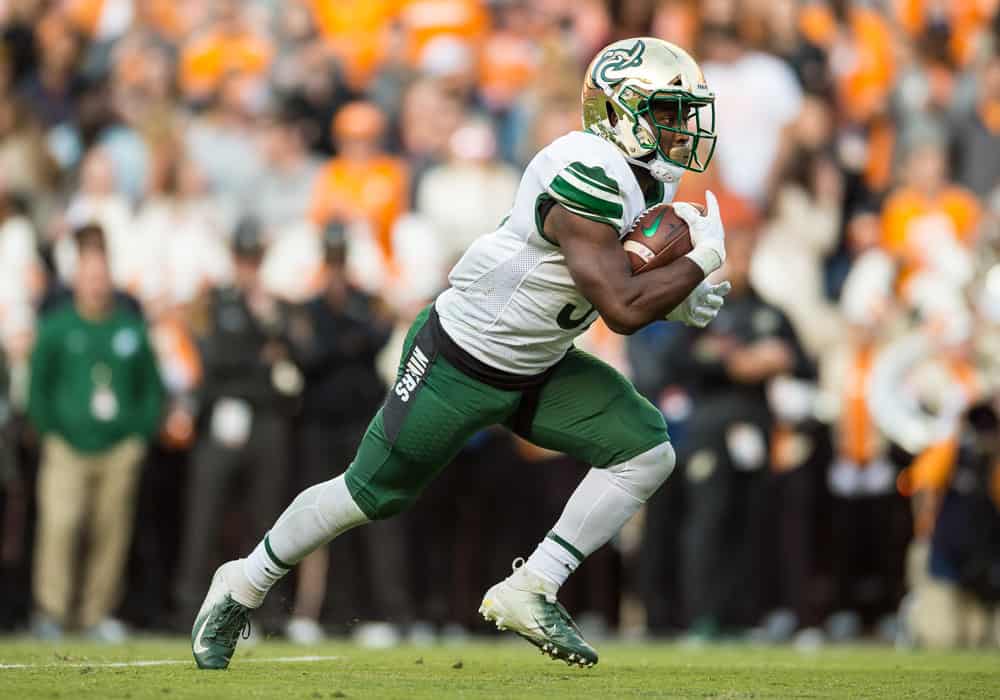 The Cleveland Browns have made some major improvements at multiple positions this offseason.
They've added Pro Bowl tight end Austin Hooper and right tackle Jack Conklin in free agency.
The Browns have also brought in some surprisingly solid talent through the 2020 NFL Draft.
After the draft concluded, the Browns signed 15 undrafted players to their organization.
Those players will battle it out for a spot on the 53-man roster during camp.
One player to watch for during the preseason is Charlotte running back Benny LeMay.
Who is Benny LeMay?
The four-year running back went undrafted despite putting together back-to-back strong campaigns.
He only saw six games on the field during his freshman year, but his career took off after that.
LeMay rushed for 732 yards on 137 attempts with two touchdowns during his sophomore campaign.
He followed that up with 1,243 rushing yards on 232 attempts with 11 touchdowns in 2018.
LeMay regressed a little bit his senior season, but that was because of how ridiculously good he performed the year prior.
He finished with 1,082 rushing yards on 193 attempts with nine touchdowns during his senior year at Charlotte.
Benny Lemay could be a decent late round selection. Usually shows great patience running the ball and runs hard. pic.twitter.com/rOqKdzaf0W

— Pro Football Magazine (@ProFootball_Mag) January 18, 2020

Surprisingly he went undrafted despite producing two consecutive 1,000 plus yard campaigns.
Why Did LeMay Go Undrafted? 
There is plenty of times that an undrafted player comes out of nowhere and has a solid NFL career.
Possibly LeMay can be the next player to do that in the league.
🗣95th East-West Shrine Bowl MVPs!
🏆Defensive MVP- Luther Kirk
🏆Offensive MVP- Benny Lemay #ShrineBowl pic.twitter.com/pw2hWdbwGv

— East-West Shrine Bowl (@ShrineBowl) January 19, 2020
He was tremendous during the East-West Shrine Bowl and earned the MVP award for the event.
However, organizations decided to pass on him during the draft.
LeMay lacks ideal speed as shown by his 4.75-second 40-yard dash time.
He is not overly gifted in terms of athleticism but could be a rotational option on an NFL roster.
Also, LeMay did not play against talented teams while at Charlotte, so who knows how he would perform against higher-level talents.
He produced reliable numbers in college, but wasn't playing anywhere close to the type of talent that he would see at the professional level.
Browns Depth Chart
Cleveland has young stud running back Nick Chubb leading the way for their backfield.
He is followed on the depth chart by 24-year-old Kareem Hunt as the second string running back.
Hunt only played in eight games for the Browns last season, but is expected to be more involved in the backfield this season.
After that, the Browns do not have many proven options at the running back spot.
Offensive POTY #13: Week 7 @CharlotteFTBL at @FIUFootball. Benny LeMay tightropes the sideline on this screen & dives into the endzone…unbelievable effort! LeMay had 234 total yds & 2 TDs on the night. @FqCharlotte @ChrisFuller22 @TheG5Beat @_agent49 @49erAlumni @NTimes_Sports pic.twitter.com/z89ldRtkqX

— CFBcampustour (@CFBcampustour) February 7, 2020

The Browns have brought in plenty of running backs and they will battle for the third-string spot in camp.
However, it's unlikely that any of them would see action with Chubb and Hunt ahead of them on the roster.
Most likely, anyone that makes the roster as a backup running back is just in case of injury.
Can LeMay Make The Roster?
It's an uphill battle for LeMay, but the same could be said for most undrafted players.
He is not expected to see much action at all, assuming he is able to make the roster out of camp.
LeMay does have some talent and could stick as a rotational running back in the league.
However, the Browns have plenty of options at running back, so it won't be easy for him to make a name for himself.
At the moment, it does not sound like LeMay will make the team, but we'll see how he plays during the preseason.