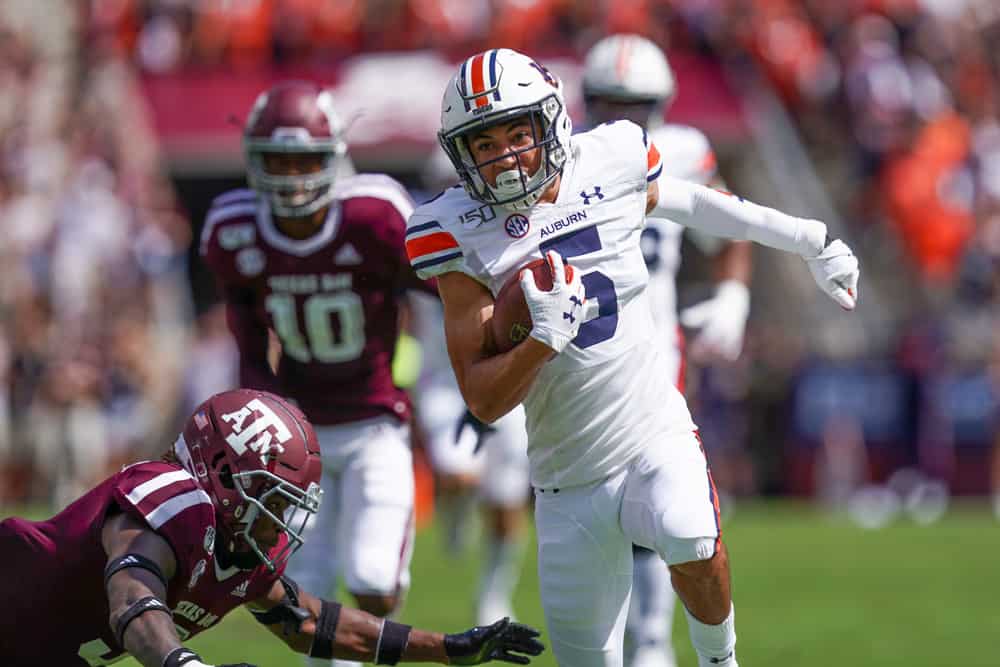 The good news is, the Cleveland Browns will be getting star wide receiver Odell Beckham Jr. back in 2021.
The superstar receiver suffered a season-ending ACL tear mid-season last year.
Luckily, it sounds like he's progressing well and should be ready for the start of the season.
However, his return also means less touches for the receivers behind him.
It'll be interesting to see how Cleveland gets rookie receiver Anthony Schwartz involved in the gameplan.
Here are 3 bold predictions for Schwartz.
1. Wins No. 4 WR Spot
The two main receiver spots are obviously going to be filled by OBJ and Jarvis Landry.
After that, Rashard Higgins should slide into the No. 3 spot, assuming he stays healthy in training camp.
The Browns could very well have a competition on their hands for the remaining receiver jobs on the roster.
One player who could sneak his way up the depth chart is rookie Anthony Schwartz.
Cleveland wanted to add depth at receiver and did that with the selection of Schwartz in the third round during the 2021 draft.
With the 91st pick in the 2021 NFL Draft, the Browns select WR Anthony Schwartz, Auburn#NFLDraft2021 pic.twitter.com/WIBM0ZZqTE

— PFF (@PFF) May 1, 2021
He's not projected to be a star, but does have the speed to make an impact on the roster.
During his last season at Auburn, Schwartz recorded 54 receptions, 636 receiving yards, and three touchdowns.
Those stats were through 10 games and highlights how effective Schwartz can be with yards after catch.
His main competition in Cleveland is going to be Donovan Peoples-Jones and KhaDarel Hodge.
Neither player did much in the receiving category to impress the Browns last season.
There's a chance Schwartz is able to come in and snag the No. 4 receiver job from Day 1.
2. Becomes The Returner
It might not happen Week 1, but Schwartz has a chance at taking over the returner job in Cleveland.
Right now, it appears Hodge or Peoples-Jones will open the season as the returner.
However, Schwartz is one of the fastest players in the NFL and could be a lethal weapon in the return game.
It's worth noting that the Browns coaching staff wants to see what Schwartz can do as a kick returner.
#Browns Mike Priefer said he'd like Anthony Schwartz (hamstring) to return kicks and play gunner when he gets healthy

— Mary Kay Cabot (@MaryKayCabot) June 17, 2021
A player with lightning speed like Schwartz needs to be in the conversation for returner.
Obviously, the Browns want Schwartz to get comfortable with their scheme and gameplan.
He was drafted to be an asset in the receiving game, but when you're given possibly the fastest player in the draft then you must take advantage of it.
It likely won't happen right now, but Schwartz could very well be returning kicks or punts for Cleveland by the end of the 2021 season.
3. Finishes Top 3 In Receiving Yards 
To clarify, this is top 3 in receiving yards on the Browns not league wide.
There's no chance that Schwartz would be able to finish top 3 in the NFL.
However, he might be able to finish near the top in receiving on the Browns roster.
Everyone will soon learn how ridiculously quick and elusive Schwartz is as a receiver.
Browns just got the fastest player in the NFL Draft, Anthony Schwartz💨

— PFF College (@PFF_College) May 1, 2021
It wouldn't be shocking to see the Browns use Schwartz as their deep threat.
Send him sprinting on a vertical route and toss it deep for a possible 40-plus yard reception.
Those kind of receptions add up quickly especially when it's 40-plus yards and possibly multiple times a game.
Both OBJ and Landry should easily surpass Schwartz in total yardage without a problem.
However, Schwartz has a legitimate shot at beating Higgins and Kareem Hunt for receiving yards in 2021.
It'll all depend on how the Browns decide to use Schwartz in their offensive gameplan.
If used correctly, Schwartz could be a dangerous threat in the receiving game.