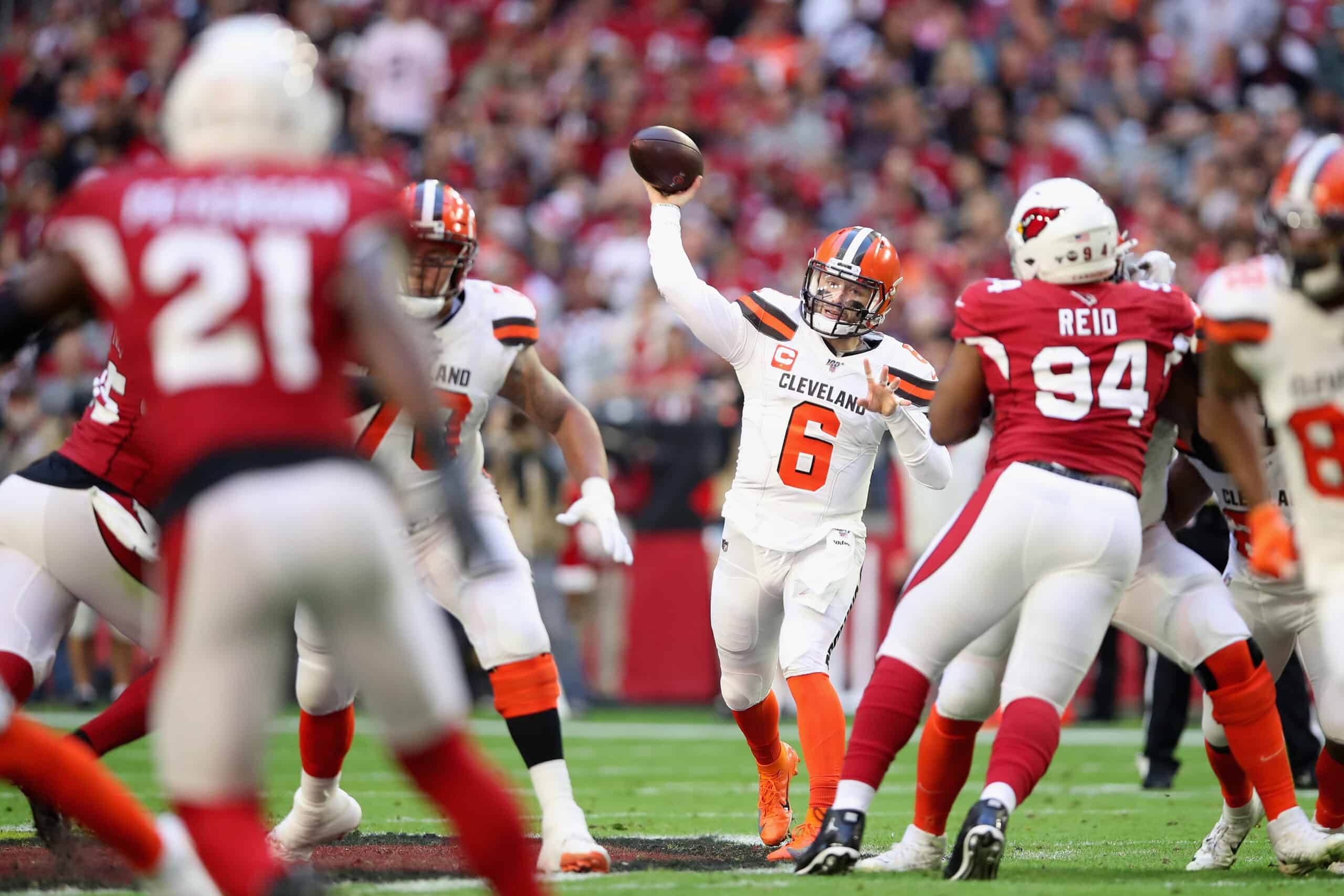 Arizona flies into Ohio to take on the Cleveland Browns this Sunday.
NFL schedulers did them a favor by pushing the start to the later afternoon window.
But the Browns know they have a challenge on their hands with this 5-0 team whatever the hour.
#Browns Baker Mayfield said the Browns have to bounce back and play at a high level this week against the unbeaten Cardinals. pic.twitter.com/5AvdfVB33w

— Fred Greetham (@FredGreetham9) October 13, 2021
The 49ers limited the Cardinals to 17 points in their last game.
Murray was held to 1 rushing yard on 7 attempts, fumbled twice, and was sacked twice.
And he is anxious to regain his status as one of the league's most productive and dangerous quarterbacks.
#Browns QB Baker Mayfield talks about the special relationship he has with #Cardinals QB Kyler Murray. The 2 former Sooners won the Heisman & then were No. 1 NFL Draft picks in back-to-back years pic.twitter.com/R1sppRRgew

— Daryl Ruiter (@RuiterWrongFAN) October 13, 2021
But Mayfield might do well to stay under 300 yards passing since the Browns are 3-0 when that happens.
Despite being the last undefeated team in the NFL, the Cardinals (+3) are the underdog in this Week 6 contest.
And here are 3 bold predictions for the Browns-Cardinals game.
1. Both Quarterbacks Run For a Touchdown 
Mayfield and Murray have a little common history and are friendly off the football field.
But friendship morphs into a win-at-all-cost attitude between the lines.
And Mayfield will never admit any quarterback can do things he can't do.
Murray ran for 3 touchdowns this year and has 18 rushing scores in just 2-plus seasons.
This @bakermayfield spin move was nasty! 🔥

📺 NFL Game Pass | @Browns pic.twitter.com/Jhl70bczYt

— NFL UK (@NFLUK) September 26, 2021
He's gone 2 games without bringing one out of the backfield for a score.
He's due, and Mayfield won't let himself be one-upped.
Stefanski helps out by calling a quarterback draw or end-around from 5 yards out.
And Mayfield saunters in for his second rushing score of the season.
2. Browns Secondary Picks Off Murray… Twice
Andrew Berry put a lot of effort into rebuilding the Browns' defensive secondary.
And so far, it looks eerily like his 2020 secondary.
John Johnson was supposed to bring a sense of order and control to a young unit.
And Troy Hill was supposed to neutralize the threat from slot receivers.
John Johnson III: "We had some busts. Just didn't finish the play. Got to get on the tape, make some changes, fix it…" #Browns https://t.co/WMuzz7H2lu

— Jake Trotter (@Jake_Trotter) October 10, 2021
With injuries plaguing the outside corners, it's possible Berry's free-agent gems are trying to help out too much.
But for some reason, they have been less than impressive, never less so than in Los Angeles a week ago.
The unit might still lack a player or two, but they know they have to be better than they were against Justin Herbert.
And so, in a breakout week for the defense, Murray is picked off twice by the secondary.
3. Special Teams Breaks a Return 
Anthony Schwartz had a 30-yard kickoff return as he spelled Demetric Felton last week.
But it was an 11-yard return that caught my eye.
Schwartz sped past the first would-be tacklers and had one more to beat before finding nothing but grass.
He probably didn't see another coverage player zipping in untouched to blow up the play.
#Browns STC Mike Priefer said he would love for Anthony Schwartz to develop into a returner and as a gunner on kickoff but he hasn't done it before so they'll work with him to see if they can get him there.

— Camryn Justice (@camijustice) June 17, 2021
Just one badly missed block- a total whiff- cost Cleveland a long return.
Between Felton's juking and jumping on punt returns and Schwartz's speed, something has to give.
It would have taken just a nudge to get Schwartz around that one tackler.
This week, one or the other gets that little help to spring loose for a long return, if not a touchdown.