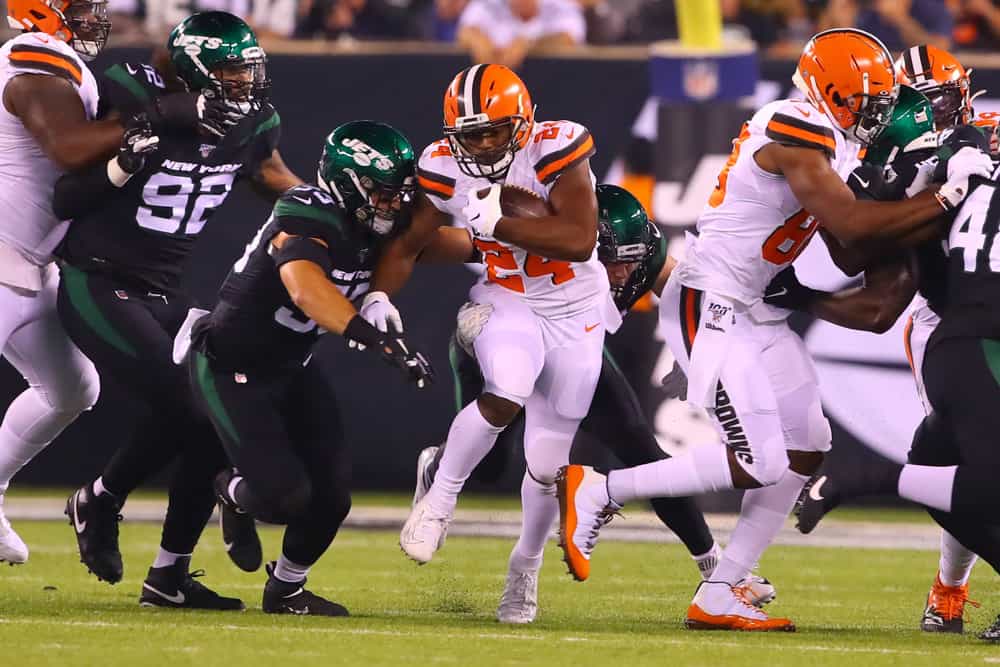 What a difference a week makes!
Two weeks ago, Cleveland Browns fans were counting the ways they could win the AFC North.
Last week, a heartbreaking loss left them wary of missing out on a wild card bid.
And now it seems inevitable the Browns will host the Pittsburgh Steelers in a Division Title Game.
If the #Colts beat the #Steelers in Week 16 and the #Browns beat the #Jets….

Week 17: Browns vs. Steelers for the AFC North title.

— NFL Update (@MySportsUpdate) December 22, 2020
But first, Cleveland has to get past the New York Jets and hope the Steelers collapse continues.
Two weeks ago, the Jets might have been considered a mere speedbump, the classic trap game in waiting.
But after knocking off the playoff-bound LA Rams in the biggest upset this season, that trap has been sprung.
That should be all Kevin Stefanski needs to keep his troops from taking New York lightly.
In fact, the first of our 3 bold predictions for Browns versus Jets reflects that.
1. Browns End Jets Opening Drive Scoring Streak
No NFL team scored fewer points than the NY Jets through 15 weeks.
In fact, the Jets' negative point differential is 1 point higher than their total points scored.
Stefanski should be tempted to schedule some extra rest for Myles Garrett and other banged-up defenders.
Baker Mayfield and company could score more than the Jets' 13.7 points-per-game average before the 2nd quarter.
But there is one challenge beckoning the Browns defense that could take the Jets spirit away early.
Believe it or Not: New York Jets score on their eighth-straight opening drive https://t.co/kX9HYiND0M

— Touchdown Wire (@TheNFLWire) December 20, 2020
That is, stop them from scoring on their opening drive.
The 2020 season is full of statistical anomalies.
New York owns the longest opening drive scoring streak in the league, currently at 8 games.
Stopping that streak would slam the jets on any thoughts of a second consecutive upset.
2. Mayfield Outshines Chubb, Hunt Again 
Baker Mayfield is playing very well of late.
Keeping his confidence high heading into a potential division title showdown is not a bad idea.
Letting him carve up the Jets' 30th-ranked pass defense wouldn't hurt.
Baker Mayfield: PFF's Week 15 Offensive Player of the Week 🏆 pic.twitter.com/a8buZj5h5w

— PFF (@PFF) December 22, 2020
But that's not the only reason Mayfield should take the ball and run with it, so to speak, for another week.
Nick Chubb and Kareem Hunt managed an awful 3.2 yards-per-carry against the Giants last week.
One thing the Giants and Jets have in common is stout run defenses.
The Jets allow just 0.1 more yards-per-carry than the Giants, with both ranking inside the top ten rush defenses.
Chubb and Hunt still need to contribute, and they'll likely pull off a couple of 10-yarders.
But let Mayfield have more fun this week before the Browns' rushing duo carves up the Steelers.
3. Cody Parkey Misses 2 Kicks 
Cody Parkey settled down the Browns kicking woes for much of the season.
But over the past couple of weeks, he's hearing "doinks" in his sleep again.
Does anyone else rather have Seibert back in orange and brown over Cody Parkey or is it just me?

— DawgPoundDaily (@SullivanRowlan) December 22, 2020
Kickers have slumps, and it is better to have them in the regular season than the playoffs.
Besides, Cleveland fans need something to worry about heading into the postseason.
It won't matter much in this game, but a pushed extra point and a long doink on a field goal are likely.
Cody Parkey's Christmas present to Browns fans is something to moan about in a magical season.
Bonus Bold Prediction: Boredom Reigns
How long has it been since the Browns won games in a boring fashion?
Well, they are about to do it twice in a row.
Cleveland continues to win the games they are supposed to win.
Including this one, to the ho-hum tune of about 27-6.