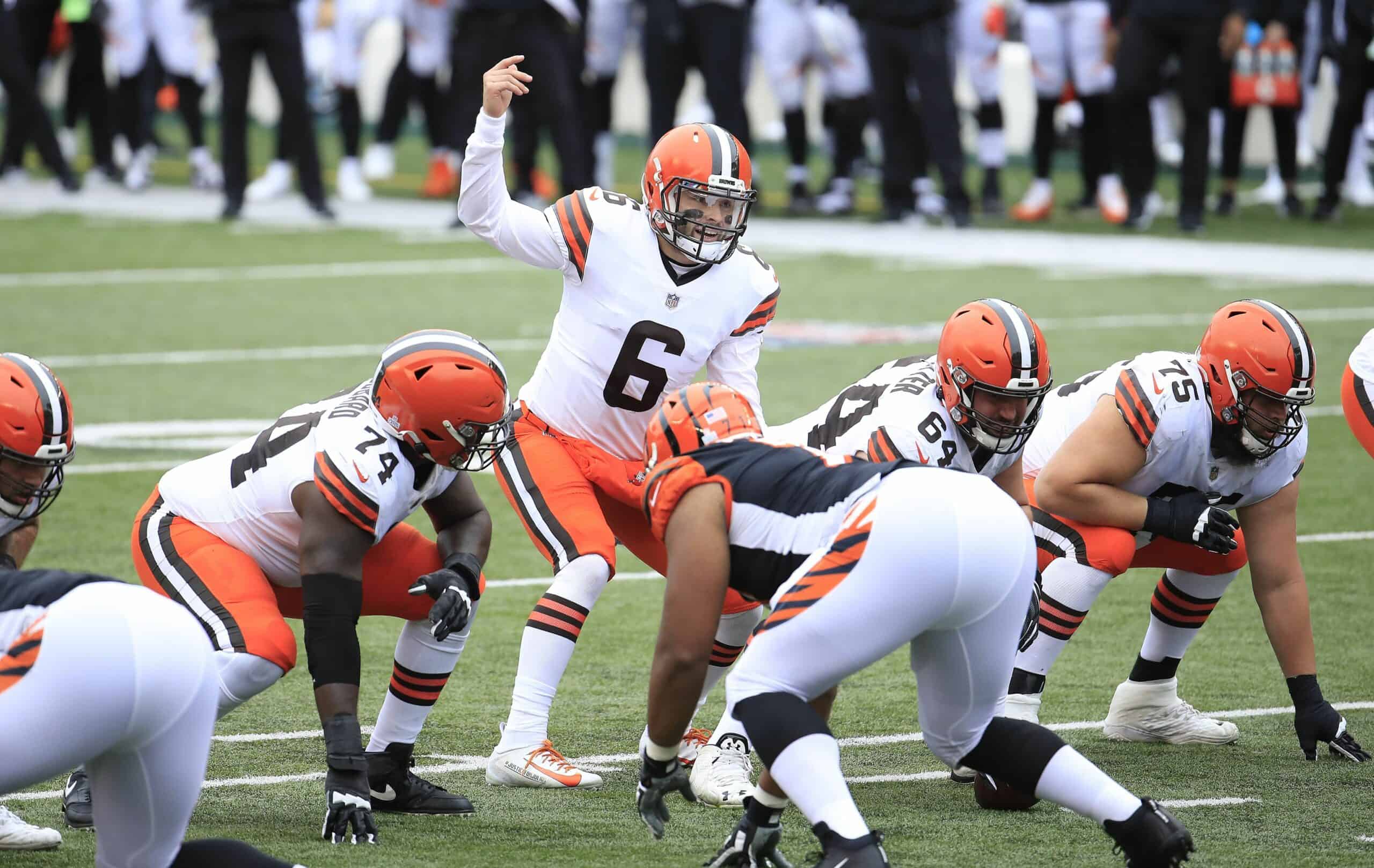 It's been quite a week for the Cleveland Browns.
Sharing family videos and social media greetings with stars from other sports was a bit unusual.
And just like real life, it got a little tedious after a while.
The Browns have a trip to Cincinnati this weekend, and it's best to focus on the tasks on hand.
The #Browns open up as +2.5 point underdogs to the Cincinnati Bengals.

— Nick Pedone (@NickPedone12) November 1, 2021
Especially given that the Bengals gave Cleveland a run for their money twice last year.
The teams scored a combined total of 136 points in their home-and-home contests in 2020.
Joe Burrow's offense averaged 35 points per game over the past 3 weeks, countered by Baker Mayfield's… hmm.
Oh well! It's a new week, and here are 3 bold predictions for the Browns-Bengals game.
1. It's Another Shoot Out 
Each of these teams scored over 30 points against each other in both games last season.
And while their GMs tried to shore up their defenses, neither team turned into a shutdown powerhouse.
But even if they did, we have to give the nod to a phenomenon always likely to provide fireworks: Angry quarterbacks.
Joe Burrow spent part of this week in a walking boot, an ankle injury being the final insult in a tough Week 8 game.
Don't let trade deadline drama distract you from the fact that Baker Mayfield is 5-1 against the Cincinnati Bengals. pic.twitter.com/M8BS5kHqz4

— Nick Karns (@karnsies817) November 2, 2021
Cincinnati, riding high atop the AFC North, got upset by the New York Jets and a no-name QB making his NFL debut.
Baker Mayfield dealt with a different kind of handicap during the week.
But it led to much discussion about his own diminished output in Kevin Stefanski's conservative offense.
Look for both quarterbacks to come out firing, and take the over on points as the losing team tops 30 again.
2. Nick Chubb Gets Over 6 Yards-Per-Carry 
Cincinnati's defense might not be able to curtail Baker Mayfield's yardage totals.
But Nick Chubb can put a dent in it, and he will as he bounces back from a subpar Pittsburgh game.
Fans wanted to know why Kevin Stefanski didn't run more last week.
But it wasn't just a lack of carries that held Chubb and the team under 100 yards.
#Browns Nick Chubb said the Steelers had a great plan against the run and executed it well.

— Camryn Justice (@camijustice) November 3, 2021
Chubb managed only 3.8 yards-per-carry against the Steelers' defense.
And even though he was coming back from injury, it didn't sit well with the Browns rushing star.
Derrick Henry's season is over after his foot surgery this week and Nick Chubb can smell a rushing title.
And he will barrel through the Cincinnati defense all day in pursuit of it.
3. Cleveland's Leading Receiver Is a Wideout
Now, this might not seem so bold to a casual outsider.
After all, when a position is called "wide receiver" one should expect them to lead the team in receptions.
But that is not usually the case in Cleveland, where a pair of tight ends and a running back hold the top 3 spots.
And the leading wide receiver to date is not likely to be on the field.
Donovan Peoples-Jones among WRs this season (min. 15 targets):

🥇 158.3 passer rating when targeted
🔥 Perfect passer rating: 158.3 pic.twitter.com/VQ7X5RCrRT

— PFF CLE Browns (@PFF_Browns) October 27, 2021
Kevin Stefanski and Baker Mayfield have been called out for their conservative passing.
But it will be the consequences of a high-scoring game that draws the wideouts into the offense.
We suspect Donovan Peoples-Jones will be the biggest beneficiary of this week's scoring fest.
But Rashard Higgins is ready to step into the fray like he did last season, too.
Bonus Prediction: Take the Over on OBJ Mentions 
Jim Nantz, Tony Romo, and Tracy Wolfson have the call of this week's Bengals-Browns battle.
Anyone who listened to them call the Browns game last week knows they love to talk.
And their main topic this week will be the trade deadline and a particularly disgruntled wide receiver.
As was announced last week, the broadcast crew for #Bengals v Browns is the CBS' A crew:
Jim Nantz (play by play)
Tony Romo (analyst)
Tracy Wolfson (sideline)

— Jay Morrison (@JayMorrisonATH) November 2, 2021
We might try to leave his name out of things in our bold predictions.
But Nance and Romo are going to use Odell Beckham Jr's name, or the OBJ moniker, an awful lot.
In fact, we predict OBJ and his dad will get mentioned over 100 times during this week's telecast.