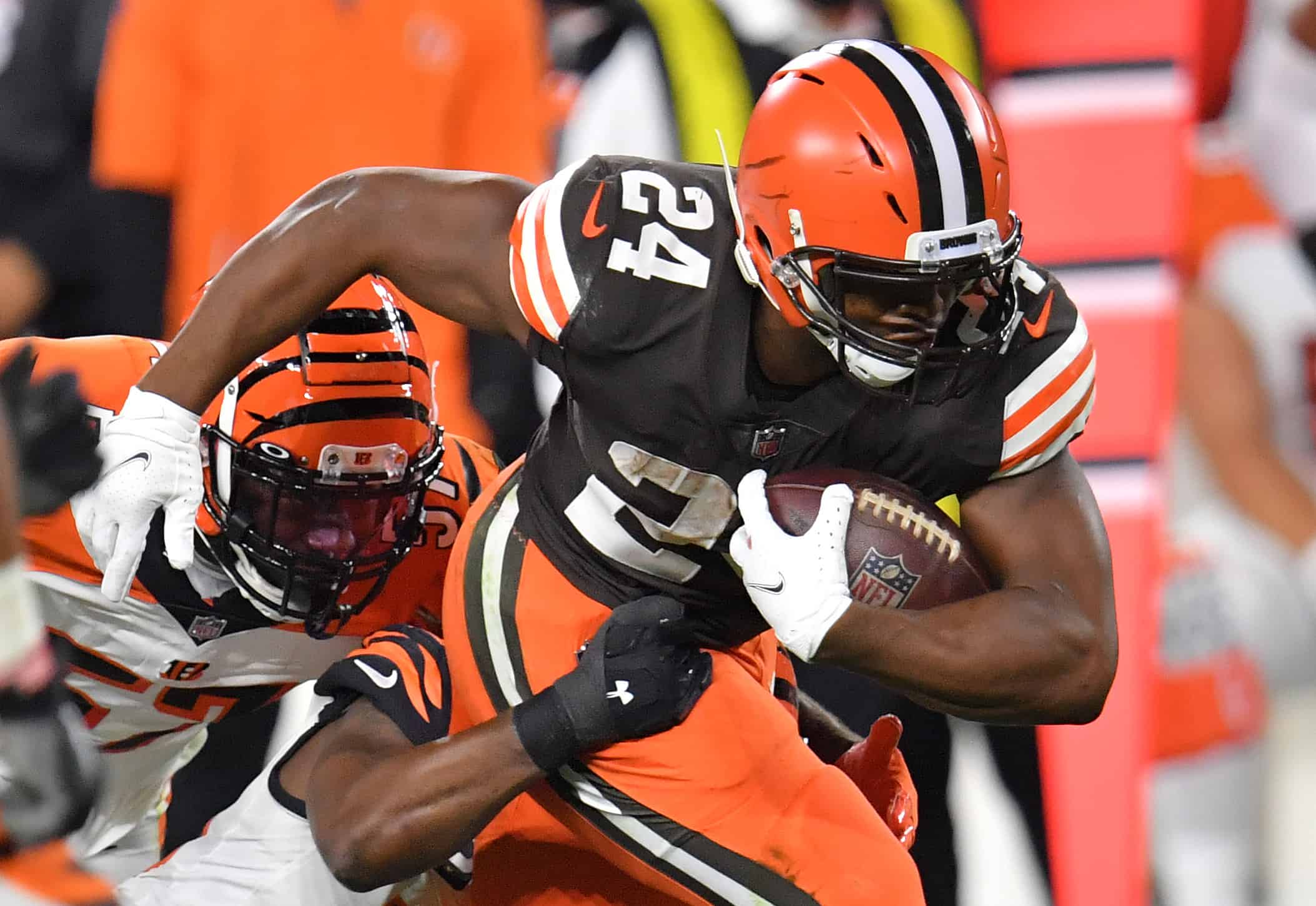 It will be a relief to get back to actual football for the Cleveland Browns on Sunday afternoon.
The Browns' Week 9 opponent is their interstate rival, the Cincinnati Bengals.
Part of the concern about the off-the-field issues with Odell Beckham Jr. this week is that they took away the laser focus that needs to be on preparing for the Bengals.
After all, the Bengals are 5-3 and in second place in the AFC North.
This game is important for both teams as they aspire to reach their postseason goals.
From my seat, I'm not seeing any Team Baker-Team OBJ divide here in Berea. If anything, this could be a real circle the wagons, galvanizing moment for the #Browns . And hey, coach Kevin Stefanski did use the word "desperate" when talking abt his team and winning vs the #Bengals

— Aditi Kinkhabwala (@AKinkhabwala) November 4, 2021
Check out my TikTok for keys to the game for the Browns.
Here are the details of how to watch, listen, or livestream the game.
How To Watch Browns Vs. Bengals
This game will be broadcast on CBS at 1:00 PM EDT on Sunday, October 31, 2021.
For the second week in a row, the Browns will have the broadcasting team of Jim Nantz, Tony Romo, and Tracy Wolfson.
How To Listen Browns Vs. Bengals
The four flagship stations for Browns football are:
On satellite radio, the Sirius XM Browns broadcast for this game is on Channel 388.
Outside of Cleveland, the Browns radio affiliates are:
Akron
WAKR – 1590 AM
Akron
WONE – 97.5 FM
Canton
WHBC-AM – 1480 AM
Canton
WHBC-FM – 94.1 FM
Columbus
WTOH – 98.9 FM
Corry (Pa.)
WWCB – 1370 AM
Dayton
WHIO-AM – 1290 AM
Dayton
WHIO-FM – 95.7 FM
Dayton
WZLR – 95.3 FM
Dover
WJER – 1450 AM
Erie (Pa.)
WPSE-AM – 1450 AM
Erie (Pa.)
WPSE-FM – 107.1 FM
Fostoria
WFOB – 1430 AM
Geneva
WKKY – 104.7 FM
Jamestown (N.Y.)
WQFX – 103.1 FM
Lima
WWSR – 93.1 FM
Mansfield
WRGM – 1440 AM
Mansfield
WVNO-FM – 97.3 FM
Marietta
WJAW – 100.9 FM
Norman (Okla.)
KREF – 1400 AM
Sandusky
WMJK – 100.9 FM
Tulsa (Okla.)
KAKC – 1300 AM
Uhrichsville
WBTC-AM – 1540 AM
Uhrichsville
WBTC-FM – 101.9 FM
Wooster
WQKT – 104.5 FM
Youngstown
WKST – 1200 AM
How To Live Stream Browns Vs. Bengals
Those interested in live streaming the game can access it on the following platforms:
Last Time Both Teams Met With .500 Or Better Records
It has been a long time since the Browns vs. Bengals game was played with both teams at or above .500.
December 14, 2014 was the last occurrence.
December 14, 2014: Texas A&M's Johnny Manziel is the first Heisman Trophy winning Quarterback since Danny Wuerffel in 1997 (Saints) to be shut-out in his first career NFL start.

The Manziel led Browns lose to the Bengals 30-0 in Cleveland.

#pooraggies pic.twitter.com/R5Fdyw9pRi

— Poooooor Aggies! (@pooraggies) December 14, 2017
This was Johnny Manziel's first career NFL start which did not go well as the Bengals beat the Browns by the score of 30-0.
Let's hope the Browns have a better result than they did on December 14, 2014.