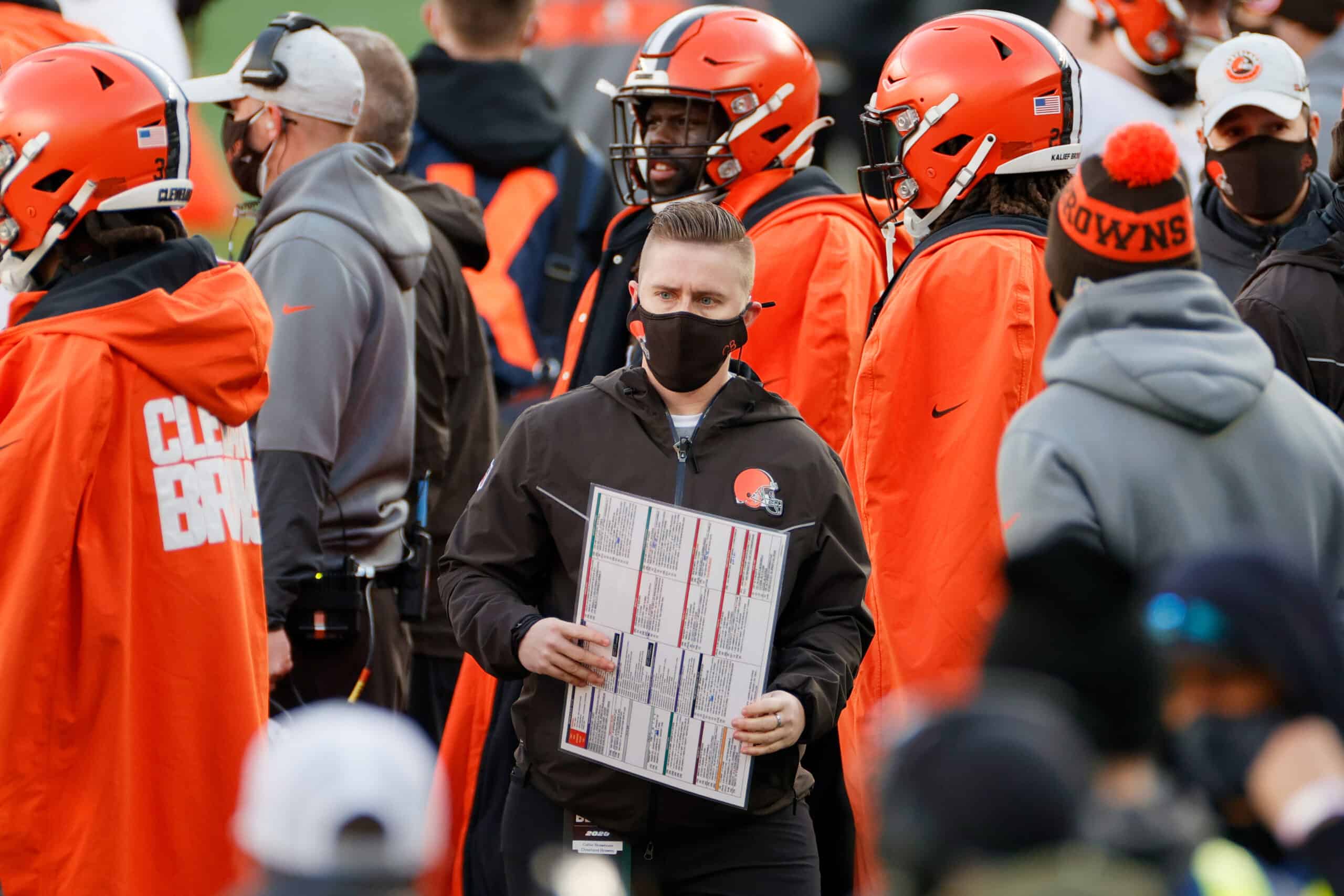 Expectations for the Cleveland Browns are high once again in northeast Ohio.
With the success of last year in the rear-view mirror, the Browns hope to reappear in some high stakes postseason contests in 2021.
However, with high stakes comes high pressure, even for professionals.
Athletes feel it, and those that fall short in those situations get dubbed "choke artists".
Those who deliver are praised.
Players aren't the only ones in this scenario though.
Coaching staff members face that same pressure in their position and understand it can be the difference between having a job or not.
Looking at this Browns staff, here are three coaches who could feel the most heat in 2021.
Joe Woods
Some wanted Joe Woods gone after 2020.
This thread from last December sort of details why.
In short, too many communication breakdowns that led to big plays was the main gripe.
Cleveland's defense went from 11th to 16th in yards allowed from 2020 to last season, although penalties committed did drop from 107 to 84.
Injuries did play a factor into last year's struggles.
Season-ending injuries to the secondary early on followed by Myles Garrett's COVID situation derailed what could have been a much better defensive season.
Now, after a heck of an offseason from GM Andrew Berry, Cleveland's defense is in a better spot.
Andrew Berry addressed last year's defensive issues by:

Signing
• John Johnson III
• Troy Hill
• Anthony Walker
• Jadeveon Clowney
(and more)

Drafting
• Greg Newsome
• JOK (stole)
(and more)

If there was a "GM of the Offseason" award, the winner would be unanimous pic.twitter.com/JizzWHx8IM

— The Cleveland Pulse (@PulseCleveland) June 17, 2021
Barring another year full of injuries, there won't be any excuses for Woods this year.
They don't need to be an elite unit, with only one of the past three Super Bowl winners possessing a top-ten defense (last year's Buccaneers".
This group has the potential to reach elite status though, making things that much easier for the offense.
Callie Brownson
Callie has been a favorite assistant of Kevin Stefanski since joining the Browns and was loved unanimously by the fan base.
Being Chief of Staff, her role and responsibilities with the rest of the coaching staff are pretty significant.
As far as her football knowledge and understanding goes, nothing has changed.
Unfortunately, a DUI back in May has led to a temporary suspension for Brownson.
#Browns Callie Brownson will be back for training camp, per Kevin Stefanski

— Brad Stainbrook (@BrownsByBrad) June 15, 2021
She's owned up to that mistake and a couple Browns players even took to social media to support her.
It's a storyline that has disappeared from the headlines but not her history.
The incident is not something that deserves public scrutiny for weeks on end.
It's not a mistake many take lightly though, especially employers.
She'll still be around at least for this season according to Stefanski, but what happens after that is anyone's guess.
One would assume her leash is pretty short now, which adds some pressure to her season.
Most don't know her personally, but she seems like a very hard working and motivated individual.
If nothing else, expect her to put more pressure on herself than anyone to prove that she belongs in the NFL and is more than just one poor driving choice.
Jeff Howard
The defensive backs were the guys under the most criticism last season and will draw eyeballs heading into 2021.
Last year, they allowed the 11th most passing yards in the league, giving up 3,962 yards through the air.
It was the most injury-riddled unit in 2020 but also saw the most upgrades this offseason.
Through both the draft and free agency, the secondary is in great shape.
Grant Delpit and Greedy Williams are both back.
Troy Hill and John Johnson III come over from the west coast and are ready to make an impact.
First-round pick Greg Newsome II is also seeing some hype.
Browns secondary this year:

CB1 – Denzel Ward
CB2 – Greg Newsome
CB3 – Greedy Williams
Slot Corner – Troy Hill
S – John Johnson III
S – Ronnie Harrison
S / Rover – Grant Delpit #NFLDraft #Browns

— I'm Mr. Brightside (@_blue42) April 30, 2021
Jeff Howard, the passing game coordinator and defensive backs coach, stepped into his role ahead of last season.
He spent some time in Minnesota with Stefanski and is hoping to improve from last year.
Again, with a reloaded and healthy secondary to play with, improvement is expected.
However, if the group falls flat on their face, Howard may have some questions to answer.