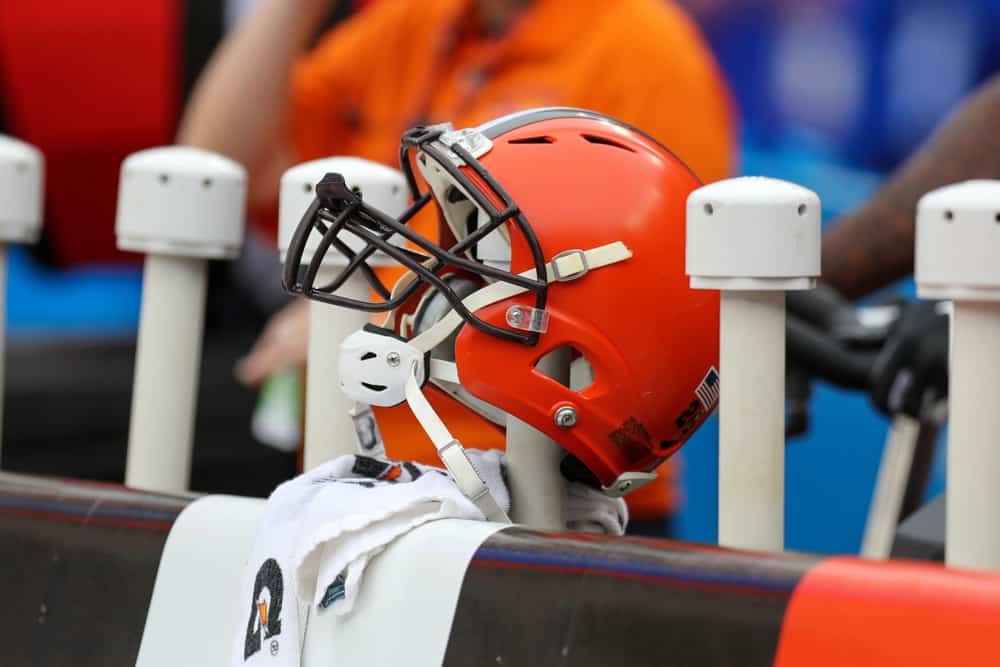 Over the last few seasons, the Cleveland Browns have gone from bottom-feeders in the NFL to possible division winners.
The front office has done an incredible job of signing and drafting talent this offseason.
Obviously, the 2019 season didn't go as planned for the Browns.
There are many factors as to why things went wrong for Cleveland last season.
The Browns roster is fairly stacked, but that also means added pressure on some of the players.
There are a few Browns players that will be under a huge microscope during the 2020 season.
3. Olivier Vernon
The Browns traded a reliable guard in Kevin Zeitler to the New York Giants in exchange for Olivier Vernon in March of 2019.
Before landing in Cleveland, Vernon was coming off a Pro Bowl selection during the 2018 campaign.
There were fairly high expectations for Vernon since he has a track record of reliable play throughout his career.
Sadly, the 2019 season was the worst year of his eight-year career in the league.
Vernon recorded 26 tackles, 11 quarterback hits, and 3.5 sacks through 10 games.
He missed six games due to injuries, so that is part of the reason his stats were low.
Heading into 2020, Vernon is owed $15.2 million as his base salary.
He has not played a full season since the 2016 campaign with the Giants.
The Browns traded a reliable right guard to land Vernon and his first year in Cleveland was a bust.
The 29-year-old defensive end needs to prove his worth in 2020 otherwise it'll likely be his last year with the Browns.
2. Odell Beckham Jr.
Similar to Vernon, wide receiver Odell Beckham Jr. was traded to the Browns from the Giants in March of 2019.
The three-time Pro Bowl receiver had enormous expectations after putting up video game numbers during his first three seasons with the Giants.
Sadly, the 27-year-old receiver was banged up during training camp and was truly never 100 percent healthy during the 2019 season.
He finished with 74 receptions, 1,035 receiving yards, and four touchdowns through 16 games.
Those aren't bad numbers, but Beckham is held to high standards since he's considered a superstar receiver.
The good news is, Beckham underwent surgery this offseason to repair a core muscle issue.
He is expected to be ready to participate in training camp around August.
Stefanski says Odell Beckham Jr. is 100 percent, "free and clear" in recovery from offseason abdominal surgery.

— Andrew Gribble (@Andrew_Gribble) June 25, 2020
The Browns traded away quite a lot in exchange for Beckham last season.
He has vowed to come back bigger, faster, and stronger after surgery.
Browns fans might be willing to give him a pass last season because he was injured.
However, he will need to be the star receiver Cleveland traded for this season or the fans are going to let him hear it.
1. Baker Mayfield
It might not be too shocking to see quarterback Baker Mayfield as the Browns player with the most pressure on his shoulders.
He is the captain of the offense and has been heavily criticized since joining the league back in 2018.
However, there are going to be high expectations when you're taken as the No. 1 overall pick in the draft class.
Mayfield performed extremely well during his rookie campaign, but things fell apart for him last season.
His interception total rose from 14 his rookie year to 21 picks through 16 games last season.
The 25-year-old quarterback has plenty of potential, but the Browns are ready to win now.
The Browns have basically been playing musical chairs at the quarterback position over the last decade.
Cleveland wants Mayfield to be their franchise quarterback, but he needs to earn it in 2020.
The 2020 season is looking like a do-or-die year for Mayfield as the Browns starting quarterback.