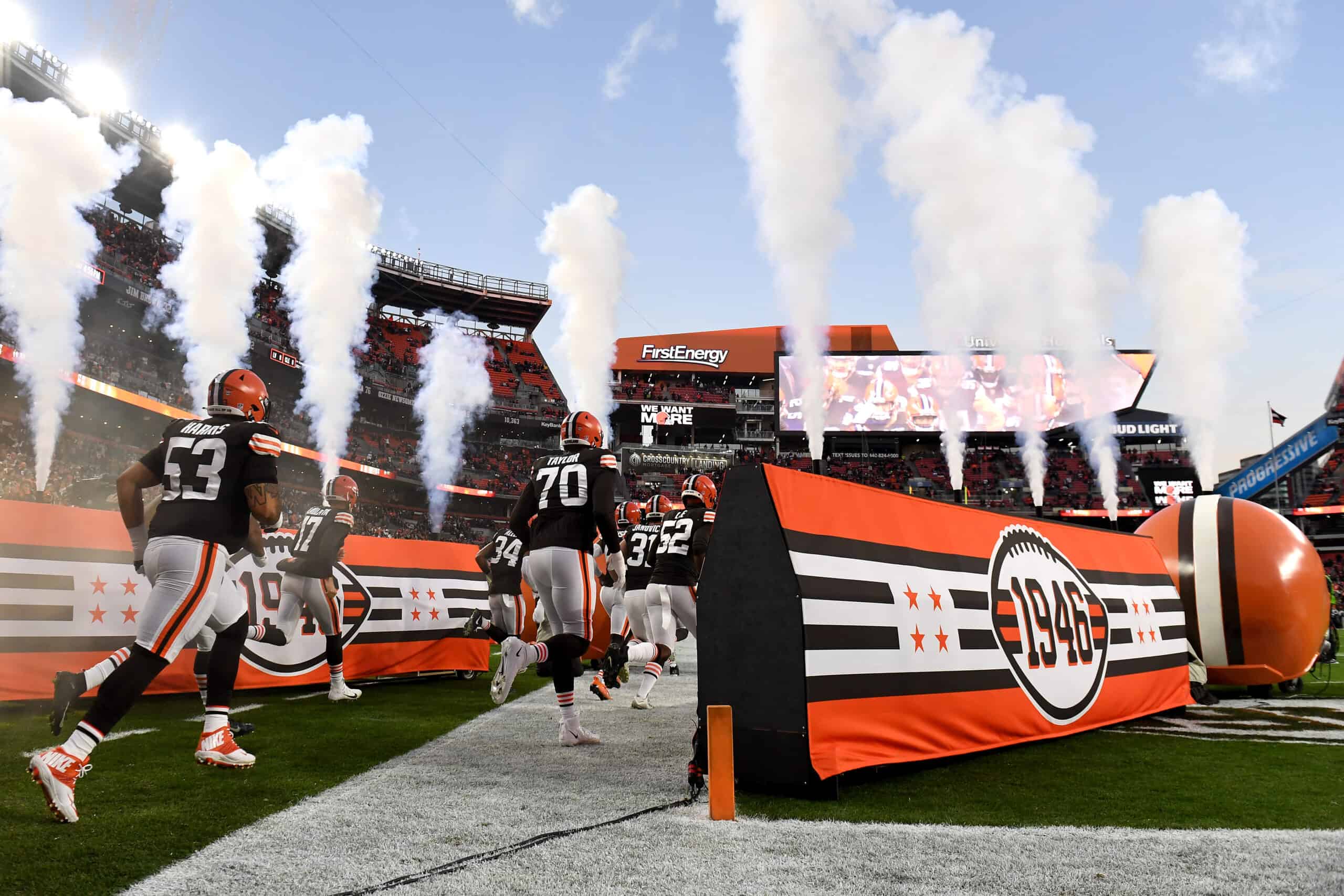 Fans can debate who the best and most-improved Cleveland Browns players are on Andrew Berry's roster.
But folks from outside the Greater Cleveland area might be hard-pressed to jump into the conversation.
That is because there were no Browns players jumping out of the SportsCenter highlights every Monday.
Haven't slept in weeks, still thinking about how Nick Chubb tried to bury this manpic.twitter.com/bdRIUIFAD9

— PointsBet Sportsbook (@PointsBetUSA) January 30, 2022
There were no 400-yard passing games or big receiving games, and the good defensive games were ho-hum.
Even Nick Chubb's second-best rushing yards snuck under the radar.
Maybe putting a few more games in the win column will lead people to pay more attention next year.
When they do, here are 3 Browns players who can break out in 2022.
1. Harrison Bryant, Pass-Catching Tight End 
David Njoku wants to re-sign with the Browns, and if he does, Austin Hooper might not survive.
The loss of either of those players bodes well for the future of Harrison Bryant.
Bryant quietly caught 75-percent of his 28 targets from Baker Mayfield last year.
🗣 "Harrison Bryant caught it! Touchdown!"@hbryant17's first @NFL TD + Jim Donovan's call pic.twitter.com/PvccVOvb9z

— Cleveland Browns (@Browns) September 29, 2020
And the second-year tight end made them count, racking up first downs or touchdowns on 82-percent of his catches.
As the third wheel, his 39% snap count was much lower than either Njoku (64%) or Hooper's (68%).
Simple math says if either of the veterans leaves Cleveland, Bryant can expect to double his workload.
And the pass-catching prowess of the former John Mackey Award winner might make either expendable.
2. Jeremiah Owusu-Koramoah, DPOY Candidate
Jeremiah Owusu-Koramoah is one of three Browns players to make the NFL's All-Rookie team.
The second-round pick has the potential to go down as one of Andrew Berry's best draft steals.
As a rookie, he graded out well enough to receive recognition from pundits and peers.
Jeremiah Owusu-Koramoah played out of his mind in the 1st half. This kid is special. Here's a couple highlights. And that sack is not a designed play. JOK saw an opening to the QB and he took it. #Browns pic.twitter.com/nhPu7B6WnW

— Roberto Shenanigans (@Rob_Shenanigans) September 26, 2021
But he didn't jump into the national spotlight yet despite his tremendous ability.
Joe Woods gave JOK small chunks of plays at a time and eased him into a bigger role as the season wore on.
And Owusu-Koramoah said he will study every play from this season and come back better in 2022.
JOK's speed, strength, and smarts make him fun to watch, and assure his status as a breakout player soon.
3. Jedrick Wills, No Pressures Allowed 
Cleveland's offensive line ranked among the best in the NFL again in 2021, according to sites like PFF.
But they gave up an awful lot of sacks, often at the most predictable moments.
To be sure, injuries played a major factor in their struggles to protect their immobile quarterbacks.
Jedrick Wills with a pancake block to clear a path for Nick Chubb #Browns pic.twitter.com/DURzjSSUUL

— MoreForYouCleveland (@MoreForYou_CLE) September 28, 2020
And left tackle Jedrick Wills' bad ankle might have played a bigger role than suspected.
There are folks who called for Wills to flip back to the right side or just be replaced outright next season.
But it is not unusual for an NFL lineman to need a few seasons to get up to speed (and strength) with his peers.
And we can't help but think that ankle bothered him long after he came off the injury report