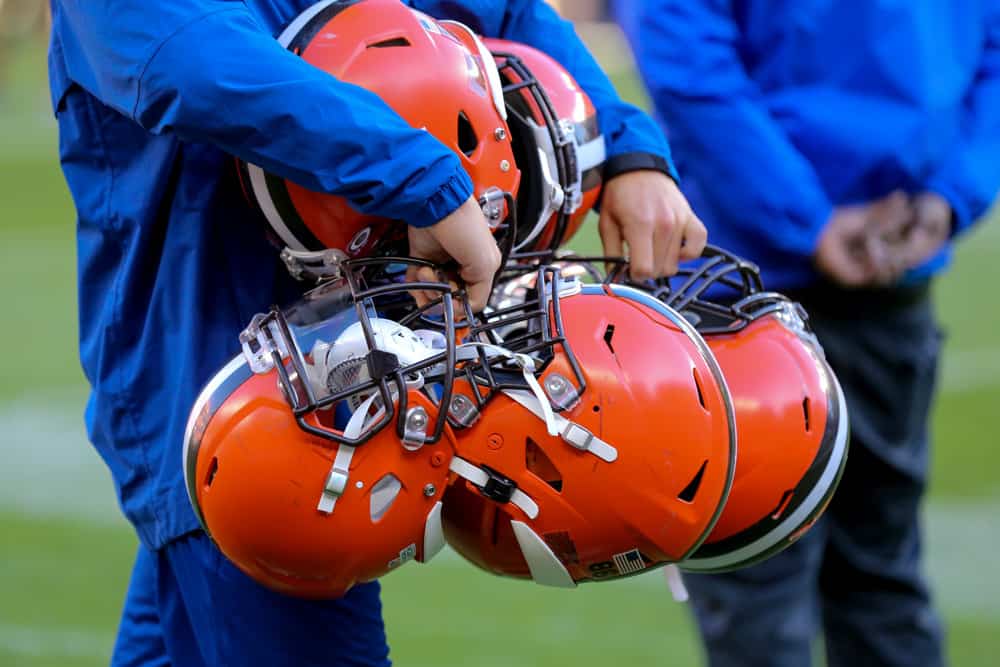 The Super Bowl is creeping closer and closer each week, which means it's that time to talk about early offseason changes.
It was a successful season for the Cleveland Browns in 2020.
They went 11-5 and won a playoff game for the first time in 18 years.
Quarterback Baker Mayfield is showing he can be the franchise quarterback going forward.
Sadly, not every player had a breakout campaign like Mayfield.
There were plenty of players who showed major improvement, but there were a handful of players that need to step it up in 2021 or it could be their last year in Cleveland.
3. Mack Wilson
There were fairly high expectations for linebacker Mack Wilson heading into the 2020 season.
He was coming off a surprisingly strong rookie campaign and the Browns didn't have much depth at the linebacker spot.
This was his time to capitalize and solidify his role on the Browns roster.
Sadly, that didn't go as expected, which wasn't all Wilson's fault.
He was banged up since training camp and missed the first two weeks of the regular season.
Wilson was never really able to find his rhythm throughout the 2020 campaign.
He was well aware that this season didn't go according to plan for him.
Wish I could've done more this season for this team and organization.

— Mack Wilson (@5mackwilson1) January 18, 2021
Through 13 games, Wilson had 39 tackles, one tackle for loss, and two passes defended in 2020.
Clearly, those aren't the type of numbers you want to see from a player like Wilson.
The former fifth-round pick should have a chance to rebound next season.
Cleveland doesn't exactly have any locked down long term starters at linebacker right now.
Which means, Wilson should get a chance to show he deserves a significant role on this roster.
However, another disappointing season could mean he's stuck as a rotational player going forward.
2. Greedy Williams
Maybe it's unfair to ask defensive back Greedy Williams to step up when he didn't play this season.
However, that is part of the reason why he needs to show signs of improvement next year.
The former second-round pick missed all of the 2020 season due to a nerve issue in his shoulder.
Sadly, his rookie season was disappointing, which puts a lot of pressure on Williams heading into next season.
The Browns desperately need secondary help alongside Denzel Ward.
This roster is ready to compete and doesn't have time to wait if Williams ends up being a project type of player.
He needs to come out of the gate strong next season or the Browns could be forced to move on.
Williams is young and has plenty of upside, which means his trade value should be fairly decent.
The front office could be forced to make a move quickly, assuming Williams doesn't show signs of improvement.
1. Austin Hooper
This shouldn't come as a shock to many that tight end Austin Hooper lands at the top spot on this list.
Cleveland signed Hooper to a massive contract last offseason.
At one point, making him the highest-paid tight end with a four-year $44 million contract.
To be fair, he was coming off two straight Pro Bowl performances, so he was well deserving of a significant contract.
Sadly, things didn't go perfectly for Hooper during his first year in Cleveland.
Through 13 games, he finished with 46 receptions, 435 yards, and four touchdowns.
Those are the lowest numbers since Hooper's rookie season back in 2016.
Although, Hooper did have some big moments for Cleveland throughout the 2020 season.
This season-saving catch from Austin Hooper 🤯

(via @thecheckdown)pic.twitter.com/iNels878DP

— Bleacher Report (@BleacherReport) January 17, 2021
He obviously didn't live up to expectations, but there is still time for him to turn it around.
Unfortunately for Hooper, the Browns do have plenty of depth at the tight end position.
They still have David Njoku and youngster Harrison Bryant who showed promise in 2020.
Another down season for Hooper could mean Cleveland is forced to listen to trade offers on him.
He is a reliable blocker, but the Browns signed him to make a significant impact on offense.
Next season could very well be a make-or-break year for Hooper in Cleveland.