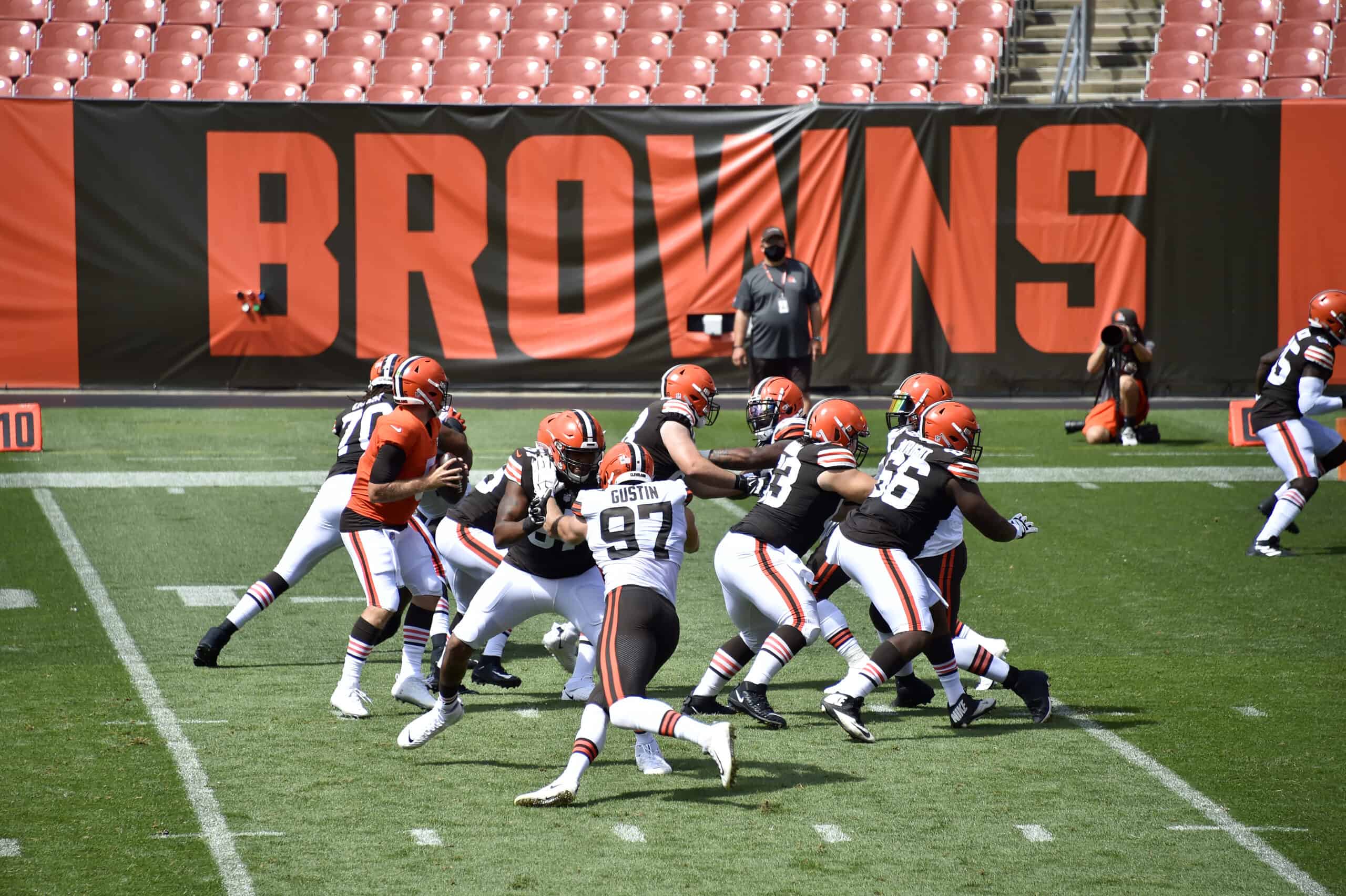 Thankfully, training camp is rapidly approaching as football fans are eager for action.
Often times, training camp isn't too exciting, but is a time for the players to get back into their groove.
There are certainly a few positional battles to watch during camp heading into next season.
The Cleveland Browns have plenty of new faces on defense who need to get adjusted to their new home.
Training camp is also a time for players who had lackluster or injury-riddled seasons to impress their organizations.
Cleveland has a few players who need to put together healthy camps in order to keep themselves from losing snaps or falling on the depth chart.
1. Greedy Williams
The 2020 campaign was certainly a frustrating year for defensive back Greedy Williams.
He came into training camp ready to impress the team after his below-average rookie campaign.
Sadly, that didn't happen because Williams suffered a nerve injury in his shoulder and missed the entire 2020 season.
The good news is, both Williams and Grant Delpit are expected to be fully healthy heading into training camp.
Kevin Stefanski says Odell Beckham Jr. is "trending in the right direction." Says he, Grant Delpit and Greedy Williams are all on track to return.

— Ben Axelrod (@BenAxelrod) April 20, 2021
The 23-year-old has plenty of upside and potential as seen by his years at LSU.
Cleveland certainly saw enough promise that they selected him in the second round in 2019.
Since then, Williams has played 12 games total during his first two years with Cleveland.
The injuries have obviously been a setback and Williams cannot afford another significant injury.
During the 2021 draft, Cleveland selected defensive back Greg Newsome II in the first round.
Newsome is expected to compete with Williams for the No. 2 spot on the opening week roster.
An injury in camp would significantly diminish Williams' chances of getting the starting job in Cleveland.
2. Jadeveon Clowney
This one shouldn't come as a surprise to anyone who is familiar to Jadeveon Clowney's professional career.
A former No. 1 overall pick, but has seen his career hindered by injuries.
Despite that, Clowney is a three-time Pro Bowl defensive end and a dangerous player when healthy.
The biggest problem is actually keeping Clowney healthy and on the field.
Last season, Clowney played a total of eight games with the Tennessee Titans.
It was a rough year for Clowney, but he did put together a few respectable games in Tennessee.
Jadeveon Clowney with his 1st sack as a member of the Tennessee Titans 🏈💪🏾.#Titans #MNFxESPN #NFL pic.twitter.com/WJdKbwAHQC

— TimeoutSPORTS__ (@TimeoutSPORTS3) September 15, 2020
Cleveland saw Clowney's upside, which is why they signed him, but his health is a huge concern.
In fact, Clowney has not played a full 16-game season since 2017 with the Houston Texans.
The Browns are hopeful that Clowney can be a full-time defensive end in 2021.
However, they did sign Takk McKinley as insurance and he is a quality depth player.
Browns fans could be seeing plenty of McKinley if Clowney's history stays the same.
Clowney has been searching for that massive extension over the last few seasons, but he won't get it until he proves that he can stay healthy.
3. David Njoku
Cleveland had high hopes for David Njoku when they drafted him in the first round.
His first two seasons in Cleveland went fairly well, but then it came to a crashing halt.
In 2019, Njoku played in a total of four games due to multiple injuries.
David Njoku reportedly suffered a concussion, along with a wrist injury that may require surgery. https://t.co/bwnbpmhnw5 pic.twitter.com/TQ8VH9HMi4

— theScore (@theScore) September 18, 2019
After that, Cleveland decided to select tight end Harrison Bryant in the fourth round.
Bryant saw a few starts in 2020 while Njoku was sidelined due to injury.
There will most likely be a position battle for the No. 2 tight end spot in training camp.
Njoku is on the final year of his deal and needs to play well and stay healthy before entering free agency.
It's worth noting Njoku produced a 600-yard season in 2018, so the talent is there.
Now, Njoku needs to stay healthy, so he can help contribute to the Browns' offense.