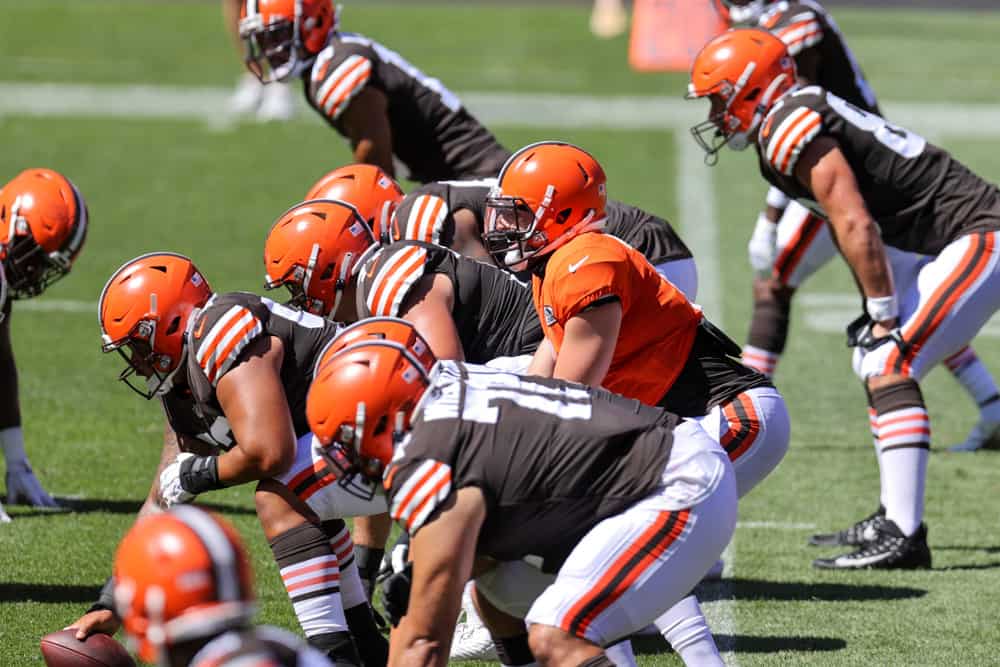 Finally, the Cleveland Browns are playing like contenders for the first time in a long time.
They currently sit at 4-1 as they head into a matchup against the Pittsburgh Steelers in Week 6.
Getting a win over Pittsburgh won't be easy as they have yet to lose a game this season.
However, the Browns have been impressive this season, so they shouldn't be counted out of a game.
In order for Cleveland to come away with the victory, they will need big games from a few players.
3. Kareem Hunt
Sadly, the Browns are without running back Nick Chubb for Sunday's contest against the Steelers.
That is a big blow to the offense, but luckily running back Kareem Hunt has been able to fill in nicely.
The 25-year-old is not the same type of back but was able to help Cleveland get the win over Indy last week.
Hunt's performance this season has been overlooked due to the fact he is the backup to Chubb.
Highest-Graded RBs vs 8 man box:
1. Jerick McKinnon – 89.8
2. Dalvin Cook – 84.7
3. Kareem Hunt – 82.5 pic.twitter.com/YlQPo2ZsZg

— PFF (@PFF) October 16, 2020
Over the last two games, Hunt has surpassed 70 rushing yards or more in both contests.
He has also hauled in 11 receptions this year for over 60 yards through the air.
The Browns are going to need a strong performance by Hunt if they want to come away with the victory.
Cleveland's offense relies heavily on the rushing attack to move the ball on offense.
Hunt saw 20 carries last week and he could see a similar workload again on Sunday.
2. Odell Beckham Jr.
Browns fans are finally getting the performance they've been looking for from Odell Beckham.
The star receiver had a lackluster beginning to the season, but has kicked it up a notch over the last few weeks.
He scored three touchdowns in the victory over the Dallas Cowboys in Week 4.
Beckham carried that momentum into last week in the win over the Colts.
📺: #INDvsCLE on CBS pic.twitter.com/6Uw0qJkxZO

— Cleveland Browns (@Browns) October 11, 2020
The Browns are without Chubb, so they might need to lean on the passing game a little more than they want to.
Last week, the Steelers secondary had trouble stopping the Philadelphia Eagles passing attack.
That is quite surprising since the Eagles offense has been crushed by injuries.
Which means, Beckham should have no issues making big plays against the Steelers on Sunday.
He could very well turn in another performance like he did against Dallas, assuming everything goes his way.
1. Myles Garrett
This is a big game for Myles Garrett considering we all know what happened last time he played the Steelers.
Garrett does not expect a warm welcome from the Steelers fans on Sunday.
Myles Garrett on the reception he expects to get in Pittsburgh: "I mean, we're the #Browns. I expect to get booed."

— Jake Trotter (@Jake_Trotter) October 16, 2020
Although, Garrett needs to put what happened last season behind him and focus on the task at hand.
The Browns need Garrett to continue dominating opposing offensive lines.
He has put himself in an elite category with his performance this season.
DPOY Favorites through Week 5

🏆 Aaron Donald
🏆 Myles Garrett
🏆 T.J. Watt

Who is your DPOY through Week 5? pic.twitter.com/bYilm9Xhtr

— PFF (@PFF) October 16, 2020
The Browns secondary is not in the best shape, so they need Garrett to continue getting pressure on the quarterback.
All eyes will be on Garrett because of what happened last time, but he needs to focus on playing football.
We could very well be looking at the biggest game of the season by Garrett on Sunday.