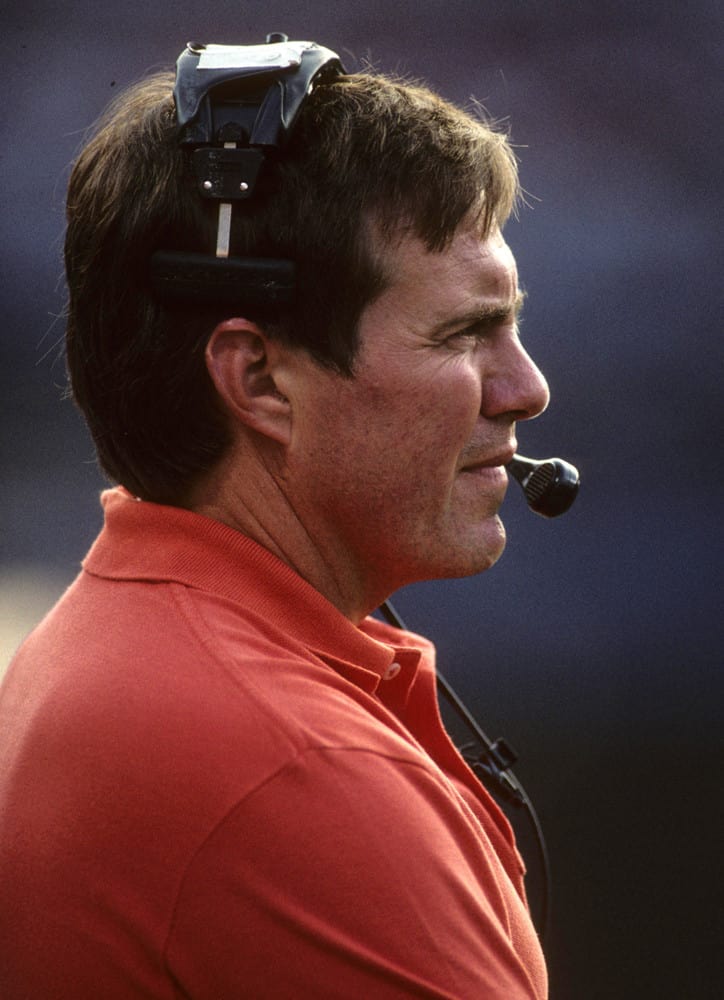 If you think 2020 is weird, maybe you don't remember 1994.
The sports world provided much of the storyline from 26 years ago.
Tonya Harding lost her figure skating titles because her friends tried to break her rival's kneecaps.
The most soccer-averse nation in the world, the USA, hosted the 1994 World Cup… and set attendance records!
World Cup USA 1994

Group A
– USA 🇺🇸
– Colombia 🇨🇴
– Romania 🇹🇩
– Swiss 🇨🇭 pic.twitter.com/oL1ksdNUux

— Ams_R (@amsul288) October 9, 2020
George Foreman became the oldest person in history to hold the WBA and IBF heavyweight boxing titles.
He celebrated by introducing the George Foreman Grill after his knockout victory.
The New York Rangers broke a 54-year drought by winning the NHL's Stanley Cup.
They promptly lost the cup, leaving it behind at a New York strip club after a raucous party.
OJ Simpson enjoyed his longest run ever, albeit in the back of a white Bronco with police in pursuit.
Michael Jordan played baseball.
And the Cleveland Browns started the season 4-1.
The Cleveland Browns Were 4-1? 
Bill Belichick was head coach of the Cleveland Browns in 1994 when they ran out to a 6-1 start.
He used a stout Browns defense to guide the team to the playoffs and their last playoff victory to date.
The Browns beat the New England Patriots in the Wild Card game, as well as in Week 10 of the regular season.
The Browns head coach last time they started 4-1… pic.twitter.com/jVBfKxT04V

— Sports Nation Ohio (@SN_Ohio) October 11, 2020
But they were in the wild card game because Belichick's Browns couldn't figure out the Pittsburgh Steelers.
In Week 2, Pittsburgh broke a 4-game road losing streak in Cleveland with a 17-10 victory.
Then they eliminated the Browns from the AFC Central division race with a 17-7 win in Week 16.
Finally, in the divisional round of the playoffs, the Steelers ended the Browns season, 29-9.
Cleveland wouldn't beat Pittsburgh again until 1999 and are 7-43-1 against them since Belichick's playoff season.
So let's go back to 1994 when things were certainly brighter for Cleveland Browns fans.
Cleveland Browns Fans Enjoyed Movies in 1994
Remember going to the movies?
Before 2020, it used to be a big thing and 1994 provided one of the biggest months in movie history.
In October of that year, moviegoers with the $4.25 price of admission got to choose between 5 blockbusters at a typical multiplex.
Pulp Fiction, Forrest Gump, The Shawshank Redemption, The Lion King, and Jurassic Park all hit the theaters at the same time.
Pulp fiction – 1994 pic.twitter.com/0T08smGnz1

— 🧮 (@sweetdreammmss) October 10, 2020
By late November, Belichick was having a pretty solid year for himself.
But it paled in comparison to Tim Allen who found himself starring in the top-grossing movie, The Santa Clause, and the most-watched TV show, Home Improvement, for one week.
His book, Don't Stand Too Close to a Naked Man, topped the NY Times bestseller list the same week.
It was a good week for Allen, but Michael Crichton had a bigger year.
Crichton wrote the screenplay for Jurassic Park, which was the number 1 movie in America for several weeks.
At the same time, his novel, Disclosure, and TV show, ER, also hit number 1, the only time anyone has landed that trifecta.
1994 was a banner year for movies, with True Lies, Speed, and Dumb and Dumber among dozens of films enjoying lasting popularity.
What About Browns Fans Who Stayed Home? 
Television also enjoyed a good season in 1994.
NBC dominated Thursday Nights with the debut season of Friends bookended by Seinfeld and ER.
Monday Night Football gave ABC the fifth-most-watched show of 1994, to go along with 4 others among the top 10.
Home Improvement, Grace Under Fire, and NYPD Blue were among their other hits.
Pop music dominated the charts, with Boyz II Men topping the Billboard for 14 consecutive weeks starting at the end of August.
Boyz II Men "On Bender Knee" 1994#boyziimen pic.twitter.com/RVyP2QnwUN

— Radioedit (@Radioedit219) February 16, 2020
But that was Green Day starting a massive mud-wrestling bout at the 25th anniversary Woodstock Concert.
Early computer geeks raved over the latest Apple innovations, the Power MacIntosh and Linux Kernel 1.0.
Apple's microprocessing prowess was less appreciated than the Netscape Navigator, the top browser in 1994 with free access for schools and nonprofits.
Netscape would eventually fade away, thanks to other options like Yahoo, which launched in 1994.
Better browsers gave more of us access to Amazon, which changed book-buying forever the same year.
Other Things That Made Browns Fans Smile 
How many of us listened to REM's, What's the Frequency Kenneth and noticed how the song slows at the end?
It slowed because bassist Mike Mills keeled over with an appendicitis attack and the band released that version.
Sports Illustrated infuriated Michael Jordan with its 1994 cover story called, Bag It, Michael.
Jordan has yet to do another interview with the venerable sports magazine since they opined about his baseball proficiency.
On this day in 1994, Michael Jordan traded in his Bulls jersey to sign a minor league contract with the White Sox. Our cover story argued that MJ had no business playing baseball. https://t.co/jTSrKsbDcV pic.twitter.com/MibE0jFxOL

— SI MLB (@si_mlb) February 7, 2018
Shock Jock Howard Stern got serious long enough to talk a jumper off the George Washington Bridge while on the air.
North Korea's leader, Kim Jung Il, reportedly shot a 34-under par with 11 holes-in-one in his first-ever golf game.
He promptly retired from the sport, satisfied that he had mastered it.
A couple of nights after Los Angeles' tragic Northridge Earthquake left the city without power, residents reported a strange silver cloud hovering over the city.
It was the Milky Way.
There might have been bigger events in 1994, such as the end of Apartheid in South Africa, the opening of the Channel Tunnel between France and England, and of course, the introduction of the Wonder Bra.
But I'll save those for when the Browns are 5-1 again.