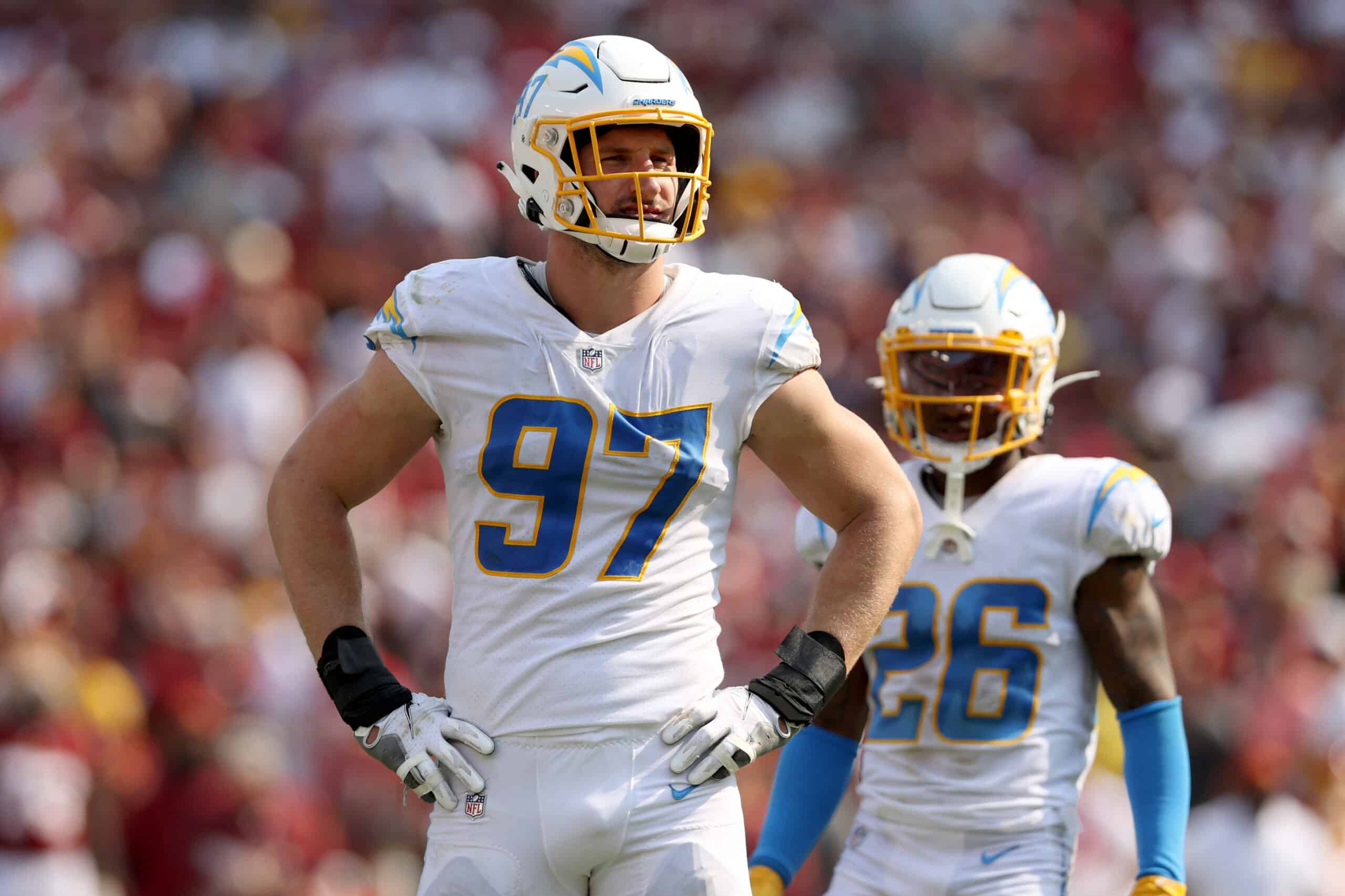 The Cleveland Browns enter their Week 5 showdown at SoFi Stadium against the Los Angeles Chargers.
There are many players on the Chargers that should concern the Browns and their fans.
If the Browns beat the Chargers, the defense will have to be an important part of the victory.
The Browns have had some impressive defense showings in the past few weeks.
20 points allowed in the last 10 quarters for the Browns defense.

That'll do.

— Andrew Gribble (@Andrew_Gribble) October 3, 2021
However, Sunday will be no easy task against a Chargers offense that has produced 58 points over the last seven quarters.
Also, in Week 4, Los Angeles dethroned the last remaining undefeated AFC team in the Las Vegas Raiders.
The Chargers took down a Raiders team with a top-10 offense.
Los Angeles allowed just 14 points in the impressive divisional win.
Brandon Staley's squad has had many strong players thus far this season, but who are the three players who should concern the Browns?
Let us take a look:
1. Justin Herbert
The 2020 NFL Offensive Rookie of the Year is already looking great in 2021.
He has the following statistics thus far this year:
1,178 passing yards (eighth in NFL)
Nine touchdowns (fifth)
68.9 completion percentage (ninth)
113 passes completed (second)
Two comebacks (leads NFL)
Two game-winning drives (leads NFL)
While Justin Herbert may not be an MVP candidate yet, he is still a great quarterback.
This will be the first time that Herbert gets to take on the Browns.
In fact, this is his first contest against an AFC North opponent.
Thus far in his 19-game career, he has been a better quarterback on the road.
He has a home quarterback rating of 93.9 as opposed to 104.7 away from home.
Can the Browns continue this trend?
If they can, then they will have a decent chance at victory against one of the best up-and-coming quarterbacks in the league.
2. Mike Williams
The Chargers have plenty of offensive weapons to help Herbert.
Mike Williams has been the most important surprise for Los Angeles.
Although he had just one reception in Week 4, he still leads the team in the following categories this year:
Receiving yards (306)
Yards per reception and yards per touch (13.3)
Touchdown receptions (four) – ranks second in the NFL
Longest reception (43)
Keenan Allen, a four-time Pro Bowler, is the team leader in targets and receptions.
Allen has the belief that he and Williams have been the top receiver duo for the last three years:
#Chargers WR Keenan Allen was asked if him and WR Mike Williams were a top NFL duo. You can guess his answer. pic.twitter.com/oyLBi0jnxs

— Fernando Ramirez (@RealFRamirez) October 1, 2021
The teammate praise is well-deserved for Williams, who has been the touchdown threat for the Chargers this season.
This may be Williams's first Pro Bowl season of his career.
Can the strong Browns defense contain Williams — and Allen as well?
3. Joey Bosa
Joey Bosa expects to make his fourth Pro Bowl this year.
He has been an important part of the Chargers yet again.
Below, you can see how impressive he continues to be:
People underestimate how incredible this is… that's not a human, that's a jungle cat in a 97 jersey.

Joey Bosa cleared 15 yards, in less than 3 seconds, with a 320lbs Right Tackle in his path. His ability to close distances is hard to comprehend.pic.twitter.com/fVK83dk6As

— Rich Ohrnberger (@ohrnberger) October 5, 2021
Bosa's 2.5 sacks and six quarterback hits are the most on the Chargers.
He is also tied for the team lead in fumbles forced.
Bosa will be a force to be reckoned with on Sunday.
If the Browns can limit his pressures, then hopefully Baker Mayfield can lead the offensive to success.