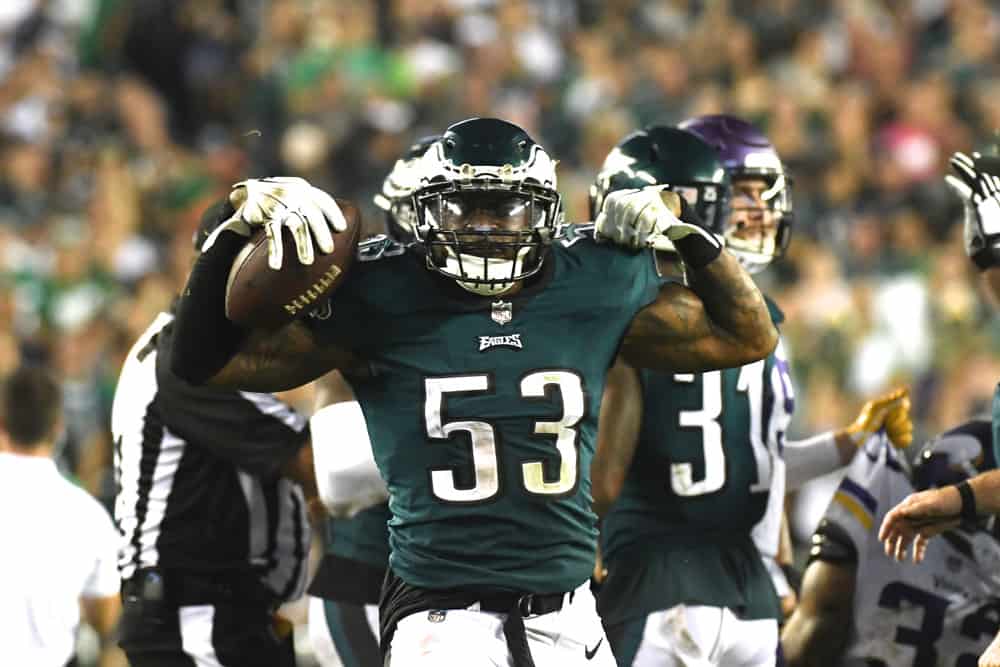 It's certainly looking like linebacker will be the weakest position on the Cleveland Browns in the upcoming season.
After Blake Martinez signed with the New York Giants, there weren't many options left in terms of the top free-agent linebackers available.
The Browns did sign linebacker B.J.Goodson, but the lack of the depth at the linebacker position is concerning.
Mack Wilson will be entering his second year and he's the only linebacker who saw real playing time in 2019.
You have to wonder what the Browns will get from last year's third-round pick Sione Takitaki in 2020.
He barely saw the field in 2019, so it's hard to gauge his situation.
It's looking like the Browns will have to look towards the draft for help at linebacker.
Being that Oklahoma's Ken Murray and LSU's Patrick Queen both have late-first round grades, we are going to assume they are likely gone when the Browns select at No. 41.
For now, these are the 3 best options for linebacker as far as free agents remaining and the NFL draft.
1. Joe Bachie-Michigan State
What about replacing one Joe with another?
Bachie could scare away some teams in the draft due to a failed drug test.
In late-October, Bachie failed a drug test, but spoke publicly about the incident last week for the first time.
Michigan State LB Joe Bachie on Thursday spoke publicly for the first time since his failed drug test in late-October.

He called it one-time thing with an over-the-counter pre-workout supplement. "There was no juicin'. No steroids. Nothing going on." https://t.co/JI9cwMX3b9

— Aaron McMann (@AaronMcMann) February 27, 2020

If Bachie falls towards the latter part of the rounds, he would not be a bad pickup.
Bachie posted a 4.67 40-yard dash at the combine.
Before he was suspended, he was posting solid numbers.
Star Michigan State LB Joe Bachie tested positive for a banned substance and is now ruled ineligible

Bachie Stats:
72 Tackles, 9.5 TFL, 4 PBUs, 3.5 Sacks and 1 INT in 8 games pic.twitter.com/5OAxFPJBMT

— Elite College Football (@EliteCollege_FB) October 31, 2019
Bachie's college career was full of production.
He was a 2-time captain and started 34 games at middle linebacker for Michigan State.
In his career, he had 285 tackles, 8 sacks, 5 interceptions, and 11 passes defended.
He was voted the team MVP in 2017.
He also earned first-team all-Big Ten honors by the coaches in 2018.
This past season, Bachie was named 3rd-team All-Big Ten by the media as well as honorable mention by the coaches.
Given how much the Browns have spent in free agency already, the Browns could save some money through the draft.
Bachie could fall to the fourth or fifth-round and compete for a starting spot.
That would allow the Browns to add a few complementary pieces at other positions.
2. Nigel Bradham-Philadelphia Eagles

The Eagles cut the 30-year-old linebacker who has been with the Eagles since 2016.
Bradham was a fourth-round pick out of the 2012 NFL Draft.
He started his career with the Buffalo Bills and spent the last four seasons with the Eagles.
Bradham became a key part of Jim Schwartz's defense, averaging 96 tackles over his first 3 seasons in Philadelphia.
In 2019, Bradham was slowed by an ankle injury.
However, he totaled 61 tackles and 1 interception in 12 games.
Over the course of his career, he has 619 career tackles and 8.5 sacks.
There aren't too many options left in free agency, so Bradham could be an easy veteran signing.
NIGEL BRADHAM. INTERCEPTION.

Eagles win in Lambeau
(via @NFL)pic.twitter.com/DuuXAf30CR

— CBS Sports HQ (@CBSSportsHQ) September 27, 2019
3. Isaiah Simmons-Clemson
The tape does not lie.
Simmons could be as versatile as it gets.
His 2019 numbers included 104 total tackles, 7.0 sacks, eight passes defended, and three interceptions.
That also includes the physical attributes that he brings too.
At 6-foot-4 and 230 pounds, Simmons had a great NFL Combine.
Simmons ran the 40-yard dash in 4.39, recorded a 39.0 vertical jump, and a 132.0 broad jump.
Clemson LB Isaiah Simmons going head to head with RB TRAVIS Etienne.

Simmons just ran a 4.39 at the combine 😳pic.twitter.com/treE7JuPpy

— Expo Recruits (@ExpoRecruits) March 1, 2020
The Browns hold the No. 10 overall pick.
It would require the team to trade up in the draft, as high as No. 3 if necessary, and the Lions reportedly do have an interest in trading the pick.
If the Browns want to make a splash in the draft, then trading up for Simmons could be the perfect replacement.