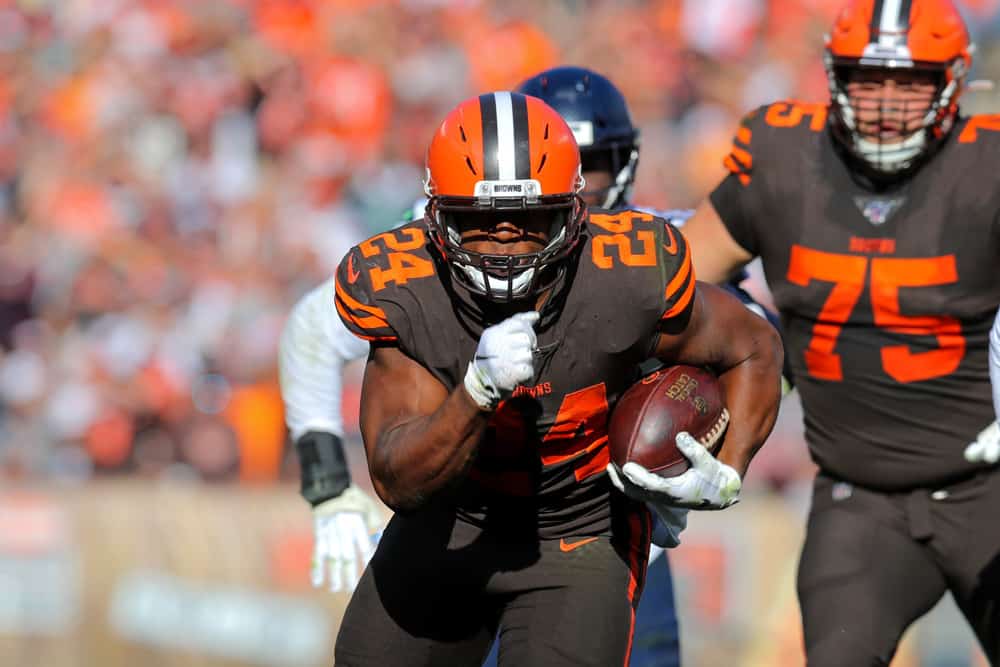 "Please, just run the football" was a phrase uttered by Browns fans a lot throughout 2019.
Don't get me wrong, Cleveland's rushing attack was great at times.
Nick Chubb finished 2nd in the entire league in rushing, and that doesn't happen by mistake.
The key, however, is the "at times" part.
We all remember the countless, nightmarish goal-line situations the Browns failed to capitalize on last season.
There were also times where the rushing game was completely abandoned for entire halves of football games.
Simply put, the Browns did not focus enough attention on the run game in 2019.
Now, heading into 2020, Andrew Berry and Kevin Stefanski seem primed to put an end to that conundrum with some of the recent acquisitions.
Jack Conklin
It's no secret Cleveland's offensive line play was subpar at best last season.
The run blocking was not so much of an issue as the pass blocking was, as Baker Mayfield was sacked 40 times, the seventh-most in the NFL.
The line needed some work, so Berry went out and signed Jack Conklin.
The Browns are signing OT Jack Conklin to a 3-year, $42m deal per @AdamSchefter

Conklin: 10th highest graded OT in 2019 pic.twitter.com/TR2930C8zo

— PFF (@PFF) March 16, 2020
Conklin was among the league's best free-agent tackles, so signing him was almost a must for Cleveland's front office.
The 25-year old stands 6'6", weighs 208 pounds, and earned All-Pro honors back with the Titans in 2016.
The left tackle position still needs addressed, but the Browns are hoping to do that with the 10th pick in the draft.
For now, one of the two tackle positions are fixed.
Andy Janovich
The fullback doesn't get much love these days in the NFL, but Kevin Stefanski certainly is still a fan of them.
#Browns HC Kevin Stefanski on @923TheFan: "I believe in the fullback. It is football."

— Keith Britton (@KeithBritton86) January 15, 2020
Stefanski used a lot of fullback-friendly sets during his time calling plays for the Vikings.
It worked for them, and it seems he believes it can work for the Browns.
Two fullbacks have been acquired so far this season, with one coming via trade in the form of Andy Janovich.
Broncos trading FB Andy Janovich to Browns for 7th rounder in 2021, per source. Janovich became expendable with new Shurmur offense that doesn't use strict FB. Elway listens to coaches and finds players who fits scheme. Another example of synergy between Elway-Fangio. #9sports

— Mike Klis (@MikeKlis) March 17, 2020
We posted an article last week on some things to know about Janovich.
It seems Cleveland fans will really take a liking to his old-school style and mentality.
He doesn't care about having to make the big, flashy play, but he's certainly capable of making it if need be.
Having Nick Chubb barreling at you full speed is a scary sight as a defender.
Adding Janovich to the mix makes it downright terrifying.
Johnny Stanton
Many seem to overlook the first fullback acquisition of the offseason.
The Browns signed Johnny Stanton back in late-January to kick off the fullback festivities.
We've signed FB Johnny Stanton

Details » https://t.co/ef6LNgUYWT pic.twitter.com/m8gA3lDmr0

— Cleveland Browns (@Browns) January 28, 2020
Stanton spent time with the Vikings' practice squad last year, so Stefanski is certainly familiar with his work.
Likewise, Stanton knows what Stefanski's offense is all about.
It certainly seems that Stanton and Janovich will be competing with one another unless the Browns decide to keep two on the depth chart.
Regardless, the fact they have brought two into camp makes it clear that there will be fullback utilization in the Browns offense in 2020.
That, of course, means added attention and commitment to running the football.
With two top tailbacks in Chubb and Kareem Hunt, why not?