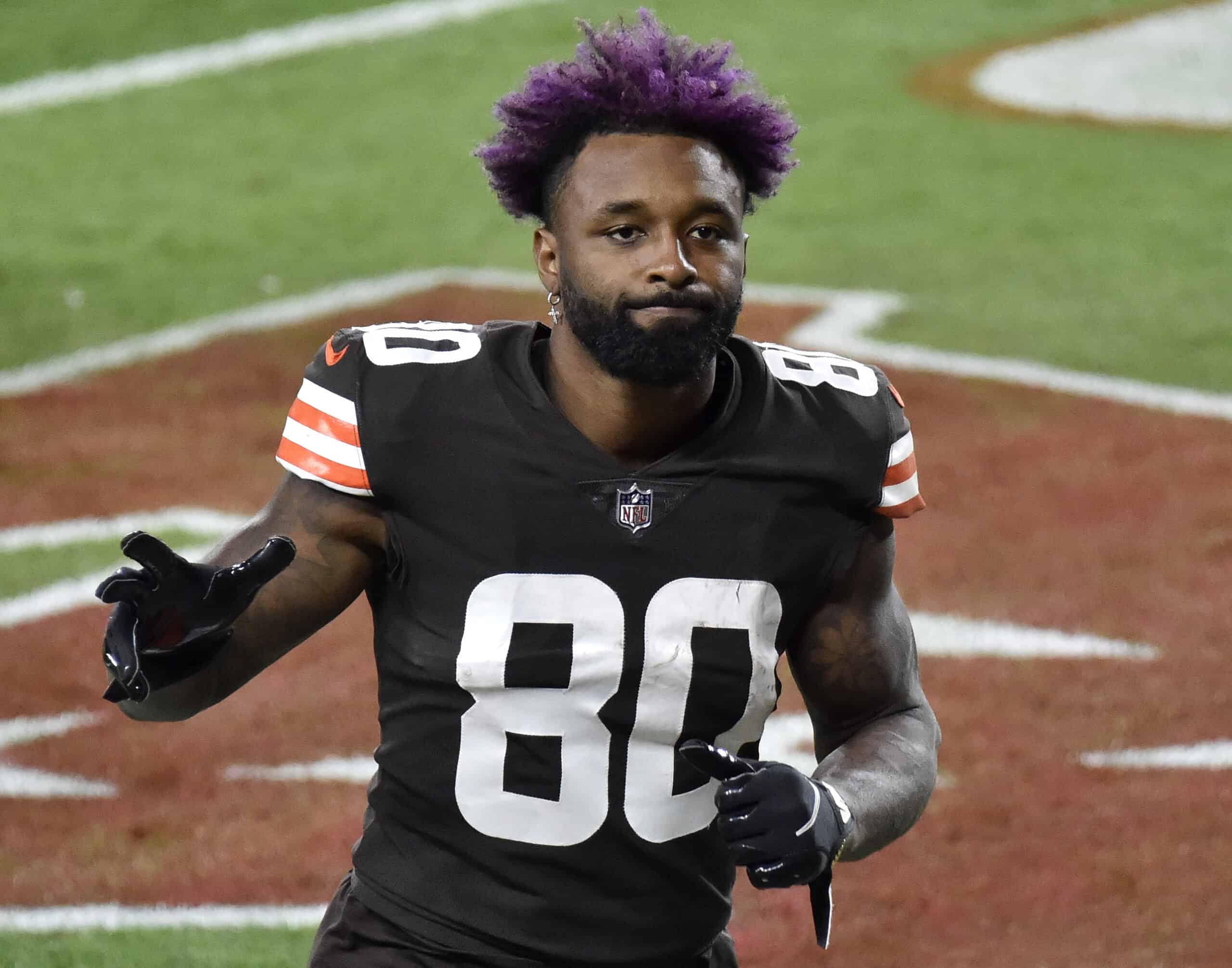 Andrew Berry completely gutted the Cleveland Browns defense after a disappointing performance in 2020.
One could argue the Browns' offense is even more disappointing in 2021.
But does that mean Berry will dismantle the Browns offense before next season?
Baker 🎯 Landry pic.twitter.com/VJa5BaHuig

— PFF CLE Browns (@PFF_Browns) November 29, 2021
Probably not, but there is one position group that might warrant an overhaul.
Cleveland's wide receivers have failed consistently when called upon and there are bound to be changes in the group.
But does that mean the Browns will move on from Jarvis Landry in 2022?
Buy: Landry Will Be a Salary Cap Cut 
Jarvis Landry is one of a handful of players who present significant salary cap relief to the Browns.
Cleveland frees up $15 million in 2022 cap space by releasing or trading Landry after this season.
Other than Case Keenum ($6 million) and JC Tretter ($10 million), no one else saves more than a million or 2.
There is a very good chance that neither Jarvis Landry nor Odell Beckham Jr. will be #Browns in 2022 given their contracts and where the team needs to spend money soon.

I don't think they want to be potentially seeking a WR1 next offseason while trying to win a Super Bowl.

— Sam Penix (@Sam_Penix) April 29, 2021
Andrew Berry could offer to renegotiate Landry's contract if there is mutual interest.
But it will take a very creative deal to satisfy both sides.
With an eye on free-agent receivers, Berry is more likely to release Landry to seek a deal elsewhere.
Sell: Experience and Consistency Count 
Baker Mayfield takes a while to warm up to new receivers.
Landry and Mayfield barely connected for 53% of their targets in their first 2 seasons together.
That number improved to 70% since the beginning of the 2020 season.
Jarvis Landry with a season high 6 catches for 111 yards tonight on his 29th birthday. #Browns

— Daryl Ruiter (@RuiterWrongFAN) November 29, 2021
Stefanski and Berry know, as most Browns fans know, that signing a good wideout does not guarantee success.
That is why they'll negotiate a mutually beneficial shift of salary and bonuses to keep Landry on board.
And that familiarity between Landry and his quarterback will pay off in 2022.
Buy: It's a Locker Room Purge 
Something is wrong in the Cleveland Browns' locker room.
And jettisoning one top wide receiver didn't settle the matter.
Baker Mayfield and his offensive teammates are not the chummy group Stefanski would like them to be.
Jarvis Landry is not only battling injury and a totally uncharacteristic drop/fumble from last week, but also the messiness re best friend Odell Beckham. #Browns OC Alex Van Pelt repeatedly said he has NO concerns about Landry: "If we were at war, I'd def take him in my foxhole."

— Aditi Kinkhabwala (@AKinkhabwala) November 4, 2021
Browns players say they appreciate Mayfield's guts and willingness to play through pain.
But a precious few call him a good or great quarterback or really play him up as a vital part of their careers.
Nobody is sacred this offseason, including the best friend of a former player or any other wide receiver.
Sell: Berry Knows 2021 Is a Fluke 
Kevin Stefanski didn't forget how to run an offense, and Baker Mayfield didn't forget how to find receivers.
And Jarvis Landry is due to have a season with fewer injuries and more targets.
Injuries to Mayfield and the offensive line definitely hurt Stefanski's game planning.
Good third-down route concepts by the #Browns. DPJ goes deep. Kareem Hunt in the flat. So Jarvis Landry finds space on the intermediate route for his second catch of the opening drive. pic.twitter.com/P2AkVojcGx

— Billy Heyen (@BillyHeyen) November 29, 2021
And he admitted defenses adapted to his general offensive scheme.
But he and his assistant coaches are too smart to return in 2022 without a new plan.
One that takes into account everything they learned in their second year, including how to use their All-Pro wideout.
Buy or Sell? It Could Be Up To Landry 
Andrew Berry and the whole Browns management team excel at keeping things close to their vests.
Even after an hour in front of the press last week, we don't really know much about Berry's future plans.
The salary cap might be the biggest factor in determining Jarvis Landry's future in Cleveland.
#Browns Kevin Stefanski said he thinks Jarvis Landry is a pro and he's not worried about how this situation with Odell Beckham Jr. will impact him.

— Camryn Justice (@camijustice) November 3, 2021
But what if Landry doesn't want to return in 2022?
There are signs the OBJ situation hurt a few feelings around Berea and left some tension in its wake.
And that is the biggest reason I'm buying the Browns moving on from Landry in 2022.