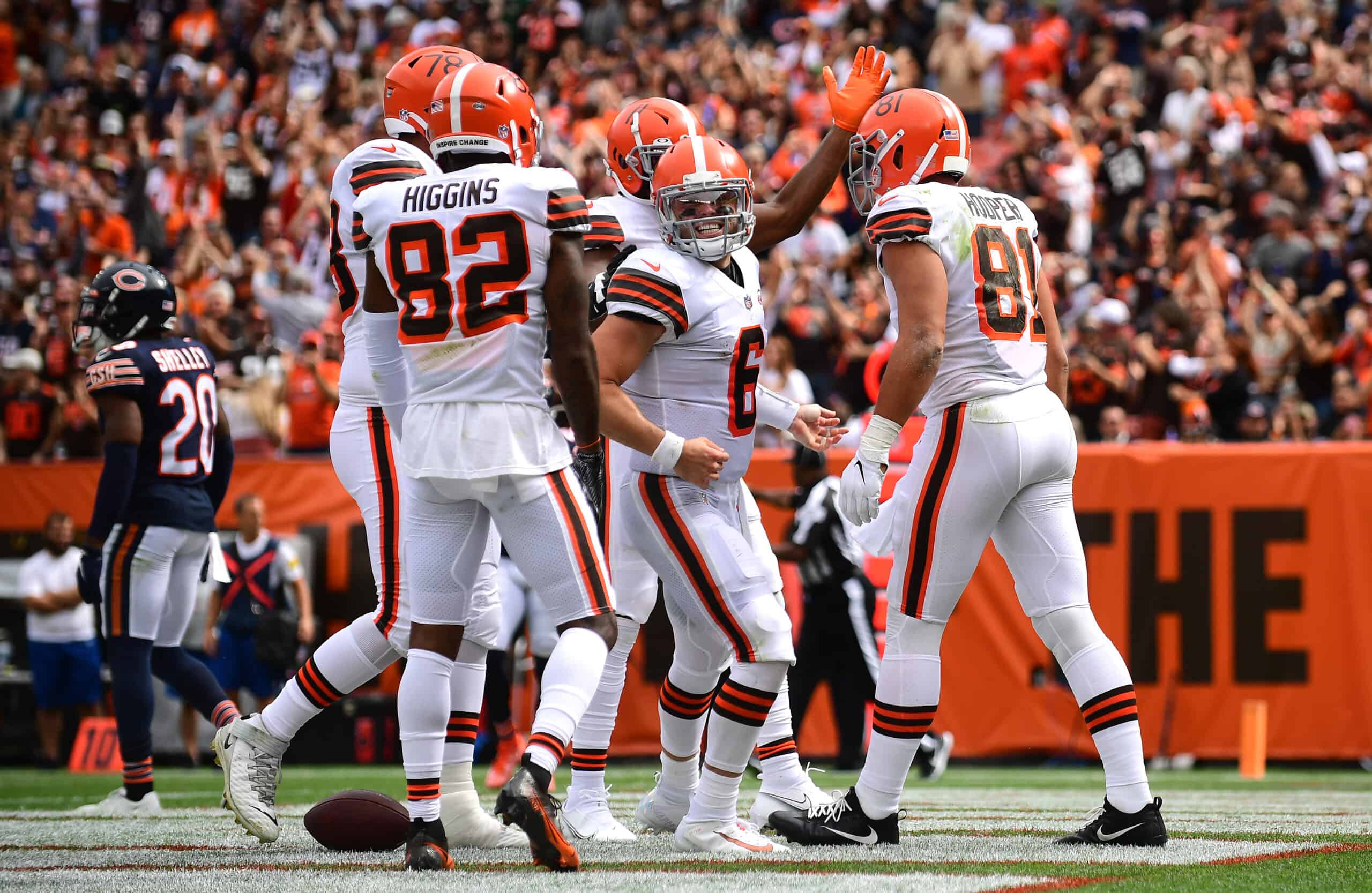 There is a big difference between 4-1 and 3-2 in the NFL.
Especially when your next opponent is undefeated and shows no signs of slowing down.
Kevin Stefanski's Cleveland Browns fly into Los Angeles to take on the 3-1 Chargers Sunday.
And if they want to assure themselves at least a share of first place heading into Week 5, they need to win.
Business Trip in LA #CLEvsLAC pic.twitter.com/kAoNMf94DH

— Cleveland Browns (@Browns) October 9, 2021
But there are complications popping up all over the locker room.
Injuries to Baker Mayfield, the offensive line, and throughout the defense are enough to warrant some concern.
Cleveland did some roster shuffling and rested a bunch of players more than usual.
We'll see if it is enough to answer these 3 questions facing the Browns in the Chargers matchup.
1. Can The Browns Protect Baker Mayfield?
Chris Hubbard's attempt to rehab a triceps injury ended this week with the announcement of season-ending surgery.
The team says Jedrick Wills did not need an MRI to confirm good news about his injured ankle.
But the Browns' young left tackle hasn't made it through a complete game since incurring the injury.
And there is no replacement who instills a lot of confidence against the Chargers' pass rush.
Most QB pressures so far this season

1) #Titans Harold Landry
2) #Chargers Joey Bosa
3) #Browns Myles Garrett pic.twitter.com/iQw674It44

— Dov Kleiman (@NFL_DovKleiman) October 5, 2021
Jack Conklin is ready to take on the Chargers' pass-rushing star, Joey Bosa.
But Bosa shifts to the opposite side for some plays and will be tempted to do so more against the Browns.
The offense has to adjust to that, perhaps with a tight end or fullback creating a second level of protection.
Because every sack and hit will hurt Mayfield, even with a protective brace over his injured shoulder.
2. Can Mayfield Throw Downfield? 
Kevin Stefanski is certain to help his quarterback escape damage with motion and maybe some trickery.
He would also be wise to dial-up fewer than the 36 pass plays he called last week.
But even with a heavy dose of running plays and motion, Mayfield has to help himself.
The best way to do that is to show some accuracy on his deep passes.
Baker Mayfield will continue to play through the ailment. Asked yesterday by reporters if the shoulder harness affects his play, he said: "It shouldn't, no." https://t.co/aw8L4Jz1GL

— Ian Rapoport (@RapSheet) October 7, 2021
Mayfield uncharacteristically failed to complete any deep balls against Minnesota.
Cleveland can counterattack a stacked box and strong pass rush with tight end screens and quick slants.
But Mayfield needs a couple of early 25-40 yard completions if he wants the Chargers' defense to loosen up.
Until he shows he can throw those passes with the shoulder brace, Los Angeles has no reason to worry about them.
3. Can The Defense Contain the Wide Receivers? 
At first glance, Justin Herbert's completion percentage to his starting wide receivers is good, but not terrific.
But the Chargers' quarterback targets those wide receivers 20 times a game, wearing down defenders.
And it doesn't help when Keenan Allen and Mike Williams own that "big play" gene that kicks in when they need it.
Joe Woods has been using zones designed to take advantage of his secondary's speed and smarts.
#Browns Greedy Williams filled in for the injured Greg Newsome and shined.

He had 6 tackles, a pass deflection and a huge 4th quarter interception. He received an 86.4 PFF grade. 💪🏾 pic.twitter.com/1W8HXz6ldS

— MoreForYouCleveland (@MoreForYou_CLE) October 4, 2021
But the unit is banged up and shorthanded, and will be challenged to hold up for 4 quarters.
Herbert is also adept at feeding Austin Ekeler and his tight ends on check-downs and screens.
So the linebacking corps won't get away with cheating deep.
Myles Garrett and the rest of the Browns pass rush will probably be the secondary's best friend Sunday.