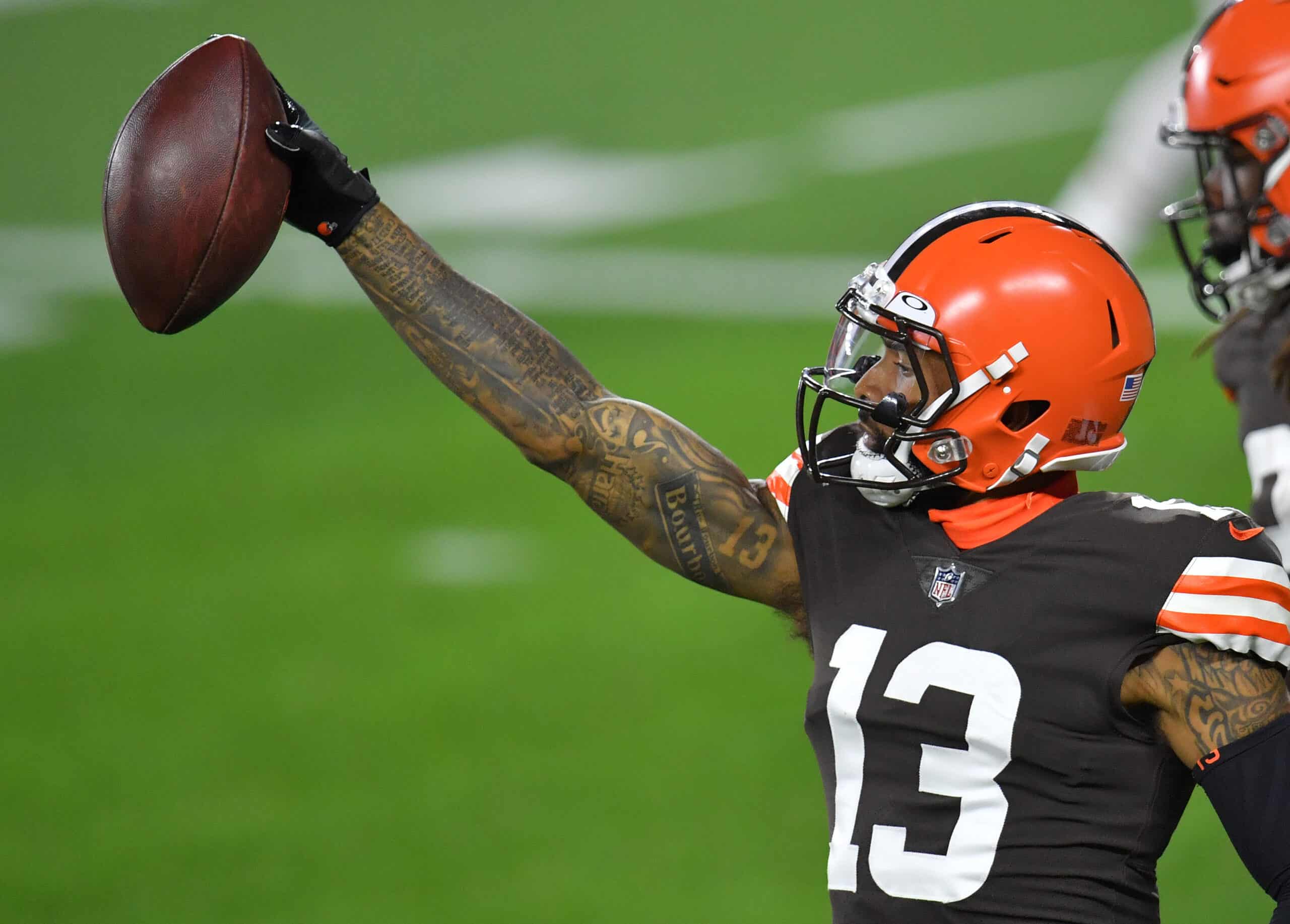 Odell Beckham Jr has had a rough go of things since coming to the Cleveland Browns.
Maybe even bad enough to understand the fans who think Baker Mayfield is better off without him.
That opinion comes out of Mayfield's second-half resurgence last year and his rookie of the year performance.
#Browns OC Alex Van Pelt: "We'll be better with Odell [Beckham Jr.], no doubt."

— Mary Kay Cabot (@MaryKayCabot) June 17, 2021
But in between that, Mayfield and Beckham were constrained by similar challenges.
Neither put up standout seasons in the confusion of Freddie Kitchens' offense.
And their connection remained uneven while Mayfield learned his third new scheme in 2020.
Just 7 months after ACL surgery, OBJ ran and jumped and made one-handed catches in minicamp this week.
#Browns Jarvis Landry on Odell Beckham Jr. pic.twitter.com/6J4WAQ5uCd

— Mary Kay Cabot (@MaryKayCabot) June 12, 2021
Perhaps he is as motivated to rebuild his reputation as he is to join in the fun that playoff football brings.
But anyone who has seen him recently says he is back… and he still has "it".
Here are 3 reasons why Odell Beckham Jr can return to Pro Bowl form in 2021.
Beckham's Supporting Cast Will Help 
When Odell Beckham Jr joined the Browns, he and his best friend, Jarvis Landry, hoped to do big things together.
Landry warranted some attention, but Beckham was always the bigger deep threat that drew extra attention.
Rashard Higgins had a very good year but does not provide the same speed as OBJ.
But his ability to get open for big plays is no longer a secret, making Higgins as much of a distraction as Landry.
#Browns Baker Mayfield to Odell Beckham Jr (via Browns) pic.twitter.com/MCkk1YUOU8

— Brad Stainbrook (@BrownsByBrad) June 17, 2021
On top of that, the addition of Anthony Schwartz really opens things up for Beckham and the others.
Safeties will have to decide whether to help a corner with the fastest man in the NFL… or Beckham.
Austin Hooper played a bigger role as last season wore on, and provides another distraction from Beckham.
And all of that will lead to more man coverage and a huge advantage for the returning star.
OBJ Loves a Comeback 
Odell Beckham Jr exploded out of the gate with Pro Bowl seasons in the first 3 years of his career.
He hasn't been back since suffering his first major injury in 2017.
When he finally returned to the field, he was determined to pick up where he left off.
Along with the added specter of a subpar (1000-yard) 2019 and 2020, this year provides even more motivation.
Odell Beckham Jr.

📸: @TheMattStarkey pic.twitter.com/QzEXLfXH3j

— Camryn Justice (@camijustice) June 16, 2021
Beckham finished 2018 with over 1,000 yards in only 12 games with a fading Eli Manning.
As only he can, Beckham put on a show in warmups with one-handed catches and other antics.
Jarvis Landry told reporters that Beckham was already doing those same kinds of things in Texas last week.
#Browns Jarvis Landry on Odell Beckham Jr. pic.twitter.com/6J4WAQ5uCd

— Mary Kay Cabot (@MaryKayCabot) June 12, 2021
And that bodes well for another Odell Beckham Jr comeback in 2021.
Odell Beckham Needs To Rebuild OBJ 
Safeties might choose to help with Anthony Schwartz over Beckham because they believe he'll lose a step this year.
And that plays into OBJ's biggest fear: that people won't believe he is the best wide receiver on the field.
Call it chutzpah, ego, narcissism, or even insecurity if you want.
Maybe it played into why Beckham was frustrated in 2019 when he lamented how he couldn't get enough touches.
#Browns HC Kevin Stefanski on Odell Beckham Jr. out at minicamp practice: "Looked good to me. He looked pretty good to me."

— Keith Britton (@KeithBritton86) June 15, 2021
But more importantly, it plays into why Beckham works so hard and pushes the limits in his rehab.
For all his (often over-blown) antics, no teammate or coach ever questioned OBJ's drive or dedication.
He doesn't just want people to remember the catch- he wants them to remember every catch.
And that is why Cleveland Browns fans will finally see OBJ, the Pro Bowl wide receiver, in 2021.