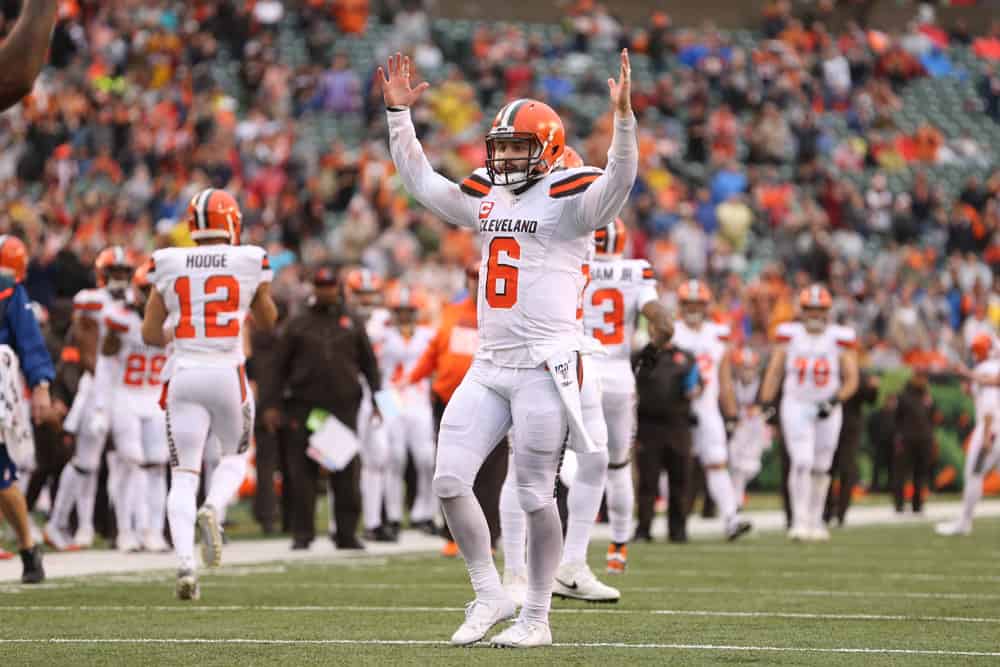 The Cleveland Browns have made major improvements to their offensive unit during the offseason.
They've added talent through free agency and drafted some young studs during the 2020 NFL Draft.
Last season, the Browns offense was expected to be elite after the addition of wide receiver Odell Beckham Jr. via trade.
However, the offensive unit struggled to move the ball down the field and it cost them significantly.
The organization is hopeful that they've fixed their problems and they'll be a better team going forward.
This is a team that if everything goes right then they could be a top-10 offense during the 2020 season.
#1: Revamped Offensive Line
One of the biggest reasons why the Browns struggled last season was because of their offensive line.
The organization set out this offseason with the goal of significantly improving their o-line for the future.
They did exactly that when they signed highly coveted right tackle Jake Conklin in free agency.
#Browns new RT Jack Conklin passes his physical and signs his 3-year, $42 million contract

— Mary Kay Cabot (@MaryKayCabot) March 20, 2020
Conklin was a first-round pick of the Tennessee Titans during the 2016 NFL Draft.
He made first-team All-Pro during his rookie year in the league.
Conklin is not exactly a superstar tackle, but he is a much better option than Chris Hubbard.
The Browns also brought in Alabama offensive tackle Jedrick Wills Jr. during the draft.
Wills was projected as one of the best tackles in the entire draft class.
Both Conklin and Wills are significant upgrades to the Browns offensive line going forward.
Having a reliable offensive line will help both the passing game and rushing attack.
#2: Healthy Wide Receivers
It wasn't easy for the Browns to succeed last season when their starting wide receivers are banged up.
Both Jarvis Landry and Beckham were dealing with injuries throughout the 2019 season.
However, both players decided to have surgery this offseason to repair their issues.
It appears Beckham is making a quick recovery and should be ready to play around training camp.
Odell Beckham Jr. got some work in with free agent Cam Newton.

(🎥: Cam Newton's IG) pic.twitter.com/JlaYZknHIb

— Everything Cleveland (@EverythingCLE_) June 15, 2020
Landry is expected to be ready to roll around the same time as well.
Beckham hauled in 74 receptions, 1,035 receiving yards, and four touchdowns through 16 games last season.
Those are fairly solid numbers from someone who was dealing with nagging injuries throughout the year.
The Browns offense should be in much better shape once Landry and Beckham are back to full health.
Those two could end up being one of the best wide receivers duos in the league.
#3: Kevin Stefanski
The final reason the Browns offense is going to be top-10 this season is because of new head coach Kevin Stefanski.
The former Minnesota Vikings offensive coordinator landed the job in Cleveland after the team decided to fire Freddie Kitchens after a rough 2019 campaign.
Stefanski brings a unique offensive scheme that helped turn around Vikings' quarterback Kirk Cousins last season.
The hope is that Stefanski will be able to help quarterback Baker Mayfield cut down on his interceptions after throwing the second-most in the league last season.
The Browns are already on their fourth head coach since Mayfield joined the team in 2018.
However, it sounds like the Browns finally have a head coach who can rally a locker room and put together a reliable offensive scheme to win football games.