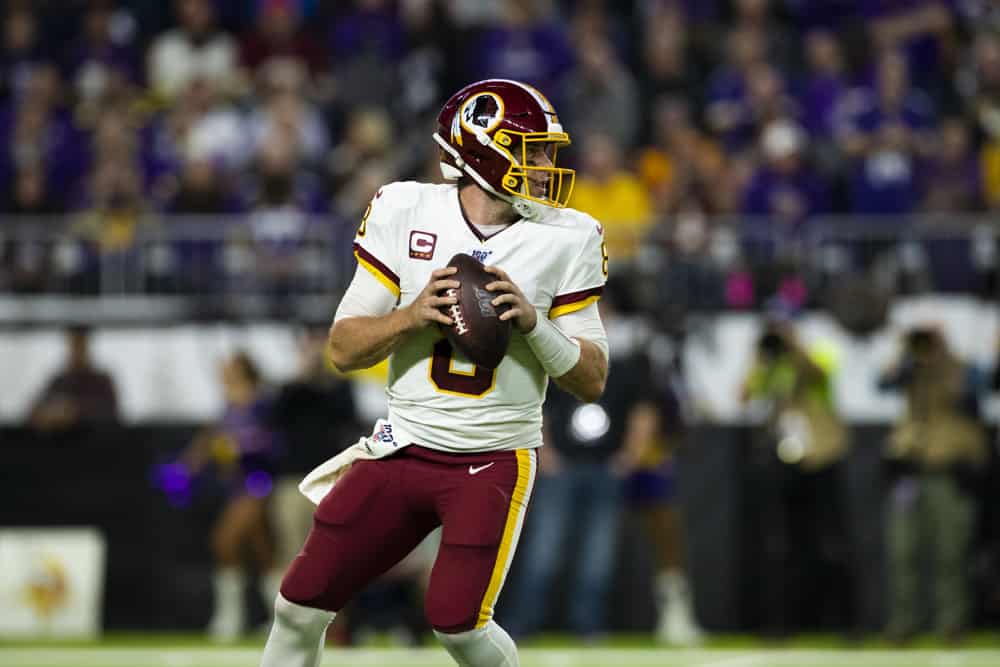 The Cleveland Browns are breaking the Internet today after picking up their backup quarterback.
Along with signing tight end Austin Hooper and OT Jack Conklin, the Browns signed Case Keenum to a three-year deal.
Breaking: The Browns reached an agreement with former Redskins QB Case Keenum on a three-year, $18 million deal that includes $10 million guaranteed, a source tells @AdamSchefter. pic.twitter.com/gfrC3TyqB4

— SportsCenter (@SportsCenter) March 16, 2020

Here are three things to know about Case Keenum.
#1: Stefanski Was Keenum's QB Coach
In 2017, Browns head coach Kevin Stefanski was Keenum's quarterback's coach.
The year that had the "Minneapolis Miracle," was when Keenum had one of the best seasons in his career.
I guess we'll always have the Minneapolis Miracle. And uncertainty as to why we are now at a place where he wants out so badly. What a shame. pic.twitter.com/2ocLeU5RZF

— SportsGamingUniverse (@nadasfan) March 16, 2020

In 15 games, that included 14 starts, Keenum finished with 3,547 passing yards, 22 touchdowns, seven interceptions, and a passer rating of 98.3.
On the NFL Top 100 Players of 2018, Keenum was voted 51st by his peers.
The Vikings finished 2017 with a 13-3 record, an NFC North title, and an appearance in the NFC Championship before falling to the eventual Super Bowl champion Philadelphia Eagles.
Keenum left the Vikings to sign a three-year deal with the Denver Broncos.
#2: Keenum Spent Six Years In College
Keenum redshirted his freshman year at Houston in 2006 and was medically redshirted in 2010 with a torn ACL.
His career ended with a successful tenure when he was on the field.
At the end of the 2019 college football season, Keenum still holds the following NCAA individual records:
Career Records

Pass completions: 1,546
Passing yards: 19,217
Passing touchdowns: 155
Games with 300+ passing yards: 39
Seasons with 5,000+ yards: 3
Seasons with 4,000+ yards: 3 (tied with four others)

Houston announced it will retire No. 7 in honor of QBs Case Keenum and David Klingler on 10/29. Both set several NCAA records at UH.

— Sam Khan Jr. (@skhanjr) October 19, 2016
#3: Keenum's Best Numbers Came Under Stefanski
Keenum's career numbers include 14,368 yards with 75 touchdowns to 47 interceptions with stints with the Rams, Texans, Vikings, Broncos, and Redskins.
However, out of all his teams, his best stats came with Stefanski guiding the way.
Before the Vikings turned to Keenum in 2017, Keenum had an overall 9-15 record.
That also included a completion rate of 58.4%, 78.4 passer rating, 24 touchdowns, and 20 interceptions.
With Stefanski, that turned into a completion rate of 67.6%, a passer rating of 98.3, and eight straight games with a 100+ passer rating.
His stretch of eight games is tied for second-most in team history.
Keenum also tied a team record with 10 games without an interception.
When looking at the numbers, a reunion made all the sense in the world.
The #Browns are signing veteran QB Case Keenum to a 3-year, $18M deal with $10M guaranteed, per @AdamSchefter. Reunites with Kevin Stefanski. This was a move that was mentioned earlier as a possibility.

— NFL Update (@MySportsUpdate) March 16, 2020
Final Thoughts
It's unknown what will happen with former backup Garrett Gilbert, who is Mayfield's best friend.
Last year, the Browns carried Gilbert and Drew Stanton, so the Browns could carry all three quarterbacks.
Either way, new general manager Andrew Berry had one heckuva start to the offseason.